After an incredible year, LSU came up just short in 2017, again taking second to Oklahoma at nationals. But this time around, the Tigers lose a far more important class, with seniors Ashleigh Gnat, Sydney Ewing and Shae Zamardi all regularly contributing to at least two lineups apiece and frequently scoring 9.9 or higher. Superstar Gnat will be especially difficult to replace, considering her huge scoring record (the second-most perfect 10.0s in school history) and her anchor position in three of the four lineups. However, with a few recent additions to the incoming class and a lot of upperclassmen stepping up, LSU may be able to at least maintain its current performance level and have another strong showing in 2018.
Vault will be a completely different animal this year without Ewing and Gnat. In fact, it's possible that the Tigers may only have three 10.0 start value vaults in their lineup for the majority of the season. Compared to five, sometimes even six, that they were capable of last season, that's a big drop. LSU likely isn't counting on 10.0 vaults from any of their newcomers—most have only ever shown Yurchenko fulls, and Christina Desiderio certainly isn't competing her DTY in college anytime soon. The trouble with many of the incoming high-level freshmen is that they've been so injured that we can't find any full videos of them more recent than three years ago. Even with her pretty form and good dynamics, it's hard to justify putting Bridget Dean or Reagan Campbell in a lineup with so little to go off of, especially knowing they've been injured in the last year. However, Desiderio's full is likely to be extra powerful since she's been competing the double for so long, and Gracen Standley's full is very stickable, even if her chest can be a little low. They'll be competing against a tough crowd of veterans, but clean fulls do have a place in this lineup. It's just going to be a matter of who can balance landing, form and dynamics most consistently.
As far as the veterans go, Ruby Harrold, Myia Hambrick and Kennedi Edney are likely to be the top three vaulters. Each of them has a Yurchenko one and a half and scored 9.925 or higher, so as long as that trend continues, expect to see these three as the back half of the lineup. Lexie Priessman also competed a one and a half on occasion last season, though given her knee surgery in the offseason and her general propensity to break, we don't expect her to be an every-week kind of choice. McKenna Kelley has also been training a front handspring pike half, and just when she was about to debut it last season, she landed wrong in warmups and was out for two weeks. When she finally did debut it, she flubbed the landing, and since it was so close to the end of the season, she didn't have the opportunity to clean it up. If she can get it under control in time for competition, she'd make a great addition to the lineup, but she'll have a few gymnasts nipping at her heels. Sarah Finnegan and Julianna Cannamela also have very clean fulls, with Finnegan's the better of the two, so their scores could easily rival those of a less reliable 10.0 SV.
Taking all of this into account, here's our proposed configuration for the Tigers' vault lineup.
Bars was LSU's weakest event last season, but even in losing leadoff Zamardi and alternate Gnat, the Tigers may actually increase their depth on the event. Many of the incoming freshmen count bars among their strengths, including Dean and recent addition Sami Durante. Again, we were hesitant to include Dean as a realistic choice because of the sheer lack of information on her: no one even knows what her injury was that kept her out of competition since February of last year. However, since her Instagram does show that she has trained bars much more recently than that, we think it's safe to say it was probably a lower extremity injury, and that if there's any lineup where she could have a shot, it's bars. And Durante's lovely natural swing gives her great momentum and power in her release skills, though occasionally her toe point and leg form can get a bit messy. If she can clean those issues up, she could very well find herself in the top six.
Though LSU has never been considered a bars team, even with Jay Clark as assistant coach, the returning contributors actually pose a very formidable threat in competition. Hambrick, Edney, Finnegan and Priessman all scored in the 9.9s at least three times apiece, with Priessman leading the pack at nine in 2017. Harrold also scored respectably, sitting around the 9.85 range most of the year and wowing the crowd with her unique skill set. With the five of them in play, as well as alternate Cannamela, it could be very difficult for the freshmen to make a play for a berth in the top six. Here's what we think the bars lineup will look like for LSU this season.
Beam may also see a significant drop with the loss of Ewing and Gnat, but the changes also bring some exciting possibilities. Desiderio and Durante are both quite promising on beam, especially when you consider that in college they will likely take out the more difficult elements that make them wobbly or inconsistent. Confidence and grace have always been a staple of LSU beam, and these two freshmen could certainly fit right in. Dean and Campbell are also good choices, but with their training and injury statuses relatively unknown, it's hard to see putting them in the final lineup, especially considering the stiff competition from veterans.
Speaking of which, the increased role of the returning veterans is actually quite exciting. After a few outings as an alternate on the event last year, Lauren Li is expected to join the beam lineup on the regular this season. In addition, Edney, Hambrick and Finnegan are all poised to close the lineup with a chain of three huge routines. As the anchor this year, we think Finnegan will be a shoo-in for a perfect 10.0. Erin Macadaeg will also return, and though she's capable of huge scores, her unwavering ability to stay on the beam will probably keep in the leadoff spot again this year. Here's how we think the rest of the lineup will fill out in 2018.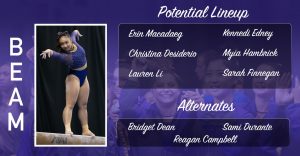 Floor for the Tigers is always known for its huge tumbling and big personalities, thanks to choreographer Ashleigh Clare-Kearney. But with the loss of all three seniors from the regular lineup, all of whom had E passes, will the Tigers see a drop this year? Not if the freshmen have anything to say about it. Campbell, Durante and Desiderio all have strong tumbling and engaging performances, with Desiderio the strongest of the three. Her tucked double double may never make it to the NCAA floor, but her double layout flies just as high as those of her new teammates. Another freshman that might be a sleeper hit for the Tigers is Olivia Gunter. She may not have the most difficult tumbling, but she's dynamic, clean and her presence is purely elegant, reminiscent of fellow Tiger Finnegan.
However, don't expect to see the lineup full of newcomers either. Returning to floor will be Finnegan, Edney, Hambrick and Kelley, all of whom have scored 9.9 or higher. Kelley is the likeliest to anchor of the bunch, with her difficult, high-flying passes and the personality to match, and Finnegan would make a good lead-off with how clean and consistent as she's become. We also expect to see Harrold in regular rotation now that there's less competition for spots, as long as she can keep up with the pack. We'd also love to see the return of Macadaeg, who is still training all four as far as we know. In 2016, she performed floor only once for a 9.95 early in the season, and then was never heard from on the event again. With a few more spaces open in the lineup than usual, it's possible she might break through again and grace us with another stellar performance. Also worth keeping in mind is Priessman: she competed floor a few times last season with varying results. It's not likely she'll be in the lineup to start out, given her summer surgery, but if she can improve her stamina, we may see her attempt floor a few more times.
Given all of these variables, here's how we'd set the floor lineup for LSU in 2018.
Surprisingly, the way these lineups are set, this gives LSU three all arounders—when last season it only consistently had one. Hambrick, Finnegan and Edney all make great cases for a strong, title-worthy AA performance, with different approaches from each. Hambrick is more of a balanced case, with no real strength or weakness across all four. Finnegan's stronger events are bars and beam, while Edney's are vault and floor, but both are capable of 9.9+ on their "weak" events on occasion. Priessman is also a possibility, as the coaches have been trying to get her ready to compete all four for quite some time. The only occasion on which she tried last year, though, it didn't go so well on beam. It'll be a test of both stamina and strength, but expect to see it happen at least once, even though we don't see her anywhere near the beam lineup as of now.
Overall, LSU does have a shot at retaining its status, but everyone has to be healthy at the same time first. With Hambrick, Finnegan, Kelley, Macadaeg and Priessman taking leadership roles in the gym and in competition, the Tigers should still remain a formidable team even without its stellar 2017 seniors. The big question they'll have to answer this year is whether or not it's enough to finally win a national championship.
---
Article by Caroline Medley, graphics by Emily Howell-Forbes