In today's installment of our potential lineup series, we'll be looking at the Missouri Tigers, who finished the season ranked No. 17. The loss of Alyson Heimsath and Angie Kern shouldn't hurt the team too much—Heimsath only competed one routine all season, and Kern was an early-lineup vaulter and occasionally stepped into the floor lineup. But the addition of four freshmen and the return of previously injured Morgan Porter should reinvigorate the lineups, as last season depth was quite limited.
On vault, Kern's serviceable full scored decently, but there should be a few options to fill her shoes. Freshmen Chelsey Christensen and Paige Kovnesky both have solid Yurchenko fulls, with Christensen's the more powerful of the two. Belle Gottula also competes a Yurchenko one and a half, but her landing is a little sketchy, so don't be surprised to see her downgrade if she can't improve it before January.
As far as the veterans, Kennedi Harris and Morgan Porter should lead the way on dynamics and form on their Yurchenko fulls, but it's Britney Ward who really steals the show. Her quick, powerful Omelianchik earned her huge scores last season, topping out at a 9.95. Last year's breakout star Aspen Tucker is also training a Yurchenko double full, which would be a huge asset to the Tigers if she can get it consistent enough to compete every week. If she can't, though, just training that double will likely improve the dynamics of her full, so she'll be expected to score higher this year regardless. She may start out with more power than she knows what to do with, but expect her to rein that in and be a real contender on vault this year. In addition, Madeline Huber, Xarria Lewis and Shauna Miller all have passable fulls that are capable of filling out the rest of the lineup.
Here's how we think the lineup will be filled on vault for Missouri.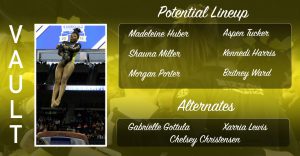 Losing no bar routines and regaining Porter's will make it a little more difficult for any of the freshmen to break into this lineup, though there are definitely some improvements that can be made. Bars is not Missouri's event, as evidenced by its inconsistency—the Tigers only had three meets last season where the bar squad hit all of its routines. The hope will be that they clean things up this year, and that increased competition for lineup berths will increase consistency. Lauren Clevenger, the Tigers' latest addition to their 2018 freshman class, has a cleanliness to her bars that could be much needed. She doesn't have the most dynamic releases or the most elegant finesse, but she keeps it clean and simple, which could be the key to success. Gottula and Kovnesky also have serviceable bar sets, but Gottula's Gienger is full of built-in deductions and Kovnesky's dismount is pretty scary. There's some significant cleaning to do if either of them wants to make the top six.
Head coach Shannon Welker spread the wealth on bars last season: in trying to find the right sixth competitor to replace Porter after she was injured, he gave almost every one of his gymnasts that was training bars a chance to compete. Perhaps now that they have experience in pressure situations, there won't be as many mistakes. If healthy, Porter is the presumed anchor of the squad, as she held that position pre-injury. Huber is also a top scorer, but as one of the most consistent performers, she may be relegated to the lead-off position to stabilize the team and set the right tone for the rotation. Tucker, Ward, Allison Bower, Brooke Kelly, Shauna Miller and Becca Schugel comprise the remainder of the veteran group, but of those, only Bower escaped the season without a fall on her record. Improved consistency will likely be the deciding factor on who gets to stay in the lineup and who's left out of the top six when it comes time for season to start. Here's how we think the bars lineup might play out.
Beam was also wildly inconsistent for the Tigers last year but has a few more high scorers to bolster things. The two freshmen most likely to threaten for lineup positions would be Christensen and Gottula, both with their own unique styles. Christensen's precise choreography and steady acro elements show great confidence, though some of her splits can come up a hair short. Gottula's quick connections and assertive choreography really give her a great presence on the apparatus, but some of her leg form can be a little wonky. This might be due to her braced ankle, and if that injury is better healed before January, she may surprise with better form than we expect from what we've seen so far.
As far as the veterans go, Ward and Tucker are standouts—in difficulty and in form—though Ward is certainly the more consistent of the two. Ward's triple series is a thing of beauty, and her switch leap to pike jump combination is one not often seen in the NCAA. Plus, Tucker's two-foot layout is a show-stopper when she hits it, but she sometimes has trouble landing squarely on the beam. Schugel's set also features a triple series, as well as a lovely switch leap to ring jump combination. Unfortunately, both of these difficult connections have been known to give her trouble, causing her to fall twice and generally score between 9.7 and 9.8. Kelly, Porter, Bower and Tia Allbritten also have workable beam sets, with Porter's being the strongest of those four.
Considering all the angles, here's what we see as Missouri's best beam lineup for the coming season.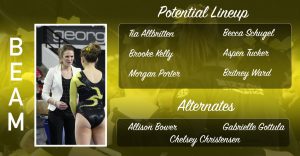 Though weaker on difficulty than some of its conference-mates, Mizzou does have a few tricks up its sleeve when it comes to floor. Two of the four incoming freshmen actually have front double twists—E passes—and as long as she doesn't try to punch out of it, Clevenger's is a beauty. Her twisting form in general is clean and quick, so she could be a great choice for early in the lineup while she builds her experience. Christensen also has a double twist, though she has a bit of a rebound out of it and almost seems to over rotate a little. If she can clean that up, she may be in the mix for the top six, too. Gottula's performance level and sheer presence on the floor could make her a contender, though with that braced ankle, her landings leave a little bit to be desired.
Of the veterans, only Schugel brings an E pass to the event. It seems that every year, the gymternet collectively forgets she has a triple twist and then fawns over its beauty once again. She earned 9.8 or higher in 11 of her 13 meets, with a season high of 9.925. And though she doesn't have an E pass, Harris is quite the floor performer, with powerful tumbling and an engaging presence, often scoring in the 9.9-range for her efforts. Porter and Tucker also have strong floor routines, and Tucker has been training a double arabian for over a year. Bower, though a lower scorer, was fairly consistent last season, making her a good potential lead-off. Of all these options, this is who we think will make the best floor lineup for the Tigers.
As it stands, Porter should be back to competition strength and ready to lead the team as its top all arounder. When last healthy, she finished her 2016 season ranked No. 20 in the all around and qualified to nationals as an individual—you can't really argue with those results. Tucker also performed very well in the all around last year, surprisingly reaching No. 35 after not being a sure bet for all four in preseason predictions. With two solid all arounders and a balanced supporting team, Missouri looks to be in a good position to continue increasing its parity with the rest of the SEC.
Check back Monday to see analyze another set of Tigers, LSU! To see all the posts in the potential lineups series, click here.
---
Article by Caroline Medley, graphics by Emily Howell-Forbes