With the national championships only a couple days away, the Michigan Wolverines are filled with excitement and expectations, as they believe that they stand a good chance at winning their first national title. They are entering nationals as the No. 2 team in the country, as well as only one of two teams to have scored over 198 at regionals and to have posted three scores over 198 this year.
"If we go in heads down and do our job, there's no reason why we shouldn't come out on top," junior Abby Heiskell said. "People are slowly starting to believe that, and once everyone gets on board with that idea, we can end up on top."
Every team had to deal with setbacks linked to the COVID-19 pandemic this season, but Michigan was one of those that was hit the hardest. At the end of January, after only two meets, the team was forced into a two-week pause over COVID concerns in the university's athletic department. 
"That was a really big kick in the stomach when we really felt we were just taking off," head coach Bev Plocki said. "So we met and we said, 'We knew there were going to be bumps in the road, and this is a bump in the road for sure, but we can still overcome this.' We tried to focus on the things that we needed to do so that we didn't fall too far behind for when we came back."
Although the athletes were not allowed into the gym, they could still use the training room, where they did strength and preventive rehabilitation exercises with their trainer. Additionally, they were all given equipment with which to do strength and conditioning work at home.
Ultimately, the break was more frustrating than difficult, and it even had some positive outcomes.
"I think everyone would agree when I say that it wasn't as difficult as we were expecting it to be," Heiskell added. "We went to Illinois that following weekend and had a great road score, so I think it was almost a good mental break in the middle of the season to get people back on track once we hit the ground running again after those two weeks."
The most difficult obstacle the team had to overcome occurred a couple of weeks later, when junior Abby Brenner sustained a leg injury on floor at the Big Five meet. Given that Brenner was both an important contributor on three of the four events and a team captain, the Wolverines felt shaken. "Brenner is a huge contributor to our team both gymnastics-wise and through her personality and leadership, so definitely her being out was a hit to our team in both of those roles," Heiskell said.
The day after the injury, Plocki gathered the team and told them that it was time for everyone to step up. "What I said to them was, 'One of the strengths of this team is our depth, and we need people to step up,'" she said. "'We still have enough talent on this team to be able to step up and fill those holes and get it done.'"
Indeed, for Plocki what makes this year's team "the best team we've had in a very long time" is its depth. "I try to preach to my athletes all the time that it's not the teams that have five or six really good kids that end up being national champions; it's the teams that have eight or nine," she said.
"Once lineups get settled at the beginning of season, it's easy for a little bit of complacency to set in," she added. "If you know that you're the second alternate to floor, if you don't push yourself quite as hard today, it's not going to really matter because you're not going to be competing. So our team has done a really good job with those people in those step-in positions of keeping themselves at the ready."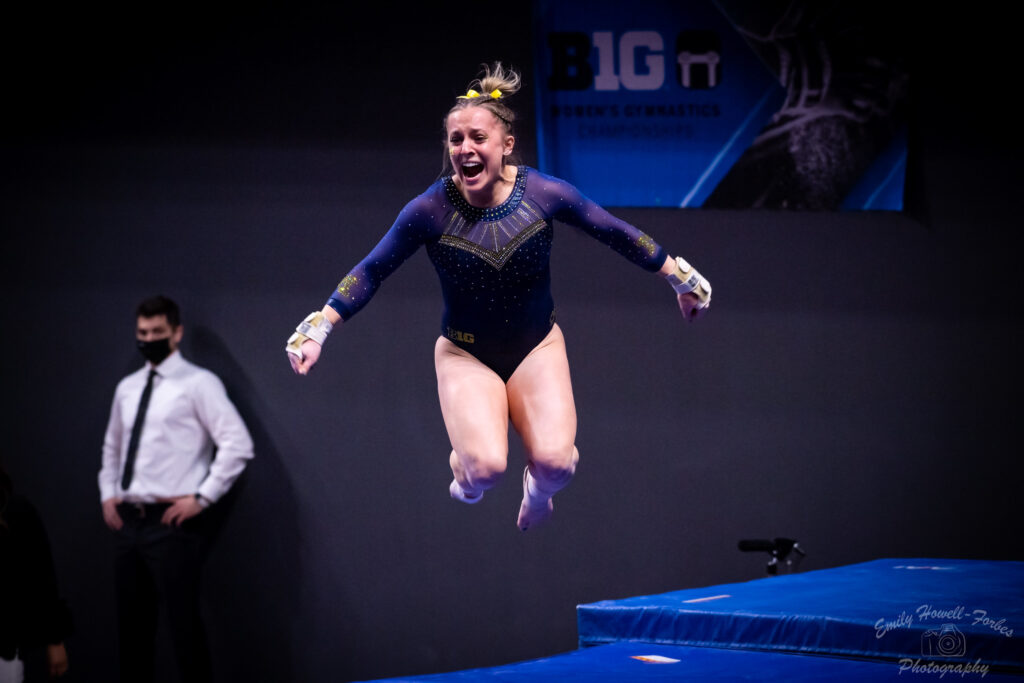 One gymnast who has really come into her own this season is Heiskell, who competed in the all around for the first time at regionals and posted scores of 9.900 or higher on all four events. "I feel like every year, right at the beginning of season, I always have one little thing that sets me back, whether that's getting sick or having a little injury here and there," she said. "I think this year, with Brenner getting injured, I was like, 'I know I'm hurting, but also we need people like me who are capable of doing floor routines to really step up.'"
Heiskell also praised freshman Carly Bauman for helping out after Brenner's injury. Bauman began competing on beam in February after the two-week hiatus, but she later started to contribute on floor, too, as well as on bars at the Big 10 conference championship. "I think Carly Bauman has done a phenomenal job," Heiskell said. "She has had a couple of injuries here and there that have set her back, but she's peaking at just the right time."  
Another freshman, Reyna Guggino, has come into her own on vault, debuting a stunning Yurchenko 1.5 at Maryland in the final week of the regular season. Surprisingly, until then Guggino had never trained the Yurchenko 1.5. The previous week, she performed her Yurchenko full in exhibition and overrotated it, prompting the vault coaches, Scott Sherman and Maile'ana Kanewa-Hermelyn, to have her try the Yurchenko 1.5 in training.
The following weekend, she was put sixth in the lineup, and after everyone else hit their vaults, she was allowed to go for the new skill, sticking it cold and scoring a 9.950. "I'm so glad that I changed it to a Yurchenko 1.5. It's so much easier to land than a full, so I'm very happy about it," Guggino said.
At regionals, she anchored Michigan's stellar vault lineup both days. "When the first person goes and hits, the energy and motivation to do well and to stick it and to end on a really high note is so inspiring," Guggino said. "It helps you run down the runway a lot harder and just do everything with more intent to make it perfect."
Michigan entered regionals after losing the Big 10 conference title for the first time since 2013. As in two previous occasions this year, inconsistencies on floor prevented the Wolverines from performing to their fullest potential. "After we'd known that floor was our weakest [event], mentally this put so much pressure on ourselves when it didn't need to be, because we are a strong floor team and it's not something that we should be so nervous about," sophomore Sierra Brooks said.
During the two weeks between the conference championship and regionals, then, the Wolverines worked hard on floor landings in the gym. They trained floor every day, rather than every other day as they normally do, they did some extra tumbling on the hard floor and they gave each gymnast individualized training assignments.
"The quality that we expected and that they were expecting from themselves challenged them to put a 100% focused effort into what they were doing, not just going through the assignment, but doing it to the very best of their ability," Plocki said. "They've done a very good job with that, and we saw the benefit of that at regionals."
At regionals, Michigan put up a show on floor, scoring over 49.500 both days, as well as on vault and bars.
The Wolverines were the only team to perform six 10.0 start value vaults at regionals, and it's the event on which they have improved the most in recent years. "For a long time vault was our weakest event, so we have been paying attention to that in the recruiting process and that, along with some good coaching and training, is what's made the difference," Plocki said.
On day two of regionals, the Wolverines also posted a huge 49.725 on bars in a rotation that included three 9.950s and a 9.975. Historically, Plocki said, bars was Michigan's strongest event, but surprisingly the pandemic was instrumental for this year's extra polish. "The interesting thing about COVID and eliminating outside distractions like social life is that they've been really focused on gymnastics and the details of the handstands," she said. "We haven't practiced through more hours, we haven't done anything different in terms of the amount or the intensity of our practice, but I think the girls are a bit more focused and intentional about what they're doing and it's definitely benefited us." 
The only apparatus on which Michigan showed some nerves at regionals was beam, as the Wolverines were feeling the pressure of the intense regional format, especially on day one. "On day one, you want to try not to make mistakes but you can't compete not to fail, you have to compete to win," Plocki said.
The imperfect beam rotations, though, have helped the athletes stay motivated. "We didn't hit four-for-four the best we could on every event and we still got that 198, so it keeps us motivated but it's also rewarding and it feels good," Brooks said.
The 198.100 that it scored on day two of regionals boosted the team's confidence, too. "It's one thing to say that we're a top team, but it's another thing to believe it, and I think our performance both days at regionals really allowed people on our team to understand that we are a great team and we are a contender for the national championship," Heiskell said.
As the Wolverines get ready for nationals, Plocki is preparing her gymnasts to go into competition day with a winning mindset. "We talk about the definition of confidence as knowing the outcome before you begin, and we need to go into day one of nationals knowing the outcome that we're moving on to Saturday," she said. "That's not taking it for granted, but we have to go in with that kind of confidence and compete to win. We want to compete to win every day we're there."
What would it mean to win that first national title?
"We made so many sacrifices for this season to happen that it would mean the world," Brooks said, while Heiskell added, "Regardless of the outcome, we can look back on this year and say it was a great year, but ending on top would definitely just be the icing on the cake."
As the Michigan head coach for 32 years, Plocki has been at nationals many times before, but winning this year would be extra special. "Every team is special, but with the cards we've dealt with this year, if we were able to go on and finish this season at the NCAA finals and/or win a national championship, it would be hard to beat how I feel about this team," she said. "I'm so unbelievably proud of their accomplishments and what we've been able to do this season despite all the distractions. I've never seen a team with more commitment, dedication and focus."
Ultimately, although the outcome is important, the Wolverines will receive their most significant reward once nationals is over when they will be able to see their families for the first time since preseason. "We haven't been able to see our parents close or hug our parents since we came back to campus, and I've been here since July," Brooks said. 
"We are not allowed to see our parents right now because we want to minimize contact with anybody," Guggino added. "If we win, we get a big hug fest afterward with the parents, and we're just all super excited for that. So it would mean a lot [to win] to everybody on the team, all the coaches, the managers—literally everybody. It would make everyone so happy." 
READ THIS NEXT: Positive Mindsets Lead to Positive Changes for Arizona State
---
Article by Talitha Ilacqua
Like what you see? Consider donating to support our efforts throughout the year!