This week's Throwback Thursday feature brings us sequin collars on matte leotards, fluffy bangs, a 194 being a fairly good score and nobody quite hitting a handstand on bars. It's 1993, and the Pac-10 championship is hosted by Stanford. No. 5 Oregon State is the two-time defending conference champion, but No. 6 UCLA, No. 7 Arizona and No. 8 Arizona State are all in close pursuit. California, Stanford and Washington are presumably here somewhere, but we don't talk about them. Maybe this is the night session? Utah, ranked No. 1 in the nation, hasn't yet joined the conference.
Oh, and I haven't looked up the result of this meet. I have no idea what's about to hit me. Let's go!
I wasn't joking about those sequin collars.
OSU senior Chari Wright unfortunately suffered a knee injury midseason but may or may not still be competing. More on that when they tell me because I wasn't born yet when this meet happened.
UCLA upset Arizona State last month at home, and it was a big deal. What a time.
This guy is several decades away from retirement, but something not great has been going on because his team is almost exclusively underclassmen. Whoopsie.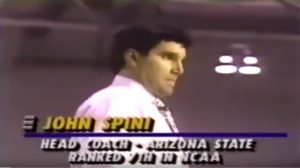 Our commentator is Phil Stone, and here's a real quote from him: "This is a night when many dreeaaaams will be fulfilled, both as an individual and a team concept. So many dreeeeaaaaaaams. So many of these ladies want desperately to win." So we're off to a great start in a way that feels vaguely sexist.
He goes on to blatantly contradict the ESPN graphic about how many Pac-10 teams are in the top 10 nationally, as well as what their current rankings actually are.
And just as I was wishing for someone who actually knows the sport to turn up and temper this guy, look who appears!! It's like magic.
Oregon State apparently lost both of its top all arounders to injuries—they had knee surgery on the same day. Yeouch. Arizona is also hampered and will be competing five up on floor. At last, a familiar narrative. Kathy believes it'll come down to UCLA or ASU in the team while OSU's Amy Durham is the favorite for the AA title. Tina Brinkman (ASU), Stacey Fowlkes (Arizona) and Kareema Marrow (UCLA) are the other contenders there.
I think this is supposed to be Stanford campus in the '90s.
So no, this isn't a night session. All seven conference teams are here; they just really don't care about the other three.
ASU is starting on bars, and I chose this angle of the leotard to really show off that cleavage hole. It's an era of big blocks of matte, and I'm kind of into it.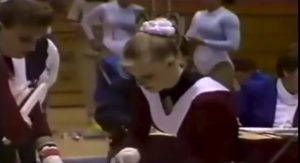 Danna Lister (ASU): Full turn to …supposedly Deltchev, but to me it looks like the turn is complete before she releases? Interesting. Full turn to cowboyed double back. Have a feeling we're going to be seeing a lot of those. In case you were wondering, Lister's married name is Durante.
OK so, real talk: Everyone in the '90s did this transition, and I DON'T KNOW WHAT TO CALL IT.
I think it's a jam something, I'm sure someone will tell me in the comments. I'm calling it the Ejector Seat for now.
9.700 for Lister.
Tina Brinkman up for ASU now, with a gienger with crazy legs to overshoot, dismounting with a toe front half. That'll be a 9.750.
Next up is Jenny Ester, whose married name is Rowland. I promise this entire meet isn't just future college head coaches. Ester and Lister were clubmates in Tulsa before college, too, at Gymnastics Country USA—is that even a club any more?
Update from half an hour of internet stalking: It's not, and neither is the coach's more recent gym.
Back to Ester. Half to half to Tkachev, straddle back, ejector seat thing, aggressively cowboyed double back. 9.850 for Ester! Sun Devils off to a good start. Who knows what the other teams are up to. Haven't seen anything from them yet.
Ooh, time to go watch some UCLA.
The Bruins are very on-theme with large blocks of matte white and baby blue. I see you in that matchy oversized tan pantsuit, Miss V. Karen Nelson starting us off with a FHS tuck half, a 10.0 start. According to Kathy, the ground is shaking. First vault had chest down with a hop back, the second is a little wonky but stuck. Scores for the first vault include a 9.250 and a 9.600, so insane judging discrepancy never changes. And that's all you get from rotation one, folks! No scores or anything.
UCLA moves to bars, starting off with Amy Thorne. Fun fact, Thorne's daughter is now an All-Pac 12 soccer player at UCLA. Didn't expect this to turn into Rebecca's '90s UCLA Trivia Hour, did you? Me either. We're in this together.
Anyway, Thorne has apparently had problems on bars in warm up. Sure enough, her Gienger is great but her feet hit the ground on a very wonky overshoot. Carries on to a piked ejector seat, Tkachev—two same-bar releases??—and a flyaway double twist with a hop. Pity about the overshoot. It's OK, sweetie. At least your bangs are still curled.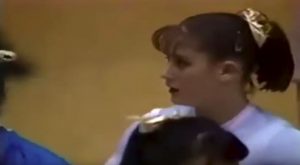 LOL WHAT. She got a 9.800. I guess the judges didn't notice that part where her feet touched the ground in the middle of the routine.
Commentators seem nonplussed—maybe that wasn't a rule in the '90s. I'm pretty sure it was, though.
Kareema Marrow up next, apparently an AA favorite. Full to half to bail, ejector seat, beauty of a Tkachev. Double pike, rebounds back a bit but holds on. That's a 9.900! Scoring feels so unfamiliar; it's interesting.
Stacy Fowlkes of Arizona up on beam—cartwheel mount rocks. Can we bring that back? Great triple series and switch-switch leap combo. This is already more difficult than most beam routines I watched this year. Sissone to back handspring with a check; I think she was trying to keep the back leg up there, but she's so stylish. Double turn and pivots another half to absorb the rotation—that's actually not a half bad strategy for the present day if it doesn't look like a step. Cartwheel gainer full with a step back. Great routine with so much difficulty! Oregon State over on floor, with music I can only describe as… dubstep Phantom of the Opera? What in the world is happening. This is Traci Crover.  The choreography is admittedly pretty sick. Double pike, back double to punch front, there was a Shushunova in there, another back double, collapses dead. Cool routine, but… all I want to talk about is this leotard, guys. It's very Rainbow Fish. After two, UCLA is obviously leading as the only team to have done two events. Oregon State leads the rest with a 48.350—surprisingly ahead of Arizona State—and Washington brings up the rear with a 46.900.
I've been going to Washington home meets for the last five years, so I know that's a familiar first rotation feeling for the Huskies.
Debbi Bryan of Arizona State starting off Rotation 3 on beam. She's a transfer from Arkansas, which didn't have a college team yet in 1993, so I can only assume she was an academic student or maybe a club competitor.
Pretty back handspring mount, and then bhs-bhs series—what is this, level 9? Gorg full turn, some mixed combinations, really nice side aerial, double twist dismount with split legs. NCAA beam choreography used to be so cool. Look at that shoulder roll. Just stellar.
Bryan got a 9.450 after some small breaks and has some emotions. ASU already counting a fall and could be in trouble. Lister is up now.
Starts us off with an insane LOSO mount. Flic flic layout, aggressive and confident, tiny check on a pivot but it's fine. Cool cartwheel-bhs-tuck jump combo, and then….. Falls on her low beam choreo. This rotation is becoming a catastrophe for the Sun Devils. It does give me some insight into Georgia beam circa 2016, though.
Too soon?
Anyway, Spini is sad about that. He's looking disconsolate next to some bleachers, which is a mood.
After three (yeah, we literally only saw ASU in rotation three) the NorCals have had disasters, allowing Washington to sneak into third of five up-to-date teams with a strong vault rotation. (What? Since when?) UCLA is cruising, with almost a two point margin over ASU at the midpoint. At this point, it looks like it would take errors from the Bruins for Oregon State and Arizona to catch up, but beam is looming.
Oregon State is vaulting, and I absolutely cannot with this leotard. Really nice handspring front with a hop back-ish. Gotta love that leg form. I think this is Amy Durham. Tries it again, and tries so hard to stick that she puts her hands down—but in a two-vault world, literally no one cares.
Wendy Smith up next, vaulting in a big-ass knee brace. Handspring front with a big lunge forward—it's good enough. Entertainingly bails on her second vault because she doesn't really need it. That rotation should keep the Beavers within reach of UCLA. How are the Bruins doing on beam? Let's find out.
Marrow is up, RO-LOSO combo is great. Cartwheel to split quarter. Dance series with arms that drop between each skill and would absolutely get her connection devalued in 2018, but it's not an issue. Double back dismount!! 9.700 for that. Cheryl Ulrich is up next, split jump on. Straddle three-quarter is what dreams are made of! Flic flic layout…. uh, apparently UCLA posted a perfect 10 on bars and this is the first we're hearing of it. This is such an odd broadcast. Chen (tuck Korbut) is very nice. Valdez in combination, yesss!! Full turn directly to cartwheel tuck gainer full. These beam routines are so diverse, I love it. Kristi Gunning on floor for Arizona; awesome first combo pass and quirky choreography that sounds like video game music. Almost spins out and falls on a turning cat leap but keeps it under control. Everyone's really into split drops in the early '90s, aren't they?
UCLA still in the "lead" after four with only two teams having competed three events. It looks like it's between the Bruins and the Beavers at this point; Arizona State is too far back after that catastrophic beam rotation.
Amy Durham starts bars with an ejector seat, full turn to low Gienger to overshoot, split leg toe on to front half. Nailed it. I really can't overstate how rainbow these OSU leotards are. 9.800 for Durham!
Tracy Crover up next, hecht up, tries to drop to a toe on and plops straight off. Ouch. Renee Runyon up to try to save the day—the Beavers can't be counting a fall if they want to keep pace with UCLA now. Humongous Jaeger to overshoot, double back just drilled. They needed that. She's just a freshman, but that was spectacular.
Kathy is explaining the concept of a Jaeger to us. Maybe they're super rare in the '90s. 9.900 for Runyon!
Arizona State is over on floor. Brinkman got a 10 on floor one time. Can she do it again? Lots of suspense. Full-in! It's low and deep, but that's a pass. She also does her double back right on top of herself without any real set—that's just how she do; she seems perfectly content. Full-twisting dive roll; choreo is…eccentric, but the crowd seems into it. Gorgeous double twist to close. 9.950 for that!
Fowlkes of Arizona is ready to vault. Her AA record is 39.500. Arizona would love some of that right now. FHS front, just a touch cowboyed with a baby hop. Big stumble forward on the second.
Now Kristi Gunning is up, winning on the basis of fluffiest ponytail so far. Tuck half, slightly wonky but stuck! 9.900. UGH SHE'S 5'5" SO TALL YOU GUYS. A GIANT.
Second vault close to as good, chest a little further down on dismount, just pops one knee on landing, but it's still mostly stuck.
UCLA up on floor, closing its meet. Kareema Marrow has been stellar today, I'm looking forward to '90s Miss Val choreo madness. We are off to a STRONG start. Double lay, tucks the second half, and it's pretty painfully under rotated but it's 1993.
Check this out. Val has choreographed the CLAPPING on the sidelines. I mean, we don't know it was her but yeah actually we super do. Gorg on the double twist; good double back to close. Thorne coming up now—first gymnast to get a 10 in program history. OOB right off the top, whoopsie.  The presentation in this routine really is something else, though. Double twist, triple turn and throws her head back to present. I can see why judges gave her 10's, there's something very epic about it. Arabian one and a quarter to front support to close. If I were a Bruin, I'd want this one as a legacy routine. Actually, can we nominate Kyla?
She smashed her face on the one and a quarter and has a nosebleed now, but 9.700 with an OOB is probably worth it.
UCLA is done with a 194.550, and remember that's a good score. Cal and Stanford have finished with 194s, and Oregon State has to be really incredible to catch UCLA in this last rotation.
Arizona is up on bars now, playing for third. Darci Wambsgans has a nice routine, no same bar release but a solid double back dismount. Loving Wambsgans being a name. Gunnings is up next, and she's got a shot at the all around. Full turn to Tkachev, straddle back, toe-front half mostly stuck! 9.550 because the judges are mad for no reason.
That could do it for the AA, but I really don't know. It's not like we've been shown scores or anything. Over to the Sun Devils on vault.
Brinkman with a nice fhs front half: pretty in the air, just a touch under rotated and a foot shuffle. 9.950. Back to Arizona on bars, Fowlkes is up. Some front work to a Jaeger and that immediate drop down transition thing that I don't know the name of. Double back stuck DEAD. Really good, just one missed handstand, and it might be that mysterious kind that doesn't count in the '90s. Got a 9.900 for that.
Michelle Sandoz on beam for Oregon State—it's gotta be near perfect here to keep pace with UCLA, and that doesn't seem likely on beam. Great BHS mount, and then a flic flic layout series with a check. Creative little mixed series, side somi and weight looks way forward but she's completely fine. Gorgeous tic toc work; she's got a couple skills with a hop half turn at the end! Gainer full is really nice. 9.500 after the check. Gotta count it after an earlier fall.
Crover next for the Beavers.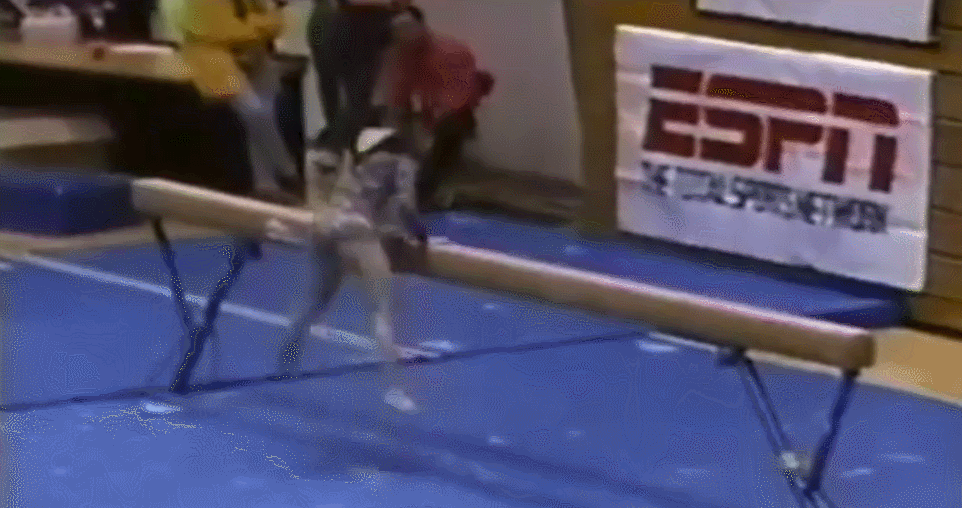 UGH PRESS MOUNT YES PERFECT. She did some skills, too. Whatever. Clean and confident, cartwheel layout series, double twist dismount with a hop. 9.700 there.
Kathy counts out the two twists for us, in case we didn't believe her.
Results confirm that UCLA has won it—the Bruins' fifth Pac-10 title, and the first for Kondos-Field. Oregon State ended up with a 193.700, and Arizona edged ASU for third. Washington, California and Stanford finished in that order.
UCLA's Kareema Marrow won the all around with a 39.350, edging Arizona State's Tina Brinkman by a tenth.
Miss V is having a MOMENT while co-head coach Scott Bull talks about whatever. I feel you; I don't care what he's saying either.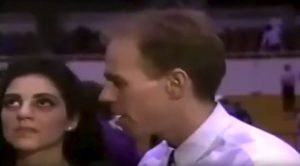 She's telling us about the team's motto, "The Quiet Storm," which is something about being humble but confident and building slowly. She talks about this WAY longer than Kathy wants to listen to it, which I love.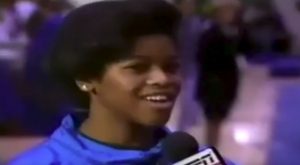 Kareema Marrow beaming through her interview. Yay, she won! Good job UCLA. Isn't life great?
Nope.
The summer after this meet, just three years and change into Valorie Kondos-Field's head coaching tenure, UCLA would attempt to cut its women's gymnastics program due to financial problems in the athletics department. The program was saved by a Title IX legal complaint, but several high-profile recruits stepped away from the team to avoid the ongoing uncertainty—including expected 1993 signee Dominique Dawes, who instead stayed in elite and competed at two more Olympics.
Anyway, things worked out OK for the Bruins, as well as for the three lower-finishing teams, which we never got to see ONCE in this meet. I'm a bit disappointed. I love retro Stanford. Oh well, next time.
Check back next Thursday for our weekly throwback feature. Who knows what velvet nonsense we'll have dug up by then?
---
Article by Rebecca Scally