After two consecutive championship-winning, wildly successful seasons, Oklahoma is sitting pretty at the top, but it'll need to compensate for its big losses to stay there. Replacing the likes of Chayse Capps, Charity Jones and McKenzie Wofford will not be easy, and the Sooners will lose some of their backup depth in graduating Nicole Turner and Kara Lovan as well. They'll have to put their hopes in the newcomers to make up the difference.
Saying vault was Oklahoma's "worst" event is like saying Courtney Kupets only won three NCAA all around titles—technically true but still pretty darn good. The Sooners finished the season ranked No. 3 instead of No. 1 on the event but still performed quite well. With all of their 10.0 start value vaults returning and a plethora of solid Yurchenko fulls to draw from, the Sooners stand to gain perhaps more than they lose. Freshman Anastasia Webb brings a solid Omelianchik to the team, though she'll want to clean up the big leg separation on her block before taking it to the competition floor. Evy Schoepfer has also previously competed a Yurchenko one and a half, though at J.O. nationals this year she only competed a full. If back to full strength, her one and a half is definitely a viable option, but she too has some cleaning to do, particularly on her bent knees in the air, if she wants to get scores that justify the upgrade. Her full is quite a bit cleaner, so it may make more sense for her to stick to that until she can keep her form intact on the more difficult vault.
Also worth mentioning is transfer Ashley Hiller. After two years at Florida, Hiller will join another powerhouse team where she's still fairly unlikely to make lineups for but can still provide good depth. Vault is one of her strengths, as she served as an alternate on the event for the Gators, though she only competed it once in her two years there. She has a strong full with good form, and if the Sooners find themselves struggling in the lead-off department without Capps, she could be a good choice.
However, it's fairly likely that head coach KJ Kindler will choose one of her veterans for that lead-off role instead. Alex Marks has a lovely full that she's competed frequently the last two years, typically scoring in the 9.8-9.85 range, so she might make a good case for opening the vault lineup. Jade Degouveia, Brenna Dowell, Maggie Nichols and AJ Jackson all competed one and a halfs last season and are near-locks to return, barring anything drastic. Jackson is the likely anchor with a big block, powerful dynamics and great consistency, never scoring below a 9.875 in 2017 and only missing one vault in her entire college career. Nichols is also a force to be reckoned with, as she scored two perfect 10.0s last year as just a freshman. She could be capable of quite a bit more now with a season of experience under her belt.
One unknown factor among the Sooner vets is sophomore Bre Showers. Injured in preseason last year, we had been looking forward to her college performances only to have our dreams delayed before the season even began. Showers has a strong stickable full that could easily compete for a lineup spot should she be healthy, and she's now had almost a full year to get there. We're leaving her as an alternate for now, but definitely keep your eye on her during the fall. Take a look below at how we'd lay out the rest of the lineup.
As the No. 1-ranked team on bars to finish off 2017, Oklahoma is under a lot of pressure to keep up the good work in the coming season. Losing lead-off Capps and anchor Wofford isn't exactly good news for the bar lineup, but we think they can make it work. Luckily, the incoming freshman have a few decent bar workers among their ranks. Abigail Matthews has an effortless, patient swing and elegant form in her releases that will put her right at home in the Sooner six. Carly Woodard also shows promise, with an aggressive swing and a strong straddle Jaeger straight into an overshoot. While that doesn't necessarily meet the typical cookie-cutter OU routine composition, it works for her, minimizing handstand deductions and showing off her great amplitude. Jordan Draper also has nice lines and an easy rhythm on bars, but her set isn't yet up to the level for NCAA competition. She'll need another D-level transition or a single-bar release before she's ready to take to the competition floor.
The returning bar workers will really bolster this lineup, though. Dowell, Nichols, Stefani Catour and Nicole Lehrmann all scored quite well last season, all hitting 9.925 or higher at least twice. Lehrmann and Nichols both scored perfect 10.0s as well and took a share of the national title, so expect them to close the lineup with a stellar one-two punch. Samantha Craus is also a potential contributor. After a few exhibitions and one competitive bar routine (scoring 9.85), Craus might be ready to step up and join the lineup as a regular. Though it's hard to tell what her consistency in college might be like, in J.O. she was steady with only one true miss between 2010 and 2012. If she can translate that to her week-to-week performances in college, she could definitely be a good lead-off competitor for the squad.
Again, keep in mind that Showers may be healthy once more. A wrist/hand injury might have made it difficult for her to train bars, but after seeing this training clip of her Shushunova last year, we fell in love. The gymternet needs another bars trickster to fawn over now that Brandie Jay (Georgia graduate and the last college gymnast from the big four conferences to compete the unique skill) has graduated. Showers might be just the girl—she'll just need to be fully healthy as that move can be hard on the wrist. But the rest of her set is clean and consistent enough to make sure she's worth the risk. Here's how we'd set up the bars lineup for the Sooners this year.
Beam has always been a strong suit for Oklahoma as it's known for its calmness under pressure and their elegant lines and choreography. Many of the freshmen have strong beam sets but few have the attention to detail—in pointed toes, split positions, preciseness of acro and choreography—that it will likely take to make the team's top six. Schoepfer is the likeliest bet, with long lines and great flexibility, though her bent knees on her series may warrant some clean-up work. Woodard is also a good option, with excellent split positions and a cool gainer side aerial very similar to a skill originated by Oregon State graduate Maddie Gardiner. However, she is a little less certain on some of her acro elements, leading us to believe she might be better off in an alternate position for now.
As far as the veterans go, it's Nichols and Natalie Brown who will likely lead the way on beam. Brown scored 9.9 or higher in 10 out of 15 meets, and Nichols scored three perfect 10.0s over the course of the season, including one during Super Six. Their balance between elegance and power really embodies the aesthetic that Oklahoma beam is so famous for. Catour and Lehrmann are also strong contributors, with the latter actually having the consistency necessary to slide into the lead-off spot that Jones leaves behind. Jackson is also a possibility, though beam is the weakest of her four events, as well as her least favorite. Rumor has it that coach Kindler might actually give in and let Jackson stop training beam in her senior season, but that doesn't mean she isn't still a good alternate option.
Neither Marks nor Showers competed beam last season, but we could see them both making a play for a lineup slot here. Marks' beam work is absolutely gorgeous, but we're guessing there's a reason we didn't see this set in competition. Whether that's inconsistency, nagging injury or just not competitive enough against her teammates, we would love to see Marks resolve whatever issue there was and crack the top six this year. Elegance like that deserves to be seen. Showers also had a speedy training clip of her full beam set last year, and except for her back handspring, her set is entirely hands-free, making it easy for her to train it while injured. It would also be her most likely place to contribute should she still be dealing with any nagging pain, especially in the earlier part of the season. With all this in mind, here's the lineup we propose for Oklahoma's beam squad in 2018.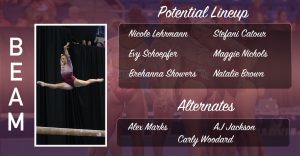 Like the other events, floor was also a big event for OU last year, especially with Nichols' strong set and Capps finally upgrading to that double layout. This year should be no different, with more veterans stepping up to the plate and newcomers bringing their solid floor work to the table. Webb is our favored choice among the freshman, with beautiful twisting work in her tumbling, including an E-level front double twist. Her dance skills could use some detail work, particularly in the toe point department, but her musicality is excellent and it's clear she has that unteachable floor presence that's so common in Oklahoma floor workers. She has the ability to tell a story through her dance, which is exactly how coach Kindler likes to operate, so we think she'll be a strong contender for the floor lineup—even as a freshman. Schoepfer might also be a good choice, though she'll want to clean up her leg form and up the amplitude on her double layout if she wants to keep it in college. She has good musicality, but her floor presence is perjaps a little less prominent than Webb's, giving Webb the slight edge over Schoepfer. Woodard is also a possibility, with stronger floor presence but less powerful and less difficult tumbling. There likely won't be many spots for the freshmen, with the veterans being so strong, so it'll be interesting to see how that battle plays out.
Speaking of the veterans, expect them to make up most of the lineup. Brown, Dowell, Nichols and Jackson all scored quite well last season, consistently scoring 9.85 or higher (much higher in the case of Nichols and Jackson) throughout the season. Degouveia was a frequent exhibition performer last year, and we fully expect her to slide into a lineup spot in 2018 with her solid tumbling and gorgeous dance. This might actually allow Oklahoma to have a full lineup of floor performers with E passes, especially if Webb makes the lineup, giving them three front double twists, a double front and two full-ins. That's a drastic change from Oklahoma's typical set up even just last season where Capps and Jones were both without E passes for almost the whole season. That's the kind of "up the ante" atmosphere that Oklahoma will want to encourage if it wants to win another national championship.
One dark horse to consider is Marks, who competed floor just once in her freshman season, but exhibitioned a few times. Her opening front double full would allow the Sooners to keep that full lineup of difficulty, and her elegant lines and stellar performance quality would be a great asset to the squad. She'll stay in an alternate slot for right now, but if anyone catches a case of the falls or gets injured, she'll be one of the best choices to take the open berth. Hiller would also be an outside pick, having served as one of Florida's top alternates for the last two years. Her one competitive showing last season was not confidence-inspiring, but in her freshman season, she made a couple of 9.7-ish showings. Under the supervision of coach Kindler and with more competitive experience under her belt, this could grow to become a serious alternate option for the Sooners. Here's what we'd suggest for the Sooners' floor lineup this year.
In the all around, Nichols is the clear favorite, and with the way these lineups are set, she's actually Oklahoma's only presumed all arounder. Having scored a perfect 10.0 on every event in just her first season of competition, Nichols will likely be setting her sights on the ultimate NCAA record—the perfect 40. While we're unsure if such a feat is even possible anymore, we agree that she's the likeliest candidate the gymnastics scene has encountered in recent years and are look forward to seeing her improvements over the coming year. Other possibilities include Jackson, who may or may not compete beam, but if she's needed, that would slide her into AA contention.
Overall, Oklahoma's outlook is once again very bright for the coming season. Its losses were substantial, but not insurmountable. And while the graduating class will certainly be missed both in scoring potential and performance ability, the team will press forward. Together, it seems that the incoming class and veteran Sooners will make for another formidable team in the coming season. But will they come out on top again?
---
Article by Caroline Medley, graphics by Emily Howell-Forbes