Today's analysis tackles the Minnesota Gophers, who had quite the rocky season in 2017. They dropped from No. 12 in 2016—where they qualified to nationals—to No. 30 in 2017—where even qualifying to regionals was a last-minute situation, only boosting their ranking high enough to qualify in the final week of regular season competition. The incoming class of freshmen is quite strong, although there's quite a bit of deficit to make up after the departure of the last two senior classes. At the end of 2017, Minnesota lost Bailey Abernathy, Bailie Holst and Kaitlin Rahon, some of its strongest and most consistent performers on each event. They also saw Stephanie Shields graduate early. However, she hasn't contributed to competition lineups since 2016. Will the addition of three strong freshmen be enough to make up the difference?
Vault sees the loss of all arounder Holst's Yurchenko full, as well as Abernathy's 10.0 start value handspring pike half. Without them, prospects start to look a bit bleak with a lot of inconsistent, lower-scoring fulls left among the veterans. However, the incoming freshmen bring a brighter picture. Lexy Ramler has a lovely Yurchenko one and a half that could easily slide into the anchor position—even as a freshman—due to her power and consistency. Ona Loper is also training a one and a half, but she currently competes a high, dynamic full that could also earn her a late lineup berth. And Lexi Montgomery had an arm injury of some kind, but with a fully healthy block, her full could also compete with those of the veterans.
Speaking of the veterans, they're going to have a lot of work to do to keep up with the freshmen. Paige Williams is the strongest and most consistent of the returning vaulters, hovering around a 9.825 most of the season and peaking at 9.9. Her vault is quite powerful, so it would definitely be possible for her to upgrade to a one and a half. Ciara Gardner is also a consistent option, though lower scoring, with her full typically hitting around a 9.75. Kristen Quaglia and Hannah Hitchcock were also regular vaulters last season, though their scores are significantly more inconsistent and generally lower than their peers.
Senior Abby DeMuse competed vault most of the season on an injured shoulder, so hopefully now after she's had surgery to alleviate the pain, she'll be able to compete to the best of her ability. In 2016, she was a consistent contributor, typically hovering in the 9.8 range with her Yurchenko full. She's just now doing her first back handspring in nine months, but after competing on the injured shoulder last season, we can absolutely see her back in the vault lineup in the spring.
Sophomore Casey Betts could also surprise for an occasional lineup slot, though she didn't compete the event during her freshman campaign. She had a solid full in J.O. competition, and Minnesota may need her to step up should anyone get injured or become inconsistent. With all these gymnasts in mind, here's how we'd set up the Gophers' vault lineup.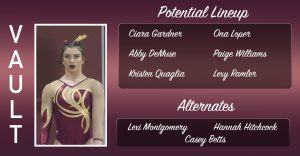 Bars was another point of inconsistency for Minnesota last season, with each returning gymnast in the 2017 lineup counting a fall. Luckily, incoming freshmen Loper and Ramler bring a more reassuring outlook to the team. Loper's clean, long lines and lovely pak salto should score well in college competition. But she will want to maintain those handstands she had at J.O. nationals to stay on the 9.85 side, rather than dipping into the 9.75 range that a lot of her new teammates got stuck in last season. Ramler has a huge variety of unique skills to draw from, including a full-twisting pak (Bhardwaj), a Comaneci salto and a full-twisting toe-on Shaposh—called a Seitz in elite but actually a Ramler in J.O. None of these are really quite consistent enough to merit keeping them in college, but should she qualify in postseason as an individual or with the team, she could definitely break them out for the wow factor. During the regular season, however, expect her bar set to feature transitions, rather than a single-bar releas, and lovely long lines in her handstands. Montgomery also has a decent bar set, but with some issues with leg form coupled with her injury last year, she may remain an alternate for the time being.
The Gophers' returning bar workers are a bit of a motley crew, but there's lots of good potential if they can improve their ability to stay on the apparatus. Gardner is again the best bet for a lead-off position with her decent consistency, only falling once all season, but she does have a lower score ceiling than some of her teammates, with a season high of 9.8. Quaglia had a major consistency problem last season, falling on three separate occasions and only once reaching a 9.8. Hitchcock has similar issues though didn't fall as often and has a higher score ceiling, reaching 9.875 at the conference championship. She also hit more consistently toward the end of the season, so maybe she'll carry that trend into the new year. Now-sophomore Ivy Lu was one we recognized last season as having a big potential on bars, but her NCAA debut was a little bumpy with two falls in the first four meets. However, later in the season she really started to find her stride, scoring as high as 9.9 in her final meet of the season. With that kind of scoring, she could really change Minnesota's bar game this year if she can maintain it. Rachel Rowland also competed barson a weekly basis, but with two huge misses in her first three meets (8.25 and 8.15) and a high of 9.8, she may fall by the wayside in favor of the stronger freshmen.
DeMuse is another one to keep in mind. Between two back-to-back arm/shoulder injuries, she just could not get healthy enough to join the lineup in 2017. But pre-injury, she would definitely be a factor here. Though very inconsistent in 2016, with four total falls throughout the season, she did manage to reach 9.875, which is significant for this team in particular, considering many of her teammates never reached that mark. If she can get her shoulder into good enough shape, she'd be a good bet to rejoin the bar squad, but for now, she'll remain an alternate. Take a look at the rest of our proposed lineup for Minnesota below.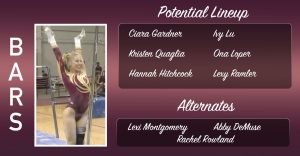 Beam is another place where the freshmen can provide some extra stability and scoring potential. Loper is probably the shakiest of the three, but we wouldn't go so far as to call her truly inconsistent. What she's really missing is confidence in her approach to the apparatus—plus her split positions could use a little fine tuning. Regardless, she could still be an asset to the Gopher's beam squad. Ramler is another step in the right direction, with a wide vocabulary of skills as well as a triple series and killer air awareness. But it's Montgomery who will really bring the consistency back to Minnesota, having not missed a single beam routine since 2015 and never scoring below 9.35—a respectable beam score in club—in that time. Ramler's scoring potential might be higher, but we think it's doubtful anyone will beat Montgomery on the knack for staying on the apparatus.
With three freshmen almost certainly beating out their elders for lineup spots, that doesn't leave a lot of room for the upperclassmen. Gardner is again a great choice for the lead-off, especially if Montgomery is kept later in the lineup due to her scoring potential. She competed beam almost every week last season and never missed, scoring as high as 9.9 on one occasion. A number of other gymnasts contributed on the event, including Williams, Rachel Cutler, Selena Ung and Julia Huebert, each with three true misses to their record. DeMuse also competed beam last season with vastly different scores, but beam has never really been her strength. With all this being said, take a look below at who we think will make the cut for Minnesota's beam team in 2018.
Floor was Minnesota's strongest event last season, finishing the year ranked No. 14—a drastic contrast to the No. 24 or lower rankings of the rest of its events. The incoming class should add to this success, with excellent showings from Loper and Ramler over the years leading up to college. Loper closed her J.O. routine with a front double twist, considered an E pass in college competition. Couple that with the rest of her solid tumbling and her long, elegant lines and she should have a recipe for steady scores come January. Ramler is kind of a tumbling powerhouse, with at least three different E pass options to choose from, including a double arabian, a full-in and a triple twist. She's also got personality for days, so she ought to be a huge crowd pleaser in NCAA competition—especially on bigger stages like the GymQuarters Invitational that the Gophers have on their schedule for this season. Montgomery would also be a solid choice, provided her injury is fully healed. Her double pike gets a lot of height, and she's got great musicality, though her split positions and landings could use a bit of work. She may start out in the lineup, especially if DeMuse is still recovering, but without adjustments she may find herself relegated to an alternate spot.
Speaking of DeMuse, floor used to be her strongest event, and since her injuries, she's been dying to try to get back in the lineup. However, as she's still at the beginning of her recovery process, she might sit as an alternate for the moment. But once she's healthy, we don't consider anyone to be safe from losing their spot to the senior. Cutler was a steady floor performer this past season, though a lower scorer than some, making her perhaps a good lead-off to set up the progression for the rest of the lineup. Floor is Gardner's best event, rarely scoring below a 9.85, and her routine is always jam-packed with sass and pizazz. Williams is also a strong performer and tumbler, competing a front double twist but is also capable of a double front. She topped out at 9.9 last year as just a freshman, so with more experience under her belt, who knows what she'll be capable of?
Unfortunately, that basically covers everyone who even went near the floor during live competition for Minnesota last season. For the other alternates, we're drawing on some untapped gymnasts from last year's freshman class in Betts and Ryan Stach. Floor was one of Stach's stronger events in J.O., so if she's fully healthy, she may be able to help out her team in terms of depth. Betts was also one of our alternate picks last year, with decent amplitude and performance power, so we're hoping she too can step up to the plate. Here's how we'd set the Minnesota floor lineup for the coming season with a bit of hopeful depth.
As if these lineups weren't unorthodox enough, they put both Loper and Ramler, two of the freshmen, in the all around. Both make very strong cases for themselves, though, and should be expected to bring a fresh outlook and a totally new aura to each lineup. Gardner also seems to be a lock for the AA, especially considering how steady under pressure she proved to be in 2017. She finished last season ranked No. 34 in the all around, so in her senior season, she'll look to improve upon that mark.
Overall, Minnesota's outlook is much brighter with the addition of the newcomers. However, three strong freshmen and one steady veteran does not a competitive team make. Veterans are going to need to step up their game (or get healthy) to make sure even making regionals isn't left for the last minute once again.
---
Article by Caroline Medley, graphics by Emily Howell-Forbes