In our next potential lineup analysis, we'll tackle the Florida Gators, who are in a great position to tackle the coming season. Losing no postseason routines to the lone graduating senior, Florida's depth and excellence can only go up from where it was in 2017. Claire Boyce will be missed in a leadership capacity, and her backup floor routine was helpful while it lasted, but in both spheres, the Gators should readily able to fill her shoes.
Vault was an excellent event for Florida in 2017, and the upcoming season should be no different. Each of its six incoming freshmen is capable of at least a Yurchenko full if not more, but don't expect to see a lineup full of new faces. Megan Skaggs is probably the most likely of the six to make the cut, with great dynamics and consistency. And Jazmyn Foberg is also a possibility, though her lack of updates since her last competition at the 2016 U.S. Classic leaves her status a bit uncertain. Rumor has it that both Foberg and Skaggs are working on upgrading to the Yurchenko one and a half—if they can, they'll be even more valuable as potential contributors. 
But the freshmen aren't the only ones working on their fitness. It's also been rumored that sophomores Sierra Alexander and Amelia Hundley have been working the same upgrade. Spots in the lineup will likely be dependent on which of these girls is able to find their feet with the new vault first, and who can hit it most consistently. Other veterans might want to watch out and clean up their own 10.0 start value vaults to keep their spots safe. Kennedy Baker and Alicia Boren have Yurchenko one and a halfs of their own, which they both are very capable of sticking. Boren can get a little loose in the knees though, and Baker had an ankle injury last year that kept her out of the vault lineup for a good portion of the regular season. Both will want to maintain their status as vault powerhouses with such a big group of up-and-comers on the event. Maegan Chant was in and out of the vault lineup last year with a 10.0 SV of her own, a full-twisting Tsukahara, but her inconsistency with both form and on the landing may weaken her chances of cracking the top six this year. Seniors Rachel Slocum and Alex McMurtry should be relatively safe, with Slocum vaulting her super stickable front handspring pike half and McMurtry likely retaining her stellar Yurchenko double—at least at home meets, if the trend she started last season continues. Here's what we think the vault lineup will look like in Gainesville come January.
Bars for the Gators had its ups and downs last season, but losing no routines and gaining at least two strong freshman routines should solidify Florida's place as a bars team. Incoming freshmen Skaggs and Foberg are the most likely to contribute of the newcomers, with neither really having a strong edge over the other. Skaggs has been consistently competing since retiring from elite, downgrading and cleaning her sets and reaping the rewards in great J.O. scores. Foberg had a nagging leg or foot injury of some kind the last time we saw her compete, but with more than a year of rest and good injury management from coach Jenny Rowland, she should easily slide back into the bar lineup. Her natural swing and wide vocabulary of difficult skills should give her good foundations and plenty of elements to choose from to compose her college routine. Since bars is much easier on the legs, we would guess that this is Foberg's most likely contribution to start out. Alyssa Baumann is another former elite with lovely execution on bars, but she deferred last year to recover from elbow injury and subsequent surgery, so her arm strength may not be back to full bar-swinging capability just yet.
For some of the veterans, it'll be a dogfight to maintain the status quo with all the new talent coming in. McMurtry and Hundley should consider themselves fairly safe; their one-two punch to close the lineup last year was absolutely killer. Thanks to her consistency, Boren is also likely to stay in the lineup, potentially serving as the lead-off performer. If Florida continues with its all arounder-heavy approach to lineups, Baker should also expect to keep her spot. This leaves only two spaces for newcomers or other vets. Rachel Gowey is the most likely veteran to make a push for those spots, though Chant and Grace McLaughlin have also contributed to bars in the past. Gowey's lines are cleaner and her releases more dynamic, making her the most attractive choice of the three.
After all of that, it's a tough choice, but here's how we'd set the Gator bar lineup in 2018.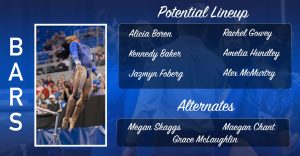 Think that bar lineup will be tough to crack? Let's talk about beam, where the Gators may have struggled midseason but soared at nationals. This year, Florida will have way more depth on beam to play with, thanks to its incoming class of freshmen. Skaggs and Foberg are again strong choices, and beam might be Nicole Webb's best chance at cracking a lineup thanks to her lovely execution and unique skills. But the real freshman breakout on beam should be Baumann. A beam star in her elite days, she's already been seen training beam and using her elbow again post-surgery, including an awesome Instagram of an Onodi to back handspring-layout stepout series that we would die if she brought to her college routine. She's poised to bring a new level of excellence to Florida beam, marrying wow factor and steadiness for excellent scores.
With Baumann and McMurtry the presumed dynamic duo to wrap up the top six, the remaining spots start to become more competitive. After solid performances last year, Boren, Baker and Hundley are likely to return to the lineup, but there will be little room for error if they want to keep their spots. Gowey's inconsistency last year may work against her, allowing a newcomer to slide into her spot if she can't prove that her triple series is worth the risk. McLaughlin and Amanda Cheney were also occasional contributors last year, but unless a major player gets injured, don't expect them to be in the conversation for the top six. Here's what we consider the Gators' best beam team for the coming season.
Floor is always a powerhouse event for Florida in the postseason, but sometimes it gets off to a sluggish start. This year, that shouldn't be the case. Skaggs, Baumann and Foberg were all excellent floor workers in their elite days, with Skaggs the likeliest choice of the three, taking into account injuries and recent competition experience. Skaggs also already has a piked full-in and a double arabian, and sources say she's also working on a double layout. She has both power and form—a necessary balance to strike on the NCAA floor. These same sources indicate that Foberg and Baumann are indeed training their more difficult tumbling passes again, though on what surfaces, we don't know. If their injuries are rehabbed enough and remain well-managed, both of them could make a run for the top six.
However, the veterans aren't going down without a fight—Chant, Slocum and Hundley are pushing to put double layouts into their weekly repertoire. Chant didn't crack the floor lineup last year, but maybe an E pass could change that equation for her. Slocum and Hundley were regular crowd favorites, and as rumors flew late in the regular season, knowledgeable fans waited with bated breath to see if Hundley would finally upgrade back to the DLO. It never materialized, but maybe she just needed some more time to train and clean it up to make sure it was ready. Last season, both Gowey and McLaughlin were off-and-on contributors, but with the stiff competition this season and no difficult E pass to wow the judges (or the Gator-chomping crowd), they may be relegated to alternate status. More certain would be the status of late-lineup stalwarts Boren and Baker, who should count on continuing to anchor the lineup, barring injury.
McMurtry's floor is always gorgeous, but tumbling with a back injury is a dangerous game she has to manage. As usual, expect to see her join the floor lineup mid-to-late February, just in time to get consistent for the postseason. Our following lineup graphic is a GIF showing our predictions for the floor lineup with and without McMurtry, so make sure to wait for the names to change to check out both options below.
In the all around, Baker and Boren are our likeliest candidates, with Hundley close behind and McMurtry joining the group once she's able to add floor. Skaggs is also a definite possibility, especially if any of the veteran all arounders need resting. Foberg is an outside chance for now, but will remain the dark horse until she reveals how she's progressing post-injury.
Notably absent from any of this discussion is freshman Vanasia Bradley. A fan-favorite former elite, Bradley has had multiple ligament tears in her legs over the last four years since her last competition videos. While we would love to see her compete again, we're just too unsure of her status to count her in our proposed lineups.
Overall, Florida presents a very strong argument to potentially upset the new Oklahoma dynasty and win another championship. Its depth and talent combined seem to spell success for the 2018 season, and the biggest challenge will be figuring out who the best options are, rather than how to fill out a lineup.
Come back Monday to see us analyze Georgia as it begins a new era! To see all the posts in the potential lineups series, click here.
---
Article by Caroline Medley, graphics by Emily Howell-Forbes