When Leah Clapper was in the eighth grade, she sent an email to the Florida coaching staff expressing her interest in eventually joining the Gators. She received a form letter saying that the team had filled all of their roster spots for the next several years. 
"Well, I guess I'll cross that off my list," Clapper said, admitting that during that time, joining the Gators felt out of the question. 
So much has changed since.
From that generic email seven years ago to this past weekend's perfect 10, Clapper's "how it started and how it's going" can't be more different.
Since that eighth grade year, Clapper became a senior elite gymnast, eventually committing to Penn State. She was fully committed to being a Nittany Lion, but Penn State and Florida's coaching changes opened the door.
The new Florida coaches reached out to Clapper's club coach during her junior year, offering her a scholarship. She visited the Florida campus, and everything felt right —from the academics to the athletics. 
"When something feels right, that's amazing," Clapper said. "If you can get that clarity of feeling like home and feeling like the place that you're meant to be…that's what it felt like for Florida for me." 
Years later and Clapper's goal of being on the Florida roster achieved, the Ann Arbor, Michigan, native formed new goals, this time to compete. It wouldn't be easy. By choosing Florida, Clapper knew that she signed up for one of the country's most competitive lineups. She embraced the challenge. 
In both her freshman and shortened sophomore season, Clapper was in the beam lineup only with an occasional exhibition on bars. At four meets this season, Clapper has competed on bars, beam and floor. 
While some seemed surprised by her breakthrough, Clapper says she's always envisioned her college career as competing in multiple events. The junior says she's always been a hard worker and was motivated to get back in the gym after the quarantine, trying to be the best gymnast she can be.
The hard work paid off. 
"This year it happened that my best [gymnastics] was in the top six," Clapper said. 
Not only has her gymnastics improved but her belief in herself is sky-high. 
"The keyword is 'confidence.' That has been so huge for me," Clapper said. "I've always been a pretty confident person, but when I got to college, I realized that I was surrounded by all these people that are insanely incredible at gymnastics."
Clapper felt undeserving and, looking back, she realizes she didn't need to feel like she didn't earn her spot on the team. 
"I knew I wasn't the best person on the team, and that's still true today. I let that get down on me freshman year, and I felt like I was not living up to the gymnast that the coaches wanted me to be," Clapper said. "That was a huge pressure that I was putting on myself. I didn't feel like I deserve to be on one of the best teams in the country, and in turn, I wasn't the best gymnast that I could be."
She has since flipped the script, realizing the negative things she's telling herself aren't true. Clapper says that while she's not necessarily the best overall gymnast, she has many other assets to bring to the team.
"I have an important role on this team along with everybody else," Clapper said. "Every single person has their own role, whether it's from contributing huge scores to encouraging teammates." 
The surge in confidence hasn't gone unnoticed by head coach Jenny Rowland either. 
"It's been a great transition of Leah's collegiate career," Rowland said. "When we recruited her, we knew she was capable of being impactful on all events, so to see her transition—I would say more so her inner confidence in her consistency that she has shown the team, day in and day out—has been thrilling to watch."
Clapper has not only blossomed into a three-event gymnast, but she's also embraced her entrepreneurial side, branching out from her existing blog and Instagram to producing a podcast as well. 
Clapper's "Wholesome Eats" Instagram account is a brightly colored aesthetic promoting healthy eating. With captivating images, it has the appearance of an account that could easily be run by a large-scale company or marketing agency.
Using the DSLR camera she was given as a birthday present, the self-starter lights and captures the images herself. She also adds easy-to-make recipes like protein snacks, healthy desserts and wholesome drinks.
"One of my main missions is to help other people live a happier and healthier lifestyle, so being able to show people that eating healthy can be fun and it can be delicious." 
She started her blog, Zest and Finesse, a "balanced lifestyle" blog, in high school. Her sister Lily helps create some of the recipes. Zest and Finesse documents and reflects Clapper's journey of healthy eating. 
The can-do spirit doesn't end there. 
Enter Zest and Progress, a podcast with a purpose to "energize you to create positive change in your own life and the world around you." Clapper enthusiastically introduces each episode with a "Let's zest it up!"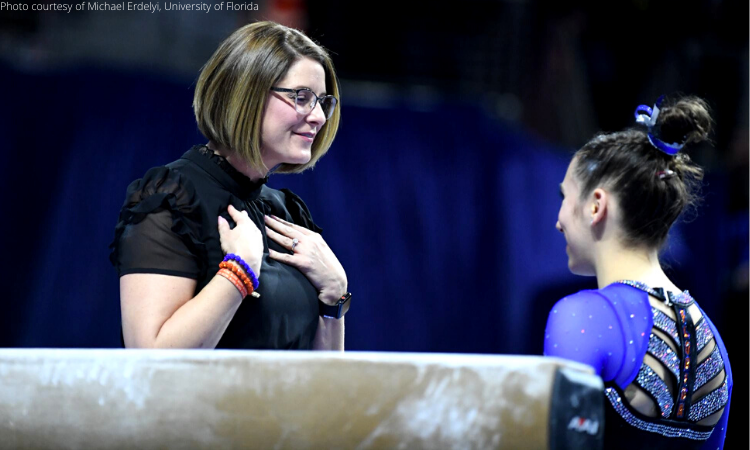 Since last December, Clapper has interviewed many of her past and present teammates, including Savannah Schoenherr, Alyssa Baumann and Megan Skaggs. They talk about their challenges and successes as the teammates and friends have added perspective and stimulating conversation. 
In January, Skaggs was one of Clapper's first podcast guests. 
"Leah has grown into herself, knowing who she is and her identity throughout her time here, especially this year," Skaggs said. "She exudes a certain level of confidence in her gymnastics but also in what she stands for."  
The senior all arounder is in awe of her teammate's transformation.  
"On her podcast, she talks about incredible things. It shows how many great leadership qualities she has. It's been great to watch the evolution of her coming in as a freshman and not knowing where she fits in on the team, to taking advantage of opportunities here and asserting herself and becoming such an important team player on our team."
Her teammates aren't the only guests. She recently hosted Florida's Performance Dietitian, Blaire Wolski, MS RD L‪D‬, in an enlightening segment titled "Maximizing Performance Through Nutrition."
How does she find balance and joy between the gymnastics season, the blog, her Instagram account and the podcast? Clapper explains that time management and being efficient have always been a skill set of hers. She realizes she has to designate what's most critical. She has to be honest and ask herself what her priorities are, what is essential and what she wants to get out of her life. 
"Gymnastics is so important to me right now," Clapper said. "I know that being a gymnast is a very short time in the big span of things, so I just want to savor every moment that I can and make the most out of the opportunity."
Clapper isn't the only one that is delighted. Rowland is quick to point to her gymnast's exuberance as well.
"When you watch Leah, it's hard not to smile. You can see her pure joy and her pure love for the sport, which she brings into the gym daily," Rowland said. "It's so rare, but it's contagious, and it just makes you feel good—and she makes you feel good. We're just really grateful that we have that presence in the gym." 
---
Article by Kelly Feng
Like what you see? Consider donating to support our efforts throughout the year!