Below you'll not only find fast facts from every DI meet this weekend (for more on USAG and NCGA teams, check out their respective Dismounts), but a few superlatives for some of our favorite moments as well.
Jaw-Dropping Moment of the Week
Sierra Alexander, Florida, Vault
Tonight, @GatorsGym's @Sierraalxander was perfection. pic.twitter.com/n1JeFhhZ3g

— Dr. Sam (@samisadancer) February 22, 2020
The Florida senior wowed the crowd with her best ever Yurchenko full, earning a perfect 9.950. The flare, the height and the landing were truly jaw-dropping. So was the fact that Alexander has been a quietly consistent vaulter for Florida, and was finally rewarded with this big score in her penultimate home meet.
Best Silver Lining Moment
Denver's home meet against BYU didn't end as the Pioneers would have wanted, but the gymnasts and spectators in Hamilton Gymnasium still found a way to celebrate a sellout crowd. 
Most Historic Moment
https://twitter.com/Pac12Network/status/1231752261073686528
UCLA's Grace Glenn earned her spot in NCAA history by becoming the first gymnast to ever recieve a perfect 10 in the leadoff spot. The senior accomplished the feat on beam, where she had previously earned several near-perfect 9.975s this season.
Most Charming Moment 
Lexy Ramler temporarily forgot where to go for hugs after a near-perfect routine, and it was adorable.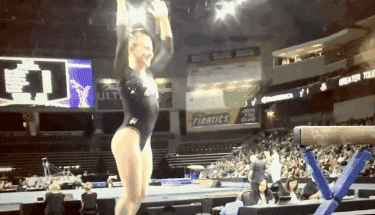 The Highlights
Perfect 10 Challenge with No. 1 Oklahoma & No. 25 Stanford

Full Results

Oklahoma: 197.650

Stanford: 196.600

VT: Trautman 10.000

UB: Degouveia, Smith 9.950

BB: Smith, Webb, Widner 9.925

FX: Smith 9.975

AA: Smith, Webb 39.650
The Big Storyline: Even without Maggie Nichols Oklahoma was able to put up a neutral site score in the mid-197s to easily outpace Stanford and sweep the event titles. Ragan Smith had an excellent day, grabbing at least a share of the bars, beam and floor titles while also tying for the all around win. Stanford had a good meet as well, posting its first road score above 196 and freshmen Chloe Widner tying for the beam title with two Sooners.
Implications: Unfortunately, the big story at this meet was the absence of Nichols, who is out with an unknown ankle injury. Oklahoma head coach KJ Kindler said to not expect her back for "a while," which would be a huge blow for the Sooners.
Records: Oklahoma's Olivia Trautman set a new career high with her 10.0 on vault, which is the second 10.0 of her career.
No. 8 Alabama at No. 2 Florida

Full Results

Florida 198.050

Alabama 197.450

VT: Graber 9.975

UB: Doggette 9.950

BB: Clapper 9.975

FX: Bauman 9.975

AA: Thomas 39.650
The Big Storyline: Florida scored a 198.050 en route to locking up the regular season SEC title for the second year in a row. The Gators narrowly avoided counting a fall on floor with a hit remaining rotation that ended up equaling their program record; they also became the first team in NCAA history to score 49.5-plus on beam over five consecutive meets. Alabama scored its second highest total of the season, a 197.450 for the road. The Crimson Tide was able to stay in the game for the first few rotations, staying within a few tenths of Florida until the Gators went lights out on beam. 
Implications: Florida secured the No. 1 seed going into the SEC championship. Sophomore Nya Reed remained out of the lineups. Alabama freshman Makarri Doggette was out of the all around, competing only bars and beam; she was seen in a brace on her left leg. 
Records: Alabama earned its highest road score since 2017. Crimson Tide junior Lexi Graber posted a career best 9.975 on her vault. Florida senior Sierra Alexander earned a career high of 9.950 on her Yurchenko full, a perfect score for that vault. Her teammate Leah Clapper earned a career high 9.975 on beam as the anchor. 
Controversies: Florida senior Rachel Gowey earned a 9.900 on floor for a routine with a huge hop back on her final pass and questionable double stag. 
No. 3 Utah at No. 3 UCLA

Full Results

Utah: 198.075

UCLA: 198.025

VT: Ross 9.950

UB: Tessen 9.950

BB: Glenn, Paulson 10.000

FX: Dennis, Kramer, Ross 9.975

AA: Ross 39.825
The Big Storyline: Utah led from start to finish in a close victory on the road at UCLA where both teams earned their first 198s of the season. The lead was 0.225 after the first rotation, and it only shrank as the meet progressed. It was a perfect 10 by freshman Abby Paulson in the anchor spot on beam that sealed the deal for the Utes and held off the Bruins who notched three near-perfect scores on floor to nearly complete the comeback. Kyla Ross as usual was the star of the night, winning two event titles and setting a new season high mark in the all around.
Implications: Despite coming into this meet tied and Utah winning, the Bruins will be ranked ahead of the Red Rocks in this week's first RQS rankings. Margzetta Frazier was once again absent from lineups for UCLA.
Records: UCLA senior Grace Glenn became the first gymnast in NCAA history to score a perfect 10 in the leadoff spot of a rotation. Utah's beam total of 49.775 set a new program record on the event.
No. 15 BYU at No. 5 Denver

Full Results

BYU: 196.200

Denver: 195.175

VT: Rieder 9.850

UB: Evans & Ruiz 9.875

BB: Vasquez 9.925

FX: Karr 9.950

AA: Karr 39.425
The Big Storyline: This was the most vulnerable Denver has looked in a long time. Multiple gymnasts made career debuts in the absence of Lynnzee Brown and Mia Sundstrom, and their newness was evident. On top of that, seasoned all arounders Maddie Karr and Alexandria Ruiz had some uncharacteristic mistakes. As a result, the Pioneers had to count a fall or 9.5-range score on every event but floor. BYU took advantage of the opportunity, leading Denver for the entire meet. The Cougars did not earn any season high event totals, but their consistency was enough to win the day. 
Implications: RQS-wise, Denver could be in trouble in the coming weeks. At least six teams are in position to surpass the Pioneers, and Denver needed a higher score tonight to offset that. BYU senior Shannon Evans was out of the vault and floor lineups for a "sore Achilles" but is expected to return next week. 
Records: BYU sophomore Adeline Rieder earned a career high 9.850 on her title winning vault. 
No. 6 LSU at No. 18 Missouri

Full Results

LSU: 197.025

Missouri: 196.850

VT: Edney & Porter 9.900

UB: Durante & Harrold 9.90

BB: Hu 9.975

FX: Johnson 9.925

AA: Hu 39.475
The Big Storyline: This meet was a bit closer than some might have expected, with both teams staying within a tenth of each other in the first few rotations. After a hot streak the past few weeks, LSU was back to some of its old issues on the leg events, including several major errors on floor. Nevertheless, the Tigers walked away with a 197 road score. Missouri looked good and capable of cracking 197 too, but it seems tougher and tougher as it keeps getting so close. However, the Tigers did not post a score lower than 9.725 all night. 
Implications: LSU could slip back a bit after scoring below Alabama this week; Missouri should not see much of a change. 
Records: Missouri freshman Helen Hu topped her previous career best of 9.950 (which she's scored three times this year) with a 9.975. She is ranked fifth in the country on the event. 
Elevate the Stage Big Five with No. 7 Minnesota, No. 9 Michigan, No. 24 Maryland, No. 31 Michigan State & No. 29 Penn State

Full Results

UM: 197.950

Minn.: 196.650

PSU: 196.125

MSU: 195.975

UMD: 195.325

VT: Brenner, Wojcik 9.950

UB: Wojcik 9.950

BB: Wojcik, Ramler 9.975

FX: Brooks 9.950

AA: Wojcik 39.775
The Big Storyline: The scoring in this meet was comfortable, with a few cracky moments and a few scores we think could've gone higher. Overall, the Wolverines' score isn't ridiculous. They put up that good of a meet—the meet they've needed to to prove they belong in the final four conversation this year. This is the highest non-Oklahoma or Florida score so far in the nation, and it was led by the performance the Wolverines have been waiting for from Natalie Wojcik. The Gophers, who came in ranked higher, just couldn't keep up despite a solid meet of their own. Ona Loper was limited with the flu, and an uncharacteristic beam fall from Ivy Lu depressed the total a touch. Maryland continues to stand a pace behind its start to the season, still looking for late-lineup big numbers to replace Audrey Barber's, and Penn State and Michigan State were able to put up solid nights that took advantage.
Implications: Michigan walks away as regular season conference champions for the fourth year running and the confidence boost the team needs moving into out-of-conference play to close the season, including a trip to Norman to visit the Sooners. We're (still!) waiting for some official word on the Big Ten championship night session, but rest assured that Michigan and Minnesota will be two of the four teams in that session.
Records: Michigan's total is a program record.
Controversies: When we looked at these results at the end of the meet, Michigan State was ahead of Penn State. A Nittany Lion score must have been reviewed and changed late. Not a true controversy, but it happened in both sessions and has Big Ten championship seeding implications.
No. 21 Oregon State at No. 10 California

Full Results

California: 197.125

Oregon State: 196.600

VT: Dagen, DeSouza 9.925

UB: Bordas 9.925

BB: Dagen, Watterson 9.900

FX: Bordas, Dagen 9.900

AA: Bordas 39.575
The Big Storyline: Sophomore Maya Bordas won bars, the all around and tied for the floor title as she led 10th ranked California to a win over visiting Oregon State. Nevaeh DeSouza tied for the vault title en route to helping the Golden Bears post the second highest vault total in school history and grab at least a share of every event title. For the second week in a row the Beavers posted their highest road score of the season, this week behind the strength of Madi Dagen, who tied for the event titles on vault, beam and floor.
Implications: California's leading all arounder, Kyana George, had to scratch floor after suffering a freak ankle injury while jumping around before the final rotation. The severity of her injury is unknown, but losing her for an extended period of time would be a big blow for the Golden Bears.
Records: Both vault winners set new career highs, as did Bordas in the all around and Emi Watterson on beam.
No. 11 Georgia at No. 12 Kentucky

Full Results

Georgia: 197.050

Kentucky: 196.825

VT: Korth 9.975

UB: Oakley 9.925

BB: Vega 9.925

FX: Korth & Warren 9.925

AA: Vega 39.425
The Big Storyline: The Wildcats looked strong in the first few rotations, but a fall in the leadoff spot on beam set the tone for a shaky rotation that ultimately sunk their chances to beat Georgia. Regardless, the team should be pleased that they can get to the upper-196 range (their second highest score of the season) even with a tough rotation like this. Georgia got a much needed 197 on the road, which will be welcome for RQS. The Gymdogs also earned their highest vault score of the season, even with two of their gymnasts (Rachel Lukacs and Mikayla Magee) downgrading their 10.0 starts for the evening. 
Implications: Tonight was symbolic in that these two teams will likely fight for the final night session spot at the SEC championship. Right now, it's looking like Georgia will have it, but the regular season is far from over. Also, Sabrina Vega competed all four events this week and last; it's looking like she will fill what was Amanda Cashman's bars spot as the season goes on. Speaking of the all around, neither Mollie Korth nor Raena Worley did all four events for Kentucky, though this was likely just a matter of resting.
Records: Mollie Korth's 9.975 vault score was the best mark she's earned not just on that event but across all four. Sophomore Josie Angeny also earned a career high of 9.875 on vault, and Hailey Poland's 9.900 on beam was her best ever.
No. 13 Washington at No. 31 Arizona State

Full Results

Washington: 196.875

Arizona State: 196.875

VT: Leonard-Baker 9.900

UB: Leonard-Baker 9.950

BB: Vandenkolk 9.900

FX: Hoffa 9.925

AA: Reeves, Scharf 39.350
The Big Storyline: Arizona State notched a season high and Washington posted its highest away total as both teams tied in this Pac-12 matchup. The Sun Devils' Cairo Leonard-Baker was the night's lone double winner, taking home the vault and bars titles. Hannah Vandenkolk won her first event title of the season for the Huskies, who also got a win from Kristyn Hoffa on floor.
Implications: Washington's score will count in its RQS calculations while Arizona State's will not—but it allows the Sun Devils to now count their only other 196 of the season.
Records: Leonard-Baker's score on bars is the highest score by Arizona State on any event this season.
No. 20 Auburn at No. 14 Arkansas

Full Results

Auburn 196.500

Arkansas 196.025

VT: Watson 9.975

UB: Hambrick & Shaffer 9.900

BB: Carter 9.900

FX: Hambrick & Carter 9.925

AA: Hambrick 39.500
The Big Storyline: Arkansas had a bit of a rough meet. The Razorbacks started out fine on vault but had back-to-back falls to kick off their bars rotation; a mistake they ultimately were unable to come back from. The team looked a little off on all events, with a fall on beam and floor as well. Auburn had a mostly solid meet, except for issues on floor—an event that has been causing problems for the Tigers all season. The highlight was Drew Watson's stuck Yurchenko one and a half, which scored a 10 from one judge.
Implications: Auburn was able to pass Missouri with this meet, elevating it to seventh in the SEC regular season rankings. Arkansas held firm at sixth. 
Records: Drew Watson's 9.975 on vault was a career high.
Elevate the Stage Big Five with No. 16 Nebraska, No. 23 Illinois, No. 27 Ohio State, No. 33 Iowa & No. 44 Rutgers

Full Results

UNL: 196.750

Ill.: 196.550

tOSU:  196.475

Iowa: 195.725

RU: 193.625

VT: Houchin 9.950

UB: Howell 9.925

BB: Hodges 9.925

FX: Simons, Hassel, Gagliardi 9.900

AA: Houchin 39.450
The Big Storyline: This one was close! Several teams came in with make-or-break problem events, and each hit that event. Ohio State began the meet with a critical hit on beam while Illinois knocked off its first truly strong vault rotation of the year. Nebraska meanwhile had a consistent meet across the board, something it has struggled to do at times.
Implications: The existential winners of this one are Illinois and Ohio State; both walk away with season highs and new confidence in their abilities to hit competitive totals. Nebraska, too, leaves with renewed confidence that it can hit when it matters. All of these teams will be looking at what Michigan and Minnesota did in the Saturday session, and looking for details to improve before the conference championship.
Controversies: There has been no clarity around which teams will be in the night session of the championship. We think Nebraska will join Michigan and Minnesota, but we're unclear on which team will fill that last spot. Also, the Illinois total was raised by three tenths (presumably by review) after the conclusion of the meet.
No. 17 Iowa State at No. 19 Southern Utah

Full Results

Iowa State 196.300

Southern Utah 195.775

VT: Maldonado 9.925

UB: Rozsa-Thompson 9.875

BB: Converse 9.900

FX: McClain 9.925

AA: McClain 39.400
The Big Storyline: Iowa State had a stronger day than the scoring suggests; if not for a tough outing on bars, the Cyclones would have cruised into the upper 196 range for the third straight week. The highlight for the Cyclones came on vault, where they scored their highest total in over a year. Southern Utah didn't fare as well and had to count a fall on beam and a lower score on floor. It was a good day for sophomore Karley McClain, though, who was back in the all around for her second highest total of the year. 
Implications: Iowa State outscored Denver this weekend; given Denver's injury-ridden outlook, watch how the Cyclones fare in the coming weeks leading up to the Big 12 championship, where the race between the two teams could get interesting. 
Records: Iowa State vaulters Andrea Maldonado and Phoebe Turner each earned career high scores of 9.875 and 9.925, respectively. 
No. 42 Pittsburgh at No. 19 Southern Utah

Full Results

SUU: 197.075

Pitt: 196.000

VT: Alfaro 9.925

UB: Rosza-Thompson 9.900

BB: McClain 9.900

FX: McClain 9.925

AA: McClain 39.525
The Big Storyline: Southern Utah rebounded from a less-than-spectacular performance on Friday with a completely hit meet. The Thunderbirds scored a season best on beam, highlighted by Karley McClain's 9.900. Pitt had its best performance thus far, reaching the 196 mark for the first time this season. The Panthers surpassed 49.000 on vault for the first time this season and also scored a season best on bars. Michaela Burton led the way for the Panthers and was their highest scorer on bars, beam and floor. 
Implications: This is Southern Utah's second score over 197 this season, making it the lowest ranked team to have multiple 197s. This also means the Thunderbirds can count one of those 197s in their RQS. Although this meet doesn't count in Pitt's RQS, it gives it the sixth score it needs to have an RQS and re-enter the rankings next week. In the tight EAGL this season, Pitt gained ground on George Washington in the conference standings and actually has a higher average than the Colonials at the moment. 
Records: Morgan Alfaro's 9.925 on vault is a career high. Madison Loomis set a career high 9.850 on floor. Karley McClain's 39.525 in the all around is also a personal best. For Pitt, Deven Herbine's 9.850 on beam is a career high.
No. 25 Stanford at No. 22 Arizona

Full Results

Arizona: 196.150

Stanford: 195.225

VT: Bryant 9.875

UB: Berg 9.925

BB: Davis, Linton 9.875

FX: Bryant 9.900

AA: Bryant 39.275
The Big Storyline: Arizona went 24-for-24 with consistent gymnastics across all four events to post a home win over Stanford and tie its season high score. Senior Christina Berg posted the night's highest score on bars to win the event title while two Wildcats also tied for the beam win. Kyla Bryant was the standout for the Cardinal in its second meet of the weekend, winning floor en route to her all around title. Bryant also stuck her vault to take the event title there during a poor vault rotation that took Stanford out of contention in the second rotation.
Implications: This meet boded well for Arizona, who will now be able to count a 196 for its RQS ranking while Stanford's score will not factor into its RQS total.
Records: Bryant's 9.875 on vault ties her career high, as does Kennedi Davis' score on beam. Sirena Linton also tied for the beam title in her first collegiate routine on the event.
No. 26 Utah State, No. 50 UC Davis & No. 59 Sacramento State at No. 35 Boise State

Full Results

Utah State: 196.800

2nd Team: 196.800

UC Davis: 195.850

Sacramento State: 192.700

VT: Bouza, Varnadore, Meyer

9.875

UB: Muhlenhaupt

9.975

BB: DeHarde, Sullivan

9.950

FX: Popp, Varnadore

9.900

AA: Varnadore

39.350
The Big Storyline: MRGC teams Boise State and Utah State both earn season high 196.800s to tie for the win. 
Implications: After a lackluster start, UC Davis has clawed its way up the MPSF rankings, and was ranked second heading into week eight. This near-196 away score (and dropping their 187.225 from week three) may be enough to put them ahead of San Jose State. Having star Kelley Hebert back in lineups also bodes well for Davis as the postseason edges closer. Sac State has been one of the more consistent MPSF teams this season and is likely to stay in the middle of the rankings with this performance. Utah State and Boise State were ranked third and fourth, respectively, in the MRGC heading into this meet and outscored first and second ranked BYU and Southern Utah this weekend. It may not be enough to overtake those two teams, but it will keep the rankings tight. 
Records: This was a record-setting meet for several of the teams: Utah State posted its highest beam total and the second highest team total in program history. Both Boise State and UC Davis earned season bests on vault and floor en route to a season high team scores. Additionally, the Broncos broke 49 on all four events for the first time this season (as well as fielding a full bars lineup). Sacramento State's Jordyn Brent tied her career high on floor with a 9.875, the highest score from any of the Hornets in 2020. 
No. 28 West Virginia at No. 42 Pittsburgh

Full Results

WVU: 194.925

Pitt: 194.575

VT: Pierson 9.900

UB: Burton 9.900

BB: Burton, Hornung 9.850

FX: Petrikis, Combs 9.850

AA: N/A
The Big Storyline: Despite ending on a shaky beam rotation, West Virginia was able to pull out the win in Pittsburgh. Of note, freshman Abbie Pierson competed her Yurchenko one and a half for the first time since the first meet and stuck it for a 9.900. Pitt had a solid day, but a counted mistake on bars and an overall tight scoring atmosphere kept the total down.
Implications: West Virginia will come in at No. 32 nationally as the RQS rankings kick in this weekend. The Mountaineers will be in danger of falling behind in the coming weeks as more teams drop their low scores, so they are going to need to start scoring higher to avoid this. Pitt will not have an RQS until after its meet on Monday, as it does not have enough road scores yet.
No. 63 William & Mary & No. 67 Centenary at No. 30 N.C. State

Full Results

N.C State: 196.500

W&M: 192.975

Centenary: 189.250

VT: Shepard 9.850

UB: Shepard, Kent, Robinson 9.875

BB: Grantham 9.850

FX: Grantham 9.925

AA: Grantham 39.450
The Big Storyline: N.C. State put up a huge 196.500, a season high and the highest score in the EAGL so far, to come out with the win. The highlight for the Wolfpack was a 49.300 on bars, the seventh highest total in program history. William & Mary also put up a season high score with a bars total that is tied for fourth best in program history.
Implications: This is the first of N.C. State's two meets this weekend, but its RQS is in good shape.
Records: Drew Grantham's 9.850 on bars was a career high, as was Lauren Kent's 39.125 in the all around. Taylor White's 9.825 on bars was also a career high.
No. 30 N.C. State, No. 45 Northern Illinois & No. 52 Temple at No. 42 George Washington

Full Results

N.C. State: 196.025

GW: 195.900

NIU: 195.450

Temple: 195.075

VT: Chambliss, Shepard 9.850

UB: Shepard, Castrence, Garin, Estrella, Edwards 9.875

BB: Banen 9.900

FX: Grantham 9.925

AA: Chambliss 39.275
The Big Storyline: It was the first home podium meet ever for George Washington, and it was a great meet for all four teams. George Washington and Temple both recorded season highs, Northern Illinois recorded its third straight score over 195 and N.C. State broke 196 for the fourth time this season.
Implications: N.C. State comes in at No. 27 in the first RQS rankings. Regionals is all but guaranteed for the Wolfpack, the task now will be to finish in the top 28 and avoid the first round at regionals. George Washington sits at No. 40 and will need to continue to score at this level or higher in its remaining five meets to have a shot at regionals. Temple comes in at No. 47 and continues to be the highest ranked team in the ECAC.
Records: Temple's total score is tied for the fourth best in school history, and its bars score is the second best in school history. Simone Banen's 9.900 on beam was a career high, as was Cydney Crasa's 9.900 on floor.
Controversies: Not a controversy per say, but George Washington freshman Hannah Munnelly went down on floor with a "lower body injury" and had to be carried off. If it's series, this could be a blow for the Colonials, as she has been a solid competitor on three events.
No. 34 Central Michigan at No. 49 Bowling Green

Full Results

Central Michigan: 195.400

Bowling Green: 191.800

VT: East 9.850

UB: Pedrick 9.850

BB: Tong 9.900

FX: Pedrick 9.875

AA: Pedrick 39.275
The Big Storyline: The Chippewas took the win in this conference dual, defeating Bowling Green by over three points. This was the first conference win for Central Michigan since it defeated Eastern Michigan back in January. Beam was exceptionally strong for the Chippewas, where they achieved a season high 49.175. Bowling Green on the other hand had a rough meet. The Falcons started out strong on vault, but nothing short of a disastrous bars rotation created a deficit that could not be overcome. Also concerning is the fact that the Falcons only put up five gymnasts on both vault and bars, with the recap claiming there were only five available competitors on the latter. 
Implications: Central Michigan moves into second place in the MAC this week and drops to 37th overall, but less than a tenth of a point separates it from Western Michigan, which is in first place. The goal for Central Michigan moving forward will be to move up to 36th or higher to make sure it qualifies to regionals. 
No. 41 North Carolina at No. 36 New Hampshire

Full Results

North Carolina: 196.100

New Hampshire: 195.300

VT: Hislop 9.900

UB: Donaghy 9.850

BB: Culton 9.900

FX: Winer, Hislop 9.900

AA: Freehling 38.850
The Big Storyline: North Carolina put a complete meet together and broke 196 for the second week in a row. New Hampshire had a solid day on vault, beam and floor but had some bars trouble again.
Implications: New Hampshire will come in at No. 33 in the RQS rankings this week. It is still in a good position to qualify for regionals, but it will want to continue building on these low 195 totals to keep from falling behind. With two scores of 196 in a row, North Carolina comes in just outside the top 36 at No. 38. If it continues on the path it's on, regionals is a possibility—but crunch time is starting. The Tar Heels only have four meets left and will likely need to have at least three more good meets to stay in contention.
Records: Grace Donaghy's 9.850 on bars is a career high.
Controversies: There was a lengthy judging conference for Alyssa Worthington's score on beam, as one judge had her start value at a 9.800. They eventually settled on a score of 9.825. 
No. 38 Kent State at No. 40 Ball State

Full Results

Ball State: 194.575

Kent State 194.450

VT: Manitkul-Davis 9.775

UB: DeCavitch 9.875

BB: Waldo 9.800

FX: Goyco 9.900

AA: Nychyk 39.025
The Big Storyline: Ball State defeated Kent State at this conference face-off. Floor continues to be a stand-out event for the Cardinals, specifically for junior Claudia Goyco, who won the event with a 9.900. It wasn't a particularly great meet for either team, but the score remained close throughout. Kent State has been a little all over the place this season; it is capable of scoring 196-plus, but has been spending far more time in the 194 to 195 range. 
Implications: This meet doesn't do much to shake up the rankings for either team, but Ball State earning the victory over higher ranked Kent State is still a victory the Cardinals will be proud of.  
Controversies: Kent State junior Nasha Mantikul-Davis was injured on floor, and while we haven't received confirmation yet, it sounds like it may be season ending. 
No. 39 Western Michigan, No. 47 Towson & No. 49 Bowling Green at No. 28 West Virginia

Full Results

West Virginia: 196.000

Western Michigan: 195.075

Bowling Green: 194.225

Towson: 193.425

VT: East: 9.850

UB: East 9.825

BB: Abarca 9.900

FX: Cluchey, Combes 9.875

AA: East 39.275
The Big Storyline: This meet went pretty much as expected with no big surprises. West Virginia took the win, boosted by a season high beam total. Western Michigan came in second—maintaining its undefeated status in the MAC by beating Bowling Green—and Towson finished fourth. The Falcons were much improved at this meet, scoring over two points higher than their total on Friday. Also notable: They put up six gymnasts on each event, which alleviated some concerns about their depleted lineups earlier this weekend.  
Implications: Western Michigan continues to surprise and moves into first place in the MAC and 36th overall. West Virginia, Bowling Green and Towson all drop a few spots in the rankings after this week. 
No. 46 San Jose State at No. 60 Seattle Pacific

Full Results

San Jose State: 194.900

Seattle Pacific: 191.925

VT: Burns

9.825

UB: Burns

9.875

BB: Milne

9.925

FX: Burns

9.925

AA: Chan

39.000
The Big Storyline: Seattle Pacific senior Darian Burns turned in a stellar performance in her final home meet. 
Implications: San Jose State has led the MPSF all season, largely due to its consistency (it's the only team in the conference that hasn't scored below a 192). While this was a good meet for the Spartans and a solid away score, it may not be enough to keep UC Davis at bay once RQS kicks in. After an underwhelming opening meet, Seattle Pacific has performed admirably. This score is unlikely to affect its ranking but bodes well for the Falcons as they head towards the postseason.
Records: San Jose State freshman standout Emma Milne's 9.925 not only earned her the beam title but also a school record on the event. Her teammate Tia Gin notched a career high in the all around. Seattle Pacific's Burns capped her final home meet by winning three of four event titles and earning career highs on vault and floor. The Falcons also scored a season high on vault.
Unite for Her with No. 52 Temple, No. 55 Illinois State, No. 58 West Chester, No. 65 Southern Connecticut & No. 75 Ursinus

Full Results

Temple: 194.450

ISU: 193.800

WCU: 192.000

SCSU: 190.250

Ursinus: 186.250

VT: Castrence 9.850

UB: Estrella 9.950

BB: Garin, Estrella 9.800

FX: Cooke 9.850

AA: Cooke 39.075
The Big Storyline: Temple put up another solid total to finish first at this quint meet. Illinois State overall had a rough day, but a huge 49.100 on bars was a highlight.
Implications: Temple has a second meet this weekend, but this meet will allow the Owls to drop a 190.675 in their RQS.
Records: Jazmyn Estrella's 9.950 on bars sets a new program record for Temple and is the highest score for the Owls on any event since 2002.
No. 58 West Chester at No. 63 William & Mary

Full Results

William & Mary: 194.550

West Chester: 193.775

VT: Waldman 9.800

UB: Waldman 9.825

BB: Nodarse 9.825

FX: Greenlow 9.800

AA: Gordon 38.950
The Big Storyline: It was a huge meet for both teams as they both recorded totals among the top 10 best marks in program history. William & Mary bested its previous season high by over a point and set season high scores on vault, beam and floor.
Implications: As RQS rankings begin this week, this big total for the Tribe will be dropped, so they will remain at No. 4 in the ECAC standings ahead of Brown and Cornell.
Records: West Chester's total score is the third best in program history, and William & Mary's is the eighth best.
READ THIS NEXT: The USAG Dismount: Week 8
---
Article by the editors of College Gym News
Like what you see? Consider donating to support our efforts throughout the year!