We take on our third Pac-12 team in a row, analyzing the Oregon State Beavers and their lineup possibilities for the coming season. After a successful 2017 that saw the team qualify to the national championships, Oregon State will try to maintain its success despite losing a key senior class. Kaytianna McMillan, Maddie Gardiner, Erika Aufiero, Silvia Colussi-Pelaez, Megan Jimenez and Taylor Ricci all contributed to at least one event on a weekly basis in their senior season. In total, the Beavers will have to replace 14 of a possible 24 routines from the lineups—a daunting task. We can only try to predict how the team will fare.
Vault leaves only a few veterans, which means the incoming freshmen will have to fill in the remaining gaps. As will be the case on most events, Kaitlyn Yanish leads the way here with a powerful Yurchenko full. Her dynamic vault will likely score well in college and has the potential for upgrade in the future. Niya Mack and Savanna Force also have solid fulls that could perform well in the earlier part of the lineup, with Mack's being the stronger of the two.
As far as returning vaulters go, Oregon State only has four gymnasts to its name from the lineup last season. Sabrina Gill and Shireen Khamedoost both competed Yurchenko fulls and scored in the 9.75-9.8 range, with Gill competing far more regularly than Khamedoost. Though she didn't show it last season, Gill is also capable of a Yurchenko one and a half, which she could bring back now that she has a year of NCAA experience under her belt. Mary Jacobsen competes a Tsukahara layout full, one of the more uncommon 10.0 start values seen in collegiate competition. She's scored as high as 9.9, so definitely look for her in the later part of the lineup. And Dani Dessaints, who we've heard is fully healed now, has an excellent Yurchenko one and a half that will likely anchor the lineup.
Besides these veterans, it seems that OSU does have a few other vault possibilities, particularly in the category of "freshman who never materialized last season." On a Snapchat video of their most recent intrasquad, Lena Greene looks to be training a handspring front pike, which could turn into a 10.0 SV vault by adding a half twist in the future. That vault as it is looks solid enough, so we think she'd make a good alternate choice. Isis Lowery did compete last season but not on vault, and she had a nice one and a half in her elite days. We would love for that vault to make a reappearance, especially without many other prospects. Also on the list of possibilities is transfer Lacy Dagen, who competed vault just once at Florida but has a strong Yurchenko full and is likely fully healed from her various injuries. Taking all of these things into consideration, here's who we'd suggest for the Beavers' vault lineup this season.
Bars for Oregon State is a much less dire picture, with five returning veterans from 2017 and Dessaints likely joining the squad. However, there might be room for a few strong freshman on the event, particularly if anyone needs resting. Yanish's J.O. bar set is actually not up to the competitive level for NCAA, but she's been training a single-bar release for years that looks pretty viable. While she hasn't competed it, it seems that it's something she'll be able to pull out when she needs to. Lexie Gonzales also has some lovely lines and an easy swing, though she'll need a dismount upgrade or a connection into her current ending.
The returning gymnasts won't make it easy for them to crack the lineup, though. Jacobsen only counted one miss, making her perhaps the best leadoff option. Dessaints is reportedly joining the bar lineup, but as she's largely untested on the event, we expect she'll stay in the early part to start out. Bars is Khamedoost's strongest event, as she's capable of scoring 9.8+ on a regular basis. The same goes for Mariana Colussi-Pelaez, but she is much more inconsistent with five of seven hit routines in 2017. But her routine is more dynamic, featuring a big Jaeger. The real star of the bars lineup, though, will be McKenna Singley, who is the only returning Beaver to break the 9.9 mark on bars last year. Her gorgeous handstands and floaty transitions make her routine a true treat to watch.
Another possibility on bars is sophomore Halli Briscoe. Sidelined with an injury in her freshman season, Briscoe is a WOGA alum whose strongest event is bars. Her set from her club days shows a little weakness in handstand positions, but her natural swing and strong releases show that she could make a run for the lineup if healthy. Here's our take on the Oregon State bar lineup for the coming season.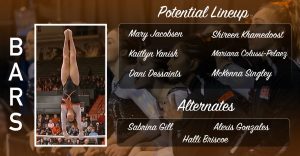 Beam may also start the season looking a little rough, especially after losing more than half of the lineup to graduation. It's going to need all the new blood it can find to keep beam as one of its strong suits. Gonzales' lines on beam are quick and precise, and she has a confidence throughout her choreography that suggests she might be a good contributor in college as well. She could use a little work on some of her split positions but should be able to drop some of her harder dance elements, considering she has two different jump combinations in her routine already. Colette Yamaoka, one of the more under-the-radar additions to the Beavers this year, is gorgeous on beam and has already been seen on the event in an intrasquad video on Snapchat. Mack's beam is fun and unique with a side aerial to side aerial series and choreography that really lets her personality shine through. However, she's quite unsteady, taking balance checks on almost every acrobatic skill in her routine. This may keep her out of the lineup until she can get it under control. Contrarily, Yanish's beam set is steady as a rock, setting her up for great success in high-pressure situations and potentially earning her a late-lineup position, even as a freshman.
Dessaints is the main go-to veteran, braking 9.9 on four occasions last season. Oregon State will need her leadership on this event to stay on track, but she can't do it alone. Gill competed beam all season without a single miss, so she's a perfect choice for the lead-off role. Lowery competed twice but neither was a hit score. However, her first routine looked really solid, but the lower score was actually due to a start value issue. Destinee Davis is the final returning Beaver on beam, though she only competed once last season for a 9.65. If she can improve her balance and confidence, she might make a good beamer yet.
Some other potential routines may emerge as well. Jaime Law, one of 2017's freshmen, was quite the beamer in J.O., with a huge 9.625 in 2015. Dagen also has some solid skills on beam, though her last video from Florida indicated she didn't have a full set ready just yet. If fully healthy, we could totally see Dagen at her J.O. peak on the Beaver beam team. But without any evidence that she's even training, it's hard to put her in the top six. Take a look below at who we'd put on beam this year.
Floor is another event where the Beavers are hurting in the returning routines department: Only three regular contributors will be back for 2018, plus one exhibition routine. So we'd bet head coach Tanya Chaplin is hoping to see her freshmen step up in a big way. Luckily, she has Yanish, not only with a huge double layout and the performance presence to match but the top J.O. floor average of all incoming freshmen. Mack also looks like a strong option on floor with a lot of power in her tumbling and sass for days. Gonzales has a different sort of quality to her routine, but she's still a good performer with long lines and solid tumbling. And Force, while the weakest of these four, still has a workable routine and is a decent performer. Oregon State can use all the help they can get, so it's nice to know the freshmen have the depth on floor if it's needed.
Of the veterans, we expect Lowery to be the strongest, having competed nearly every week and reaching the 9.9 mark on multiple occasions last season. Jacobsen was one of the most consistent floor performers, typically scoring around 9.75-9.8 for her efforts. So she'll likely be the lead-off performer to set the tone for the squad. Gill is the third and final returning floor competitor, and though she only competed four times, she scored decently on each outing.
One veteran we don't expect to see is Singley. A regular on floor in her freshman season and an exhibition performer last year, Singley had, or may still have, an ankle injury that limited her time on the event in 2017.
Two newcomers to the picture are Dagen and Destinee Davis, both of whom have a history of excellence on floor. In a preseason intrasquad at Florida last season, Dagen showed a double layout that was as good as any of her teammates'. And Davis was seen training floor on Oregon State's Snapchat, showing off fun, sassy choreography. Take a look below at how we'd construct the floor lineup for Oregon State.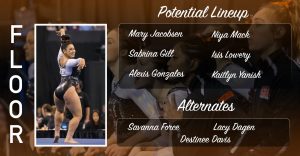 As far as the all around, Oregon State will likely have a freshman replacing its seniors as the strongest all arounder in Yanish. With huge floor potential, solid vault and beam and a decent bar routine, Yanish is well-equipped to take over the high-scoring reigns from McMillan and Gardiner. The only other possible all arounder we see is Gill, who may have some trouble making the bar lineup but is absolutely integral to the other three events.
Whether it's capable of maintaining or improving on its final ranking last season will entirely depend on the ability of its returners to rise to the challenge and whether or not it can make effective use of its freshman talent.
---
Article by Caroline Medley, graphics by Emily Howell-Forbes