Next up we're taking a look at Kentucky, an SEC team on the rise. After a surprisingly strong showing during regular season, the Wildcats finished 2017 ranked No.14, and came within a half tenth of beating Georgia at the conference championships. Losing only the routines of Sydney Waltz, who chose to medically retire midseason, Kentucky finds itself in an excellent position to improve upon last year's performance and could even make a bid for a nationals berth if it's given a favorable regionals draw.
Vault is not historically a strong event for Kentucky, but that changed last season as it finished No. 9 in the country, its highest event ranking of the year. The team's newcomers may find it a little difficult to break into the top six, as most of them have pretty standard Yurchenko fulls, but some are definitely stronger than others. Mackenzie Harman and Katherine Marianos both have solid fulls that are comparable to some of the lower-scoring veterans—not huge dynamics, but good form in the air and controlled, if not stuck, landings. Megan Monfredi only performs a Yurchenko layout, but she has a huge block for such a simple vault. It's quite possible she's training a full, and if she's not, we fully expect head coach Tim Garrison to immediately jump on that missed opportunity. Allison Snyder competed a handspring front pike, and though that's only worth a 9.9 start value, she has started training the half twist that would bring it up to a 10.0. Considering Kentucky only has one 10.0 in its arsenal at the moment, we'd guess that getting Snyder to upgrade to the handspring pike half is a big priority.
As far as the veterans go, expect to see standout Mollie Korth in the anchor spot again this season. Her incredible freshman campaign was one of the driving forces behind Kentucky's success last year, and her Yurchenko one and a half is the team's only 10.0 SV right now. All arounders Alex Hyland and Sidney Dukes are also likely to return, with Hyland vaulting a full and Dukes a layout half. Hyland's scores typically float around the 9.75-9.8 range and were pretty consistent, making her a good possibility for the lead-off position. Dukes was a little less consistent, with one big miss for a 9.575 last season, likely leaving her in an early lineup slot as well. Aubree Rosa and Katie Stuart also vault decent fulls, with Stuart the stronger, albeit more inconsistent, of the two.
Danaea Davis is an interesting case: In 2016, she vaulted an incredibly inconsistent piked Ilg, a front handspring onto the board with a handspring pike off. But in 2017, she switched to a Yurchenko full with much better scores but still iffy consistency. Her 9.9 ceiling alone merits inclusion in our lineup, but it'll be interesting to see which vault she chooses for 2018, and that choice may determine where in the lineup she ends up, as well as how often. Here's how we'd lay out the vault lineup for the Wildcats this year.
Ending the season ranked No. 12, bars was another strong event for Kentucky in 2017. However, it doesn't seem to be a strong suit for many of its freshmen. Two of the incoming Wildcats do not meet up-to-the-level requirements for an NCAA routine, and even for some who do meet them, their form is far too sketchy to consider putting them in the lineup, at least in their pre-college state. We consider Snyder and Madison Averett the most likely freshman bar options, though it will be difficult for them to crack the top six with all the veterans in the mix. Snyder's Maloney to bail combination and double front dismount make for a very different routine composition than is typical for Kentucky, but that might give her an edge. Averett could use some work on her handstands if she's going to compete with her peers, particularly on her bail, and she too will actually need to add a skill in connection before her dismount to meet the difficulty level requirements. However, aside from Snyder, her routine needs the least alterations to be college competition-ready, so for now, she'll make a decent alternate choice in case someone gets injured.
However, the real stars on bars are going to be the veterans. Korth again leads the way with big amplitude on her releases and a huge full-twisting double layout dismount. Hyland and Dukes will make good supporting players, with Hyland the higher scorer and Dukes the more consistent between the duo. Katie Carlisle is also a great bar worker, with nine of her 13 routines scoring 9.8 or higher and only having one fall during the season. Stuart is one of the more inconsistent options, though her 9.875 score ceiling is definitely worth noting. Cori Rechenmacher had some kind of wrist or forearm injury last season that led to her sitting out bars quite a bit during the season, but what she did compete was always solid, never scoring lower than a 9.775. If she's healthy once again, she could definitely sneak into a later lineup position. Here's what we'd propose for Kentucky's bars lineup in the coming year.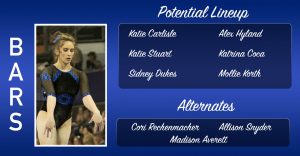 Beam is another great event for Kentucky, finishing the season at No. 12. Almost all the freshman have issues with staying on the apparatus, but perhaps surrounded by their seasoned teammates and under Garrison's watchful eye, their consistency and balance will improve. Monfredi's beam work is confident and clean, though her J.O. routines were wildly inconsistent. Her scoring potential is definitely high enough that she could be worth the risk, though. Snyder has beautifully steady work on beam, but her scores end up significantly lower than her deductions indicate. We're guessing that she's not receiving credit for the switch leap to back tuck connection she performs, which may mean that her routine no longer starts from a 10.0. Hopefully her college coaches will figure out a feasible solution because her calm demeanor and and sure-footed acro work would definitely make her an asset to the Wildcat beam squad. Averett has a lower score ceiling based on how she scored in club, but she's likely the most consistent of the class, making her a good option as well.
The Wildcats' beam lineup from last season is pretty solid as is, though, with only three falls among the entire team in 2017. Rechenmacher, Dukes and Hyland are all great options, only scoring below 9.7 once between the three of them. Stuart is also a fairly consistent performer, but her score ceiling is a bit lower than some of her peers. And while one might consider beam to be Korth's "weakest" event of the four, she is by no means a weak beamer, with a 9.875 score ceiling and typically hitting in the 9.8-9.85 range. Take a look below at how we'd arrange the Kentucky beam lineup this season.
Floor was the "worst" event for the Wildcats this past season, but again, it did not have a weak showing in any sense of the word. Monfredi and Averett are the two freshmen most likely to break into the top six, both with different strengths. Monfredi is a true performer, with personality for days and lovely, long lines. Her musicality is spot on, hitting each of her choreography marks right with the music and moving through her movements fluidly, rather than moving from pose to pose. Averett also has lovely lines, but they're more evident in her twisting form than her dance. Her quick front double twist would give Kentucky another E pass, bringing the team up to the level of other SEC powerhouses.
The only other such pass is Korth's excellent piked full-in, which contributed to her huge scores last season, topping out at a 9.95. Hyland and Dukes also have solid routines, with Dukes the higher scorer of the two. Carlisle is also a solid floor performer with decent consistency and a 9.85-ish score ability, setting up the lineup for a solid progression of scores throughout the lineup. Stuart and Rechenmacher also contributed to the floor lineup last season but with significantly more inconsistent scores than their peers and lower averages—even for hit routines. With freshmen like Monfredi and Averett, they may have to work harder to keep their places in the top six.
One routine that we can't really let go of is Erynne Allen's. We touted her last year as one of the best of the incoming class, before anyone knew about Korth's early graduation, but she never materialized in competition or really in anything after a few training videos in January. Allen's floor was her best piece in J.O. competition, including a massive double layout. Whether it was injury, mental block or just not cracking the lineup, Allen was nowhere to be seen, and frankly, that's a tragedy. If she becomes a real person again this year, we think she's a definite threat for the lineup. That being said, here's our proposed lineup for the Wildcats on floor this season.
With these lineup configurations, Korth, Hyland and Dukes stand to be the team's three all arounders once again. Last year, the trio finished in the top 25, which is huge for an "afternoon session" school like Kentucky. Stuart is also a possibility, as she's competed all four pieces the majority of weeks the last two years. However, she was the weakest of Kentucky's all arounders, and her inconsistency on beam and floor leaves her vulnerable to being knocked out of those lineups by a teammate. Still, it's likely that she'll be rotated through nevertheless, putting her in all four at least a couple of times in 2018.
Overall, Kentucky looks ready for another strong season, and with a new class of routines to add to its arsenal, it can only stand to gain. It'll be interesting to see whether the Wildcats can put it all together when it counts and make it to the big show in April.
Next up we dive into Penn State's potential lineups for 2018 under the helm of new head coach Sarah Brown. To check out past analyses in the series, click here.
---
Article by Caroline Medley, graphics by Emily Howell-Forbes