Today's lineup analysis target is Georgia, a team on the edge of reinvention. After a tumultuous postseason and offseason, the Gymdogs are back with a new coaching staff and a new fire under their tails. Georgia graduated a pretty substantial class in 2017, losing Morgan Reynolds, Beth Roberts, Ashlyn Broussard and Rachel Schick, all of whom contributed to multiple lineups throughout their careers. But with a solid incoming freshman class and a brand new attitude, could this be the season the Gymdogs reclaim their former glory?
Vault will see the loss of decent-scoring fulls from Reynolds, Broussard and Roberts, but none of these are really difficult scores to replace. Vault is a strength for incoming freshman Emily Schild, who competed a solid DTY in elite, which should presumably give her a dynamic, flared full in NCAA competition at the very least. Marissa Oakley also made her final run at elite this summer, showing a lovely full at the P&G Championships that is definitely ready for a college lineup. Ashley Foss also has a workable full, but it hasn't been seen in competition in two years. Plus, she's currently in a boot, leaving her status unknown. We wouldn't count on her to be breaking into leg-event lineups just yet. Walk-on Madison McPherson has also been seen training a Yurchenko one and a half, which would be a nice difficulty boost for Georgia, whose lineup only contained two 10.0 start value vaults at its peak difficulty last season.
Georgia could also see a difficulty boost from Rachel Dickson, now an experienced sophomore, who had an excellent one and a half in J.O. that hasn't materialized in college just yet. With the new coaching staff more likely to take risks than the old, we think Dickson could start throwing the more difficult vault if her ankle is fully healed from the issues she had last season. In addition, the team's returning Yurchenko one and a halfs from Gigi Marino and Sydney Snead should also return to the lineup. Marino stuck with a full for the beginning of 2017, and Snead often has to be rested due to her back injury. But both were back to full strength during the postseason. To compete with the top teams in the nation, especially as parity increases, the Gymdogs will want as many reliable 10.0 vaults as they can find. Aside from these three, super senior Lauren Johnson has a solid full, and senior Natalie Vaculik has also contributed to the lineup in the past. Vivi Babalis has also been seen training vault recently, which is surprising considering she's never vaulted competitively in college, and she's had a nagging elbow injury for years that's kept her from being able to do back handsprings. It was only a layout, but the fact that she's vaulting at all definitely points to her being healthier and capable of contributing to more events.
All things considered, here's what we consider Georgia's best vault lineup for the coming season.
The biggest loss for the Gymdogs on bars will be Schick, though Reynolds also contributed solid scores in most meets last season. Both Schild and Oakley's best events in elite were bars, though, so it shouldn't be too difficult to replace the routines lost. Especially with her showings this summer, Oakley makes quite a strong case for a late-lineup position, with long lines and quite the level of difficulty. Foss also used to have some excellent stalder skills and an easy swing, but her momentum can cause her to miss some connections or make her handstands to go over the wrong way sometimes, so she'd need to get that under control.
Returning bar veterans will include Dickson, Snead, Johnson, Hayley Sanders and likely Vaculik. Vaculik's status was dubious last year after an illness kept her out the first part of the year, but after two appearances, she mysteriously disappeared again. Many believe this was related to the unknown reason former head coach Danna Durante wanted to remove her from the roster, but now that Courtney Kupets Carter has allowed her to return, we believe Vaculik should be a shoo-in to return to bars, as well as possibly other lineups. Gracie Cherrey is another that could return to lineups after a year off. Months removed from ankle surgery, Cherrey seems to be out of the boot and could be ready to go. In her freshman season, she delivered solid, middle-of-the-road scores, hovering between 9.7 and 9.85. While those scores could replace the gaps Reynolds leaves behind, are they enough to crack Georgia's top six with all this newfound depth?
With all the players in motion once more, here's what Georgia's proposed bars squad would look like.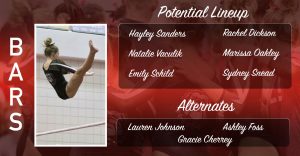 Oh, Georgia beam: the ever-changing, ever-terrifying mystery that leaves us biting our nails and changing our fantasy lineups. Our biggest hope for Georgia this year is that Kupets Carter and Yoculan Leebern can bring the beam prowess back to Athens, but they have to have the right base material to work with, too. The most promising freshman on beam should be Foss, if she can get out of her boot in time to train enough to be consistent for season. Her beam set is steady, elegant and difficult, with a full-twisting back handspring (or Kochetkova) and a front aerial to switch leap combination. Schild and Oakley also have decent beam work, but it's neither of their strong events.
For the veterans, it's going to be a game of who can hit refresh after last season and find new steadiness on the perilous event. Now-sophomore Sabrina Vega was one of the few steady performers last season, bobbling significantly a couple times but never falling. She should make an excellent lead-off performer once again this year. Sanders was another fairly steady competitor, never falling once she made it into the top six. Though not the cleanest competitor, her calm determination could definitely be an asset to the team. Dickson, Babalis and Snead have had their share of troubles on beam, with Snead not in the lineup most of last season due to her injury. However, they've also shown shades of greatness, all scoring 9.875 or higher at some point. Could their new coaches turn those performances into regular occurrences? Here's who we think has the best chance at becoming a dependable beam squad in 2018.
Kupets Carter has already told fans to expect floor to be different this season. A new choreography style and no more "Go Dogs!" squished into every routine, but the routines themselves need to be strong enough to change Georgia's recent trajectory. The freshmen may not have a big say in that, as we haven't seen Oakley or Foss compete floor in years. While McPherson's scores seem to indicate that floor went well in the few competitions she did this year, we can't find any working video of her routine to see what it's like. That leaves Schild; floor isn't her strength, but her tumbling is strong, and her lines are clean even if she's not the best performer. It's likely she'll retain an E pass though, which is definitely a plus, and she has a few to choose from as well. We could see her being a solid replacement for someone like Reynolds or Roberts, good for a decent 9.8 to start.
The real question is how can the veterans step up. Last season, we saw footage of Babalis training her double arabian on her much-healed elbow, but it never materialized in competition. Jordyn Pedersen and Jasmine Arnold went so far as to perform in exhibition, but could never crack a lineup. Vega had to water down her opening pass midway through the season after being unable to land it reliably. Snead was in and out of the lineup thanks to her nagging injury. And once she made the lineup, Dickson was a stellar performer… until she crunched her ankle at SECs, and then fell at nationals. The new coaching staff will have its work cut out for it to take this island of misfit toys and turn them into a top-tier floor squad once again. It's definitely doable, and the raw material is there, but wait to place your bets until we see training footage of some of these various moving parts. Will Kupets risk it with difficulty or play it safe like Durante was known to do?
The only returning floor competitor not mentioned above is Marino, and she too had to play it safe for part of last season, competing only a double pike instead of her usual double layout for a good part of the year. Her outlook was certainly the most positive of the veterans at the end of the 2017 season though, so we'd guess she'll end up as the anchor again in 2018. Here's what we think a full-strength floor lineup would look like for the Gymdogs.
Assuming her injury is well-managed and she can stay levelheaded on beam, Snead should again be the top-scoring all arounder for Georgia. She has the polish, the difficulty and the competitive spirit to be in the top tier of individuals across the country, but it's going to be a game of balance, weighing the rewards against the toll it takes on her body to compete four events every week. The other likely candidate, again largely depending on beam confidence, should be Dickson. She was a sleeper hit in the all around for Georgia last year, so hopefully she'll find her J.O. beam mentality again, as she was a real rockstar before being bit by the Georgia beam bug.
Overall, much of Georgia seems shrouded in mystery as the school year begins. Footage of the team retreat shows a plethora of team bonding, and it seems like the gymnasts are taking well to the new leadership. However, only time will tell if the coaching change is effective or if Georgia will just have the same problems, just with different people at the top.
Check back on Saturday to see how we break down Missouri! To see all the posts in the potential lineups series, click here.
---
Article by Caroline Medley, graphics by Emily Howell-Forbes