By Rebecca Scally
On July 29, 73 American elite gymnasts will compete at the U.S. Classic in Hoffman Estates, Illinois. This event is the final qualifier for the P&G Championships in August and is conventional for established elites to use Classic to test their routines and prepare for P&Gs and world team selection.
The Basics
The U.S. Classic is a single-day meet; most juniors will compete in an afternoon session, and the senior title will be determined in the evening. It's worth noting that as the number of junior entrants is so high this year, the six current Junior National Team members will compete alongside the seniors in the evening session, though they will still be competing for placement in the junior ranks. These gymnasts include Gabby Perea, Olivia Dunne, Adeline Kenlin, Emma Malabuyo, Maile O'Keefe and Sunisa Lee.
Most established elites will have already qualified to the P&G Championships through international assignments, the American Classic or scores at camp. For those who haven't, the qualifying scores they'll need to hit are 52.0 for seniors and 50.5 for juniors.
NCAA Commits
Of the all the gymnasts competing at the U.S. Classic, 37 have committed to an NCAA program so far, including all but three of the senior field.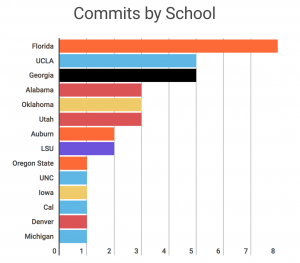 Infographic courtesy of Emily Minehart.
Florida leads the pack. Its eight commits are split evenly between four years, with two Classic competitors planning to join the team every year between 2019 and 2022. Georgia and UCLA also have strong representation, while the more Level 10-dependent Oklahoma is still well-represented with three. Iowa and UNC are the most surprising names on the list, with Adeline Kenlin and Tienna Nguyen competing, respectively.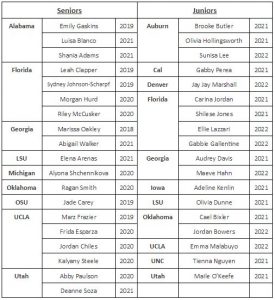 The Field
Seniors
The senior field is fascinating this year as it's full of stylish athletes with one or two great events. But so far in 2017 no one gymnast has emerged as the all around leader. Olympic alternate Ragan Smith is the most likely—if she competes all four events. Though, Riley McCusker of MG Elite will bring confidence from her City of Jesolo Trophy all around win and could also contend on a strong day. Expect strong showings from several other new seniors too: Morgan Hurd, Trinity Thomas and Alyona Shchennikova all have the routines to make an impact, though they don't yet have a competitive track record that would make them a sure thing.
Outside of the title race, there are several specialists who could raise their stock this summer. The only world champion in the field, Ashton Locklear, will hope to establish herself as the best bar worker in the country after being beaten by McCusker in Jesolo. But don't let Jade Carey fly under the radar. As a new elite, she already has an Amanar and a double-twisting Tsukahara, and if she can land both vaults consistently, there's a very real chance she could make the worlds team as a vault specialist—although her beam and floor are not too shabby either.
While those gymnasts will take up most of the spotlight, be sure to also watch out for Jordan Chiles, who has been going through a coaching change but is finally back to competition, and Margzetta Frazier, who has been working an incredible number of upgrades including a new Amanar. Plus, it'll be fascinating to see how fan favorite Deanne Soza is doing after her recent move to Texas Dreams.
Juniors
The junior field is led by a cohort of 2002-born gymnasts who already have plenty of international experience. If they can perform their best, expect an intense battle for the title. Gabby Perea of Legacy Elite won the City of Jesolo Trophy with the highest junior all-around score so far this year, but has sat out for the last few months with an ankle injury and only decided within the last few days to compete only on bars. Emma Malabuyo, Maile O'Keefe and Adeline Kenlin have the most competitive scores of the other established juniors, and it's likely that one of them will walk away with the title.
Watch out for Sunisa Lee on the uneven bars as well. While she's struggled with inconsistency, she recently posted a video of a planned bar routine which includes further connections out of her existing Nabieva-Pak combination for a difficulty score over the 6.0 mark.
How to Follow
The junior session will take place at 2 p.m. ET and the seniors (plus the six juniors who are competing in this session) will follow at 7:30 p.m. ET.
Start lists for the junior and senior sessions have been posted, though they are subject to change until the event begins. Live scores are available here or through the MyUSAGym mobile app. In the last day or so before the competition, you can monitor the livescores for scratches as these will typically show up as zeroes posted for some or all of an athlete's events. Streaming will be available for the junior session at USA Gymnastics' YouTube channel, and the senior session will be televised on the Olympic Channel, which can be accessed with a cable login through the NBC Sports app or through Hulu, among other platforms. Some video will also likely be available for podium training.
Be sure to follow check NCAAGymNews.com and follow us on Twitter for coverage throughout the weekend!