With the Big Ten Conference bracing for the additions of UCLA and USC for the 2024-25 athletic season, many are left wondering what impact the blockbuster move will have on the conference's reputation and strength. In NCAA gymnastics, where the Big Ten contains fewer programs with lower parity than other Power 5 conferences within the sport, the looming change leaves even more questions about how the landscape of the conference will change. As blue-blood UCLA enters a conference that has been rising the gymnastics ranks as of late, we're taking a deep dive into the numbers of how UCLA stacks up against the existing conference members. This Data Deep Dive takes a look at the scores, the program, and the future of the schools of the Big Ten Conference as they anticipate the arrival of UCLA.
The Scores
The first analysis that came to mind was how UCLA stacked up against Big Ten schools in the past few seasons based on sheer numbers.
Looking at the average score of each team over the past six seasons, UCLA consistently ranks near the top of the conference and seems to be a pretty even match for the top teams in the conference. UCLA won't be untouchable in this aspect, especially given that all other Big Ten teams are only within a tenth of their 2023 average. Parity is obviously increasing in the conference, and Michigan State and Ohio State having an excellent 2023 season in this regard only puts more stress on UCLA to stay a part of the conference's leaders.
The popularity of the UCLA "perfect 10" and the concept of strict Big Ten scoring also sets up an interesting comparison of 10s scored by each school in each season. UCLA is incredibly dominant pre-pandemic, but parity in this aspect becomes evident from the 2021 season onward. Many Big Ten programs did not tally a perfect 10 at all over the past six seasons, but UCLA is, again, on par with many of the conference leaders in number of 10s scored.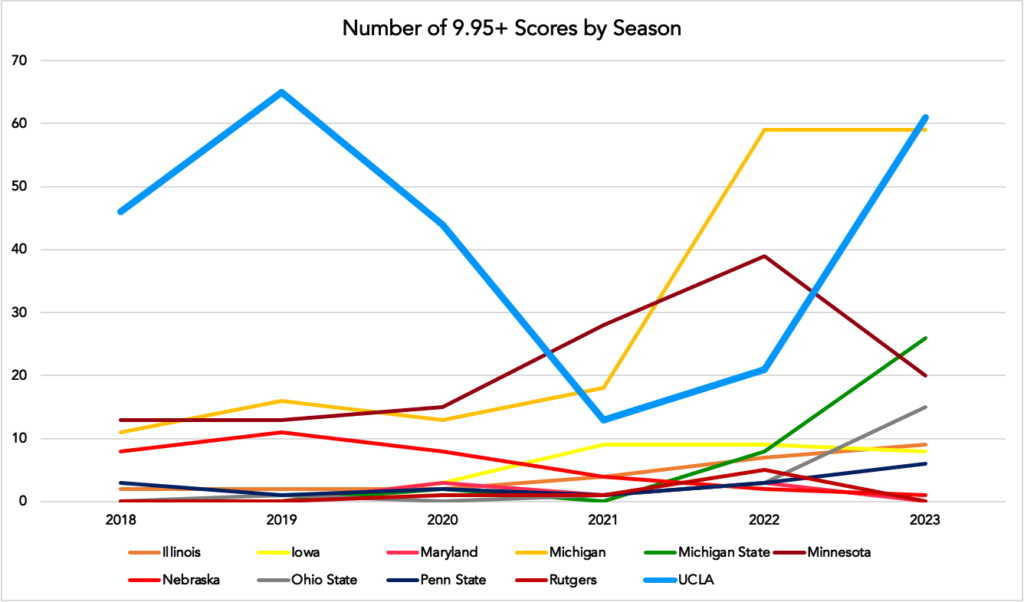 Moving to an analysis of the upper echelon of scores, I looked at the amount of scores above 9.9 and 9.95 that each team scored over the past six seasons. I opted for a sheer number instead of a percentage since a team's advancement to additional meets within the postseason is also relevant to their strength within the conference and sport. UCLA separates itself from the pack well here, with Michigan being its main competition.
The Program
It can be difficult to compare one program's legacy to another, especially since the Big Ten has only produced one NCAA team champion, and many measures of legacy cannot be quantified. However, by looking at the number of All-Americans, head coach base salary, average home attendance, and nationals appearances, we can paint some sort of picture of how these programs stack up without looking at scores.
UCLA will instantly make its mark on the conference by being a powerhouse at producing NCAA All-Americans. Its numbers are only matched by Minnesota and Michigan, which only adds to the representation of Big Ten gymnastics on the national level by being projected to help increase the number of Big Ten gymnasts who go on to become All-Americans.
While many blue-blood programs such as Utah and Florida pay their coaches handsomely, Janelle McDonald's base salary is on par with that of many of her future Big Ten peers. Michigan's Bev Plocki is by far the largest earner in the conference and clearly outranks UCLA in this respect, but it is worth noting that 2023 was Janelle McDonald's first season in a head coaching position, and her predecessors at UCLA have brought in similar salaries to those at other powerhouse gymnastics schools.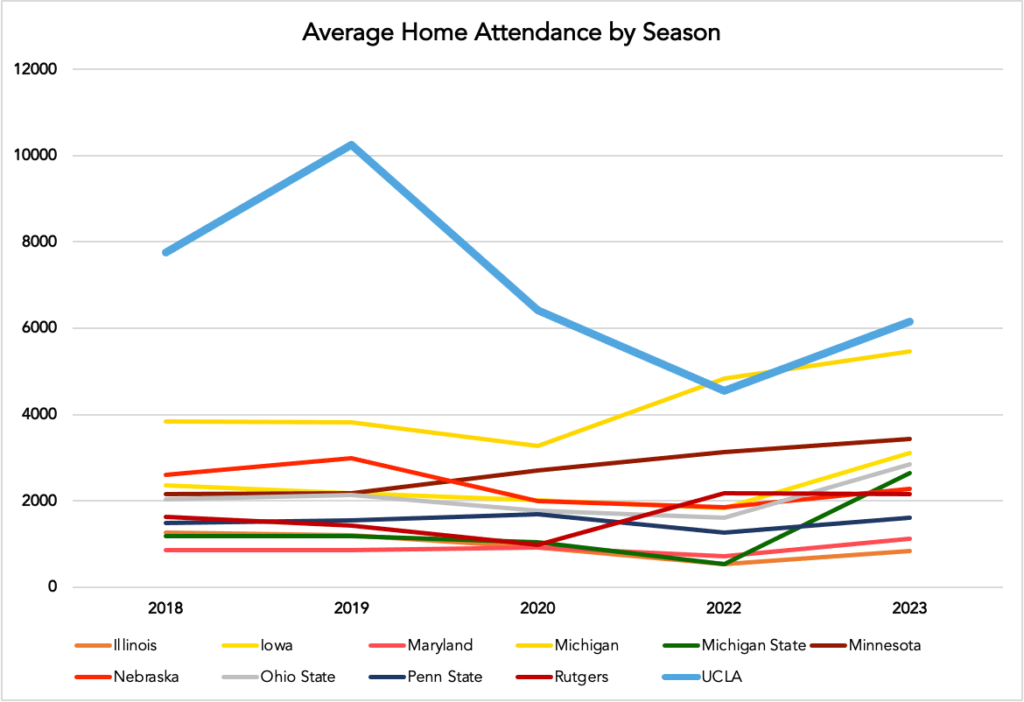 The clearest advantage UCLA has within the conference is its impressive home attendance averages, outranking every single Big Ten program except for Michigan, which drew large crowds after its national championship in 2021. UCLA is known for its impressive marketing, from a plethora of viral routines to video series that give an insider look at the team and its dynamics, and its prowess in this area combined with pure star power allows it to shine within this analysis.
| | |
| --- | --- |
| Team | Nationals Appearances |
| UCLA | 35 |
| Michigan | 26 |
| Nebraska | 26 |
| Penn State | 17 |
| Ohio State | 7 |
| Minnesota | 6 |
| Illinois | 4 |
| Iowa | 1 |
| Michigan State | 1 |
| Maryland | 0 |
| Rutgers | 0 |
UCLA also shines within the total number of nationals appearances, with nearly 10 more than any other Big Ten school. Despite narrowly missing out on a nationals berth in the 2023 season, Michigan seems poised to at least keep the margin close, but UCLA should comfortably stay on top of the Big Ten with the most appearances at the NCAA National Championships.
The Future
Incoming recruiting classes are essential to predicting how UCLA will stack up against its competitors as it transitions into the Big Ten conference. With many Big Ten schools shattering program records and rising the rankings in the past few seasons, recruit star power is being spread more evenly across the sport.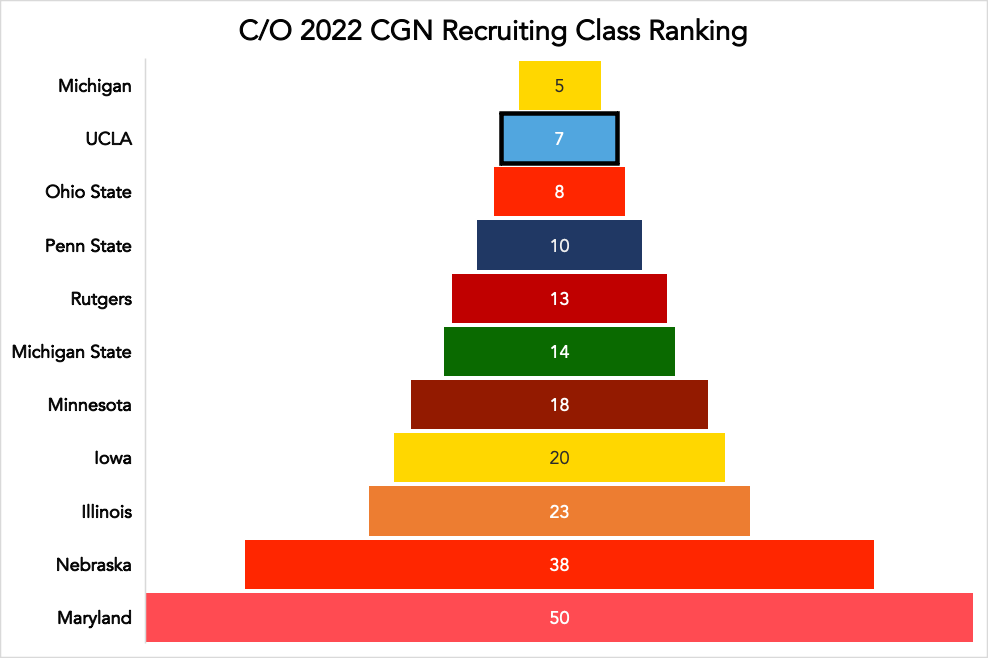 In 2022, UCLA boasted the second strongest recruiting class in the Big Ten, only behind Michigan, which had been coming off a national championship in 2021 that likely attracted talent to its future classes. However, rising Big Ten stars such as Ohio State and Michigan State are close behind, boasting top-15 ranked recruiting classes that made major impacts on their depth and power in the 2022 season.
However, for this season's incoming recruits, UCLA only ranks seventh in the Big Ten in strength of its incoming class. On top of this, UCLA is losing key all-arounder Jordan Chiles as she prepares for the 2024 Olympics while many Big Ten schools are losing a few or no contributing routines.
The Takeaway
While UCLA is arguably dominant in many comparisons against its future conference opponents, less of this dominance was shown in recent seasons. The Big Ten is becoming more competitive, and parity is increasing as schools continually break program records and advance farther into the postseason. UCLA continually dominates a Pac-12 conference with significantly less parity, but a path to the Big Ten doesn't necessarily mean a path to continued dominance for the Bruins. They have plenty lying ahead, and it makes for an interesting plot point for the 2024 season and further on.
READ THIS NEXT: Data Deep Dive: What Makes an MVP in Gymnastics
---
Article by Emma Hammerstrom
Like what you see? Consider donating to support our efforts throughout the year! [wpedon id="13158"]