College Gym News is proud to announce its third annual end-of-season award recipients. Members of the CGN staff nominated individuals in eight categories based on specified criteria. Then, the field was narrowed down and editors voted based on regular season performance only. Individuals cannot win more than one award. In the case that this does occur, the runner  up in the secondary category is given the award. You can find the categories, winners, and remaining nominees below.
Gymnast of the Year
Winner: Trinity Thomas (Florida)
Nominees: Haleigh Bryant (LSU), Jade Carey (Oregon State), Jordan Chiles (UCLA), Jordan Bowers (Oklahoma), Sunisa Lee (Auburn)
Criteria: Nominees didn't just top the standings but were a significant contributor throughout the season for their team. Nominees rarely had missteps and consistently produced top scores that made an impact. They stand out from their peers.
Trinity Thomas has accomplished almost everything you can in the sport yet still chose to come back for one more season. In her fifth year, she continued to impress, finishing the season at No. 3 in the all-around, hitting as high as 39.850, and scoring seven perfect 10s during the regular season. Those seven perfect 10s allowed her to inch closer to the all-time mark, which she ultimately tied during the national team final with her perfect vault to end her storied career with 28.
Freshman of the Year
Winner: Selena Harris (UCLA)
Nominees: eMjae Frazier (California), Faith Torrez (Oklahoma), Kayla DiCello (Florida), Nikki Smith (Michigan State)
Criteria: Nominees must be a true freshman during the 2023 season. They are gymnasts who not only consistently produced top scores but made an impact on their own team and stand out from their peers.
Oftentimes, freshmen take a little bit of time to adjust when experiencing college gymnastics for the first time. And for gymnasts on top teams, they aren't needed right away anyway. Selena Harris didn't follow the status quo in her freshman campaign, though. She jumped right in, competing in the all-around in 10 of 11 regular season meets, never scoring lower than 39.500. She also holds career highs of 10 on vault, 9.975 on bars and beam, and 39.750 in the all-around.
Coaching Staff of the Year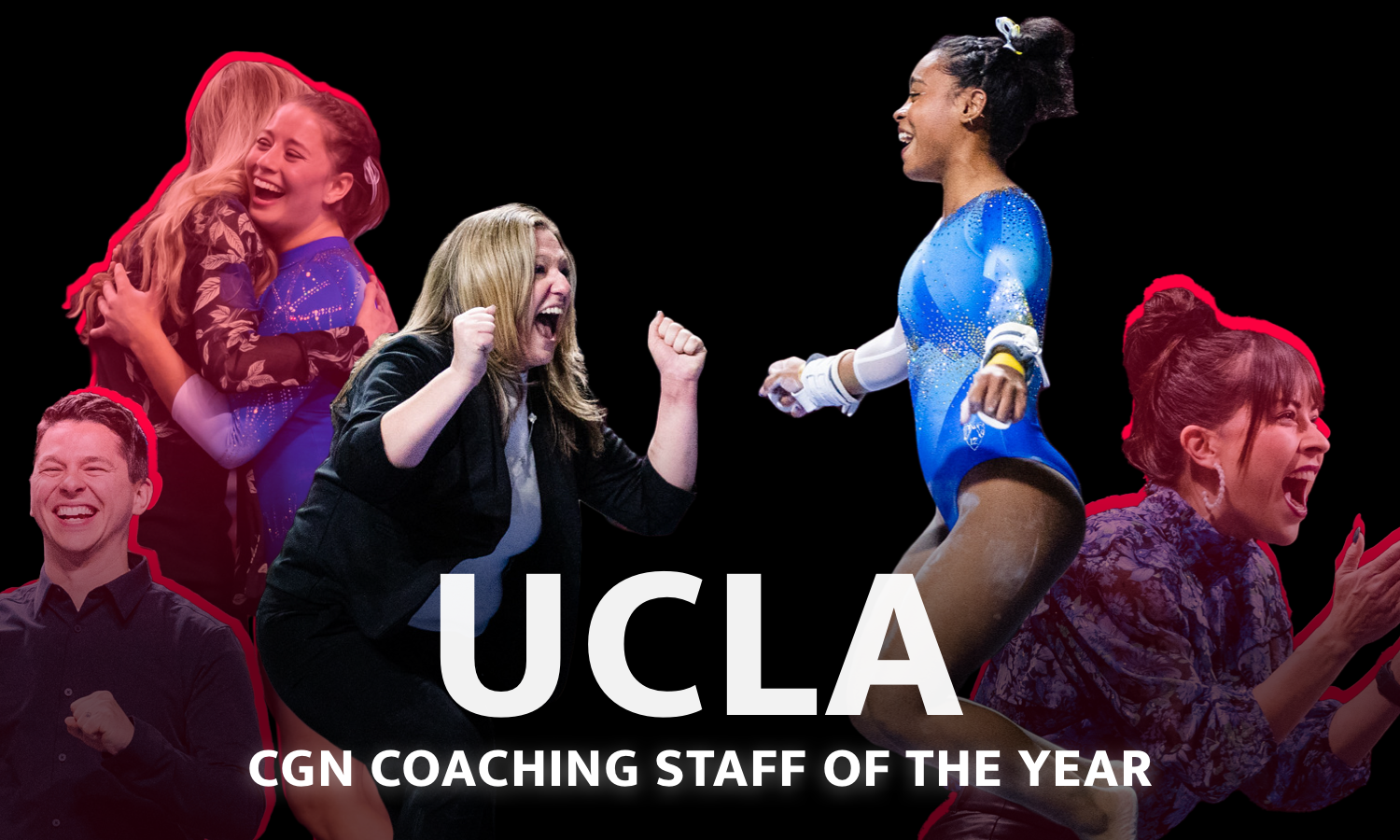 Winner: UCLA
Nominees: Ball State, Brown, Kentucky, Southern Utah, Towson
Criteria: Nominees first and foremost coached their team to athletic success, whether that means a large improvement over past seasons or record breaking performances.
UCLA hasn't been itself the past couple of seasons. It's been through turmoil, turnover, and disappointment. It would have been natural to expect a transition year as first-year head coach Janelle McDonald took over and adjusted to running her own program. However, she, BJ Das, Kyle Grable, and Autumn Grable didn't need it, leading UCLA to a No. 4 ranking to end the regular season, a No. 1 seed at regionals and the development—and return—of starpower to Hollywood.
Breakout Performer of the Year
Winner: Aleah Finnegan (LSU)
Nominees: Carly Bauman (Michigan), Chase Brock (LSU), Mya Lauzon (California)
Criteria: Nominees are sophomores, juniors, or seniors who were particularly successful in 2023 after not having competed, having only competed one or two events or having only received mediocre scores to start their careers. Nominees "came out of nowhere" on events they weren't expected to contribute, started getting scores much higher than previous averages or finally added events you didn't know they were even training.
Aleah Finnegan isn't some unknown gymnast. She was a strong elite, has Olympic potential for the Philippines, and found success on beam and floor for LSU in her freshman campaign. However, she only found success on beam and floor for LSU in her freshman campaign, scoring as high as 9.925 on both. But in 2023, she truly found her groove, competing in the all-around for the Tigers in every regular season meet and hitting new career highs of 10 on vault, beam, and floor and 9.925 on bars, making herself an invaluable member of the team as others dealt with unfortunate injuries.
Comeback Gymnast of the Year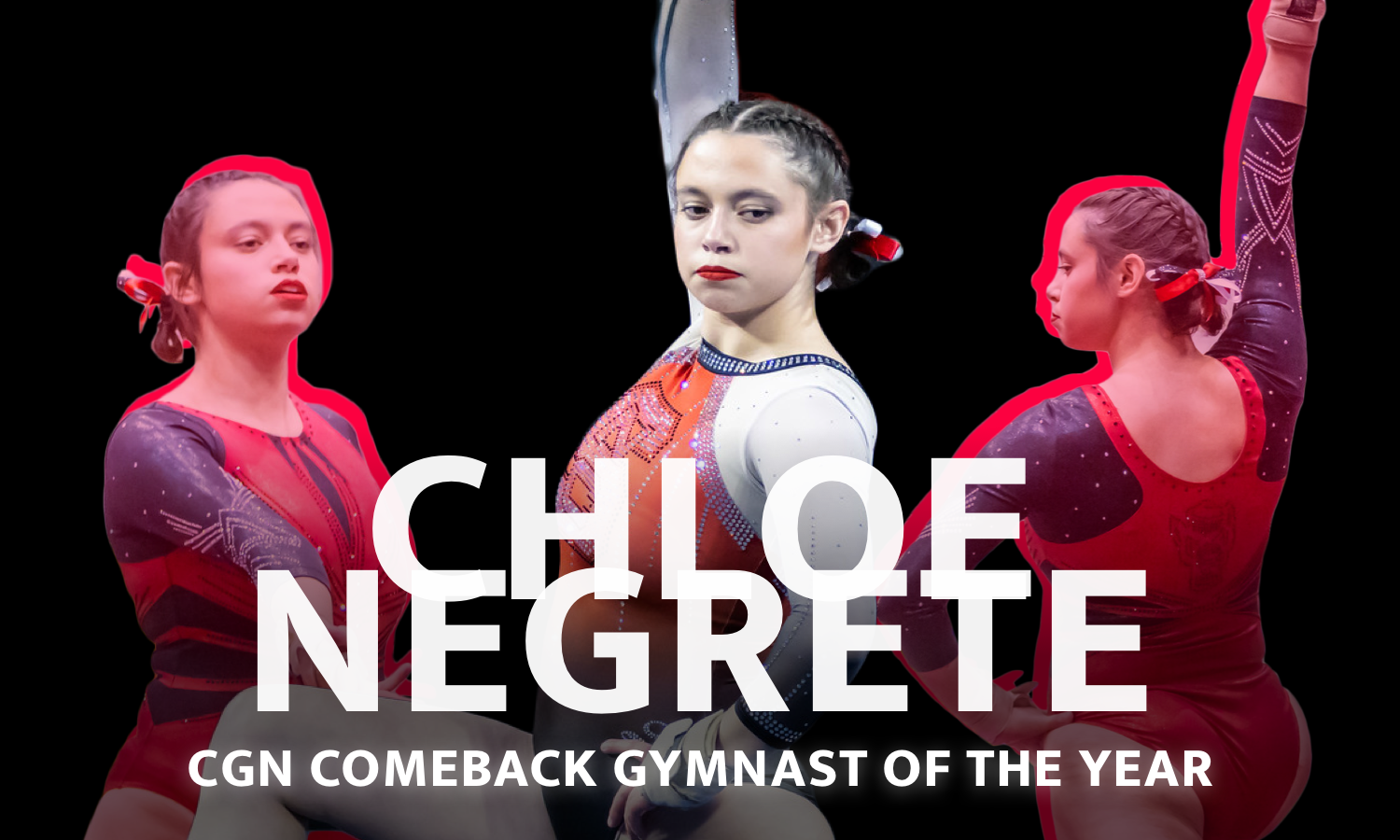 Winner: Chloe Negrete (N.C. State)
Nominees: Carly Bauman (Michigan), Lali Dekanoidze (North Carolina), Lynnzee Brown (Denver), Margzetta Frazier (UCLA)
Criteria: Nominees missed at least the majority of the 2022 season and didn't just start competing again in 2023, but did so well, producing effective scores for their teams.
When Chloe Negrete tore her Achilles in 2022, everyone from her team to fans were devastated. Not only is she a joy of a gymnast to watch, but she is invaluable to her Wolfpack teammates. She proved that value upon her return in 2023, contributing to her tradition on three events in vault, beam, and floor and barely missing a beat. In the process, she hit season highs of 9.900, 9.950, and 9.975, respectively, and helped her team to regionals qualification, where they went on to advance out of the play-in round and put up a strong fight in round two.
Most Valuable Gymnast
Winner: Haleigh Bryant (LSU)
Nominees: Elena Arenas (LSU), Jade Carey (Oregon State), Raena Worley (Kentucky), Syd Morris (LIU)
Criteria: Nominees' teams wouldn't have had the success they did this season without them. They were lifted up by not only their scores but their leadership and attitude. Think of gymnasts on teams with lots of injuries, gymnasts who always seemed to hit after falls, or gymnasts not on teams with lots of other star power.
LSU has been put through the wringer this season with countless injuries and setbacks. However, somehow the Tigers have persevered, still managing to finish second in the SEC after the regular season and hit a regular season high of 198.100. A lot of this was due to Haleigh Bryant's success and leadership. She has a breakout year, competing in the all-around at every meet and hitting season highs of 10 on vault, bars, and floor and 9.950 on beam. Plus, there's, of course, the three-perfect-10 meet that made history back on March 10. Without Bryant in Baton Rouge this season, the Tigers would have been much worse off.
Sportswoman of the Year
Winner: Jordan Chiles (UCLA)
Nominees: Savannah Schoenherr (Florida), Chase Brock (LSU), Zoe Schweitzer (Ohio State)
Criteria: Nominees' went above and beyond to improve the experience of other athletes—whether on their team or not—or acted in some otherwise selfless way. They show true sportswomanship on and off the competition floor.
Chiles lost her aunt shortly before regionals. She was publicly heartbroken but still helped the Bruins advance to the national championship and enthusiastically celebrated her teammates the whole way. She gave her all despite the awful circumstances for her team in Fort Worth and exemplified selflessness. But it's not only the big moments that set her apart. When Washington upset its way into the regional final, Chiles celebrated right alongside the Huskies. When individual Hannah Scharf was rotating with the Bruins at nationals, Chiles was screaming just as hard as she would for her Bruin teammates. She truly cares about and genuinely celebrates all athletes, no matter where they come from or who they are.
Sports Information Director of the Year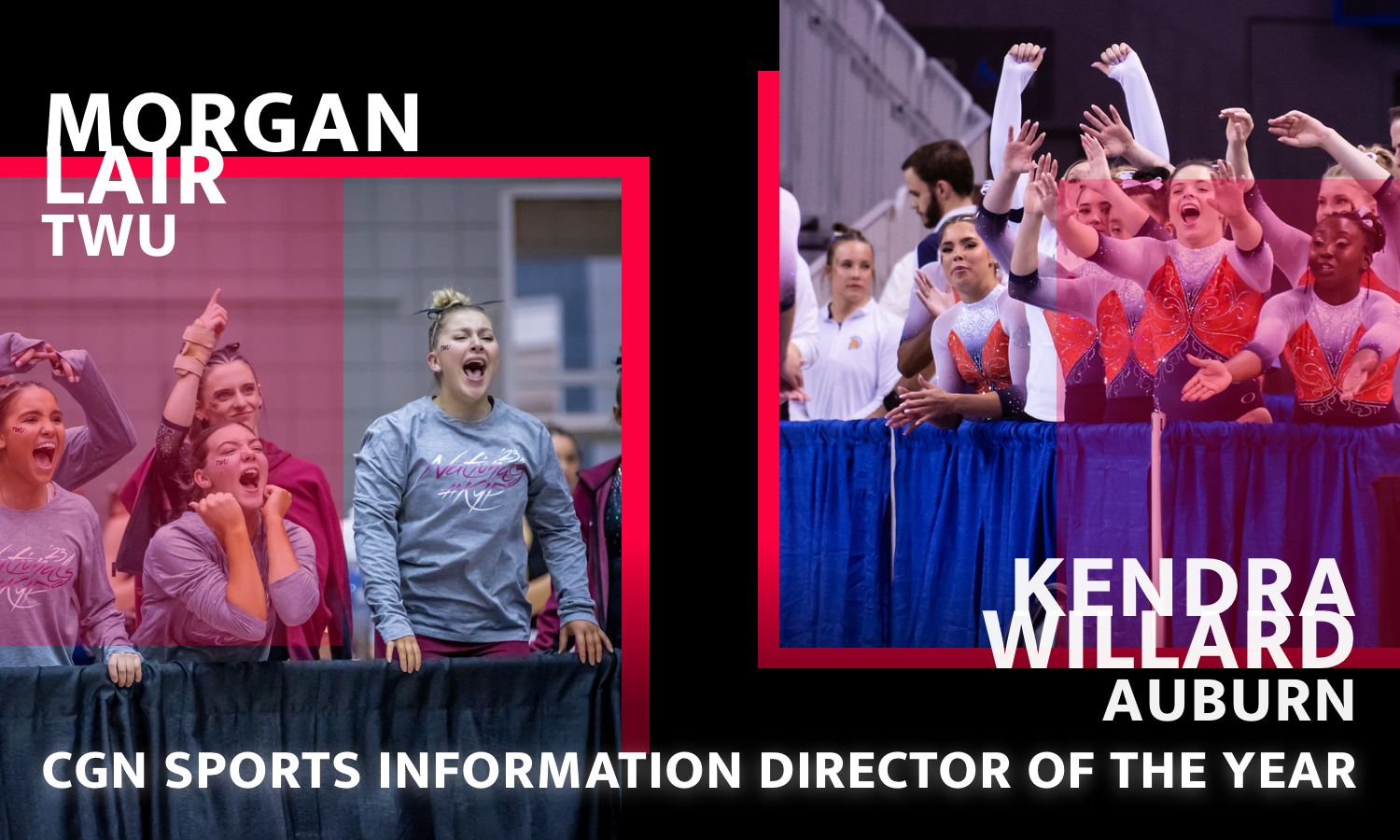 Winners: Kendra Willard (Auburn) and Morgan Lair (Texas Woman's)
Nominees: Brenna Seeman (BYU), Daniel Boebus-Bowles (California), Diana Ly (Oklahoma), Liza David (UCLA), Mady White (Utah), Mary Howard (Florida)
Criteria: Nominees are individuals who can be described as responsive, attentive to the media's needs, maintains the team website (is always timely when adding coverage links) and even goes above and beyond their job description when setting up interviews or providing necessary information, for example.
As a media organization, we work closely with teams and sports information directors to do our jobs. And while, appropriately, most of the focus during the season is on the teams and gymnasts, we don't want the hard work these individuals do behind the scenes to go unnoticed. Both Willard and Lair went above and beyond in their duties this season.
Willard continues to be the gold standard, always going above and beyond what is asked of her. She is the SID that is always brought up when someone needs information quickly, which is a testament to her responsiveness. She often goes above and beyond what is necessary and always has information readily available.
When it comes to Lair, she does a fantastic job promoting Texas Woman's gymnastics to the level of top tier teams in the sport. She's friendly, responsive, and helpful when it comes to media's needs.The best SIDs are those that are easy to work with, and Lair fits the bill to a tee.
While Willard and Lair received the most votes from our editors, we wanted to highlight all of our nominees in this category because we feel like SIDs are the true unsung heroes of collegiate athletics. Whether it's going the extra mile to set up interviews, emailing frequently with updates (or to say there still isn't one) or making it possible for us to cover meets in person safely during the pandemic, we appreciate everything these SIDs have done this year to keep college gymnastics running. Hear from our editors about some of the other nominees below.
"Ly made sure I had everything I needed to cover Oklahoma, from rosters to press releases to records and quotes from athletes. She made sure to give me a chance to talk to coaches when I covered them in person and has been attentive and quick in her responses."
"Seeman was great at facilitating interviews and coverage in a timely manner. Her responsiveness made it so much easier to do my job writing a feature, and she has been great at getting out the necessary information!"
"Moebus-Bowles has fit right in with California's program mantra of growing the sport. His efforts to hold weekly press conferences with athletes and coaches and give outside media access have been paramount in engaging the gymnastics audience. I hope other programs follow his lead."
"Great at weekly updates, media opportunities, and following up after previous requests to give some extra information—Howard is one of the best SIDs in the country."
"White was instrumental in CGN being able to provide 'live-ish' scores at the Metroplex Challenge by sending us score sheets after each rotation. She's also incredibly responsive to all our requests for interview or information and is a true professional."
"There's not much to say about David that hasn't already been emphasized again and again. She's a pro at her job, responsive, helpful, and knows the sport better than almost anyone else."
READ THIS NEXT: 2023 Conference Awards
---
Article by Elizabeth Grimsley
Like what you see? Consider donating to support our efforts throughout the year!