Mary Korlin-Downs never thought her career would end so unceremoniously: not on the competition floor, but during a team meeting on a Thursday afternoon in March.
No senior send off. No last routine. No final chance at making nationals. No pomp and circumstance befitting the end of a long and accomplished career, which had been capped off by competing for her dream school.
During that fateful week, the senior from Lake Elmo, Minnesota, had just competed in the best meet of her life, achieving a career-best 9.925 on beam while contributing to the second highest overall program score. She was in the middle of preparing for yet another history-making event—the first sold-out meet ever for Minnesota, against reigning national champions Oklahoma—when the world began to shut down. 
Korlin-Downs thought back to sitting in her living room, scrolling through social media and watching the dominos start to fall. "I remember seeing Michigan post that they weren't going to have any fans at their next meet, and I knew that if it hit the Big Ten, the rest of the teams would have to follow."
The next day was a bit of a blur: Minnesota head coach Jenny Hansen was absent from practice, returning to inform the team that their meet against Oklahoma—their senior night—had been canceled. 
"Jenny gave us the rest of the day off," Korlin-Downs said. "She said we need time to mourn this, that it's a hard day." 
She went home and sat with her roommates, teammates Kristin Quaglia and Lexi Montgomery, and tried to process the news. "We were all just sitting in the living room, browsing social media trying to get our minds off things. Then Jenny sent another text for the whole team to meet at 4. When we got that text we knew—or I at least knew—that season was probably going to be done."
By the time she gathered with the rest of her team to hear the news that every coach across the country was delivering, Korlin-Downs was devastated but beginning to accept that her career was not going to end the way she wanted it to. 
"At that point, I had already been crying and upset for 24 hours; I had nothing left to give. So when she told us the season was over—I think the majority of the seniors had already accepted it."
Then something special happened. 
Korlin-Downs knew she was eligible for a sixth year but wasn't sure she wanted to take it. Then, later in the summer, Hansen called her with an offer that was impossible to refuse: a scholarship. 
"I love this sport, I love this team, and getting a masters degree on top of [getting to compete for another year] was an amazing opportunity."  
"It was such a cool thing to be able to honor somebody who had been a walk-on for us for so many years, and contribute not just gymnastically but as a leader," Hansen saod.  "It wasn't just about gymnastics, it was everything that she does. She gives her heart and soul to the team."
Korlin-Downs' gymnastics career has been far from easy. She tore her ACL her junior year of high school, putting a mark on the recruiting process. She began her collegiate career at Iowa State, one of the two schools she was considering but tore her other ACL during her freshman season with the Cyclones. This resulted in her spending a lot more time at home in Minnesota, rehabbing over the summer and training in her home gym. She also began spending more time with her friends, some of which were on the Gophers' team.
"Originally I was thinking I could earn a scholarship [at Iowa State], but because I tore my ACL I couldn't have proven myself," Korlin-Downs said. "So then with that, and just wanting to be [back] in Minnesota, I made the decision to transfer."
Unfortunately, her bad luck had not run out yet. Three days after being offered a spot on the team, Korlin-Downs had to call Jenny Hansen with terrible news: She had torn her ACL for a third time. 
"That was the hardest thing I have ever had to do," Korlin-Downs said. She told Hansen that she understood if her spot wouldn't be held and that she may be expected to train for a year and prove herself before being let onto the team.  
To Korlin-Downs' surprise, Hansen said she still wanted her right away. "It was really comforting for us to know she [was] going to jump right in, even if she couldn't do gymnastics right away," Hansen said. "[We knew] that she would be a wonderful fit for us." 
It wasn't without risk, however. The coaches were met with some hesitation from team doctors who were concerned about her history with injuries. "We knew we were taking a little bit of a gamble," Hansen said. "We just said, 'Can we at least try? Can we give it a shot?'"
Korlin-Downs was added to the roster for the 2017 season, although she did not do any gymnastics her entire first year in Minneapolis. Instead she focused solely on rehab, making sure she was able to fully recover and contribute moving forward. Not being able to compete wasn't a hindrance to her ability to find her place on the team immediately, though.
"She added to the team even though she wasn't physically contributing or competing yet," Hansen said. "We felt she was a good fit, and we wanted to give her that opportunity. We know she was always a long-time Gopher fan and that was her dream, so we wanted to give [her] a shot." 
Even after that full year of rehab, Korlin-Downs was limited to one event: beam. She worked hard every day in the gym to make sure she was a staple in the lineup, a task that grew more difficult as the Gophers transformed into being one of the best beam squads in the country. But Korlin-Downs wasn't deterred. Over the years she steadily improved, and as her confidence grew so did her scores. "A couple years ago when she first made beam lineup, we didn't have as many beam kids, and it was a lot easier," Hansen said. "If she went 9.8, everyone was really happy. Now her expectation is, 'Well, I want a 9.9,' and it's fun to see that progression for her and for our team."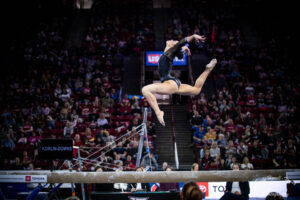 For Korlin-Downs , supporting her teammates is even more important than what she does in competition. In fact, when asked about the moment that stood out to her the most in her career, she deflected by speaking about a time the team really came together and succeeded, despite the fact that it wasn't her best performance. 
"I personally get so excited for other people's accomplishments, more so than my own," she said. "I think that goes for basically the entire team."
She is often the first one in the huddle to celebrate a great routine with a hug and expressed that the inability to do so now because of COVID protocols has been particularly difficult. Throughout her time on the team, she has grown to be something of a confidant for her younger teammates. 
"She's got great leadership. She really is always looking for ways to bring the team up and bring new ideas for team bonding activities," Hansen said. "[The team] trusts her, and they go to her for advice. She's just really warm and welcome to everybody."
That culture was extremely important to Korlin-Downs, and is something she wants future Gopher gymnasts to know has been consciously thought about and worked on. 
"A few years ago, [around the time] when I first joined the team, we weren't as close. The chemistry wasn't there," she said. "[A few of my teammates] and I really worked with the coaches and the team to create the culture and to set the standards we want, to make sure that this team is going to stay the same chemistry-wise and effort-wise for the future." 
Her contributions to the team go beyond even team culture. With a talent for design, she's helped create graphics, an eight-foot tall team vision board and even team leos. 
"[Before COVID], the plan was that I would have designed a leo," Korlin-Downs said. "We had the whole team do a survey [to select] their favorite, and Jenny pulled me aside and said, 'Hey, is it OK if we design one of these leos?' And I was like 'Yes, of course!'" 
Korlin-Downs has since applied to be a fashion designer for GK Elite, and remains hopeful that we will see at least some of her designs in the Gophers' repertoire in the future. Hansen agreed. "Someday we'd like to use those leotards. Like a lot of other schools, leotards were probably last on the budget this year, but in future years we hope to be able to use some of those designs." 
Design has always been of interest to Korlin-Downs, and she comes by it naturally: Both of her parents are in the profession. She majored in product design with a focus on the medical device field, and she is currently pursuing her masters degree in human factors and ergonomics. 
Specifically, she hopes to use this degree to pursue a career in designing prosthetics and orthotics. As someone who is all too familiar with what it's like to deal with injuries and the toll that can take on the body, it was a natural path for her to pursue.  "I was always in braces, always in slings growing up, and I think that sparked my interest in that [field]," Korlin-Downs said. "Gymnastics played a big role in what I want to do in my future."
The 2021 season has been an unexpected gift for Korlin-Downs, filled with moments that she didn't think she would get to have again. Simply being back in Maturi Pavilion with her teammates brought on a wave of unexpected emotion. 
"The night before [our season opener] we had a late afternoon practice just to feel the equipment, and stepping into the Pav on that day felt surreal," she said. "I'm usually so focused on what's happening now, I don't think of the future or reflect on the past, but that day I was able to think [about how] I really wanted one more day in the Pav, and now I get four more."
This season holds a lot of unknowns, but there is one thing Korlin-Downs knows for sure and wants all Gopher fans and future Gophers to know as well. "Everything that you see on the floor is true and genuine. We are one big family. For future Gophers, I just want them to know that this team is something special—and I think it always will be."
READ THIS NEXT: Minnesota Making the Best of an Unprecedented Season
---
Article by Kalley Leer
Like what you see? Consider donating to support our efforts throughout the year!