Most of us at College Gym News can't get enough of throwback leotards. Whether it's an actual leotard from 10 or 20 years ago or an updated version, we love it when teams take a retro approach to meet day fashion.
Continuing with the theme of designing our own leotards without the help of an online designer, we decided to create some of our own updated throwback designs for NCAA teams, using inspiration from actual old leotards.
Want to get in on the fun? Send us your hand-drawn throwback designs, and we might just share them on social media or include them in a future post.
Georgia
"I used ideas from this leotard from the mid-2000s, in particular the boxy neckline and combo of a solid body with white mesh sleeves. Then I thought about what design elements are typical of leotards today: ombre and open/strappy backs. So that's exactly what I incorporated into my modernized design. There's still the boxy front neckline, but I added in ombre sleeves to introduce more red into the leotard. I also made the back the star, opening it up and adding some fun straps for fashion and function." – Elizabeth
UCLA
"I didn't specifically create this leotard from one old UCLA design, but I did start with this one as a base, using the thick blue neck and cuffs as a starting point. I also incorporated the metallic gold fabric that I'd seen in other older UCLA leotards, added in some real Bruin blue and otherwise kept it pretty simple. Finally, while I chose to keep the UCLA on the chest rather small to mimic that old-school school spirit, I couldn't make a modern adaption without a low, open back. This leo would also look great with a light blue body and gold sides and neckline." – Elizabeth
"I suspect that this UCLA leotard raised some eyebrows already in 2001 when it was used at the Pac-10 championship, so I'm taking it as a personal mission to rehabilitate it in modern fashion. I like that it incorporates both of UCLA's colors—blue and gold—and since in 2020 the Bruins finally started using the latter more, it seems the appropriate time to bring this leotard back. When designing it, I emphasised both the blue and the gold, but I also added some ombré, an effect I love." – Talitha
Penn State
"When I judged throwback leos for Penn State, this one caught my eye because of the vintage logo use. But I felt like it was a bit dull overall, so I decided to spice it up with some elements from the Lions' most recent leo, like an additional sparkly band beneath the logo one. I was also inspired by the neckline design. And of course I needed to add a strappy back to make it fully modern. Surprisingly, there's no ombre here: I kept the entirely navy body color and the stripe on the side of the sleeves. I feel like it's a nice mix of old and new." ㅡKatherine
Rhode Island
"I love how delicate yet powerful the colour of this 2004 Rhode Island leotard is, and the subtle ombré body was ahead of its time. The hologram fabric feels a bit old now, though, and so do the weird straps around the neckline. My modern version has a sublimation on mesh body and sleeves and a strappy back, as it is fashionable nowadays." – Talitha
Springfield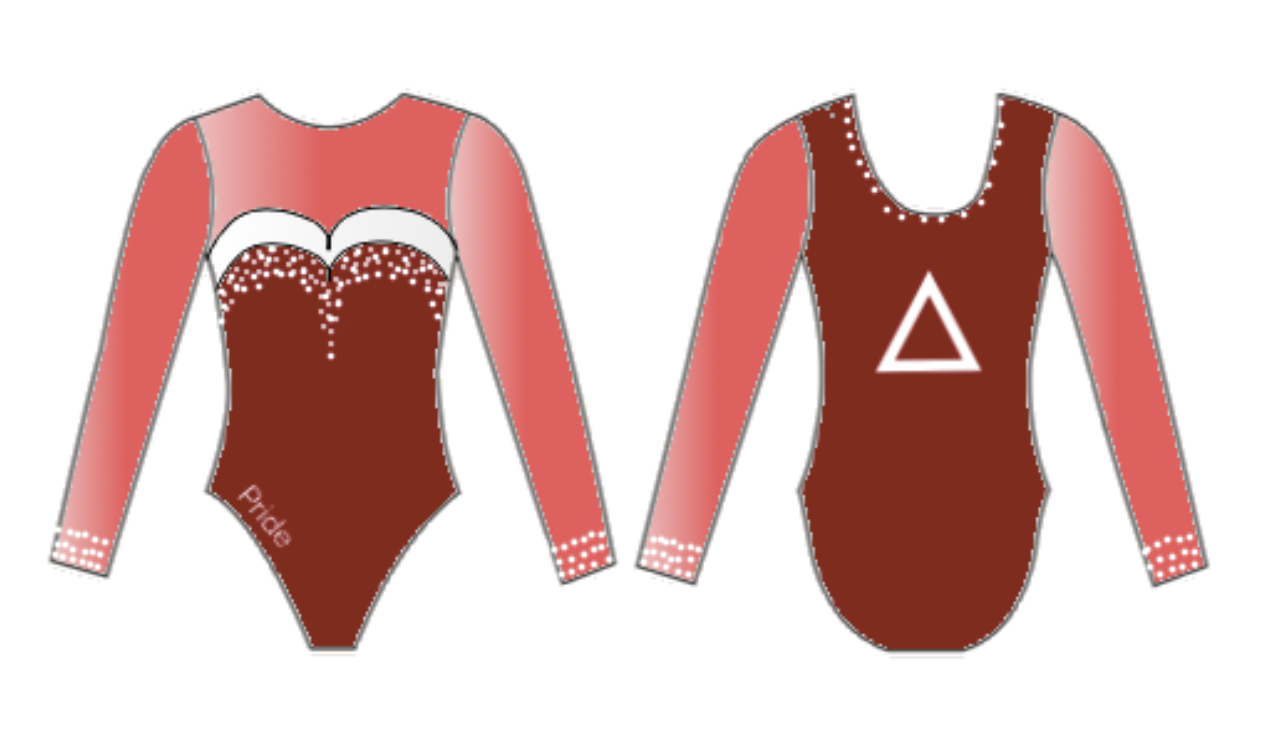 "I found inspiration from this Springfield leo from the 1980s. The use of pink really caught my eye so I stuck with the same color scheme. Instead of the solid color cuffs on the sleeves I imagined the use of sequins in their place to make it more modern. I felt the need to include the triangle and 'Pride' on the hip to add some school spirit." – Allie
READ THIS NEXT: Designing Leos for Teams We Wish Had Gym
---
Article by Elizabeth Grimsley, Talitha Ilacqua, Allie DiBiase and Katherine Weaver
Like what you see? Consider donating to support our efforts throughout the year!