Designing leotards is a favorite pastime of the gymternet, especially for teams we wish had programs. We decided to take it to another level by putting away the online programs and completely customizing the designs we want to see on teams that we wish had programs. Which is your favorite of the bunch?
Clemson (Claire's pick)
It's no secret that I love Clemson! The purple/white/purple racing stripes are borrowed from the football team's helmet, and the white elements—including the Tiger paw—should be sparkly (apparently glitter paint doesn't scan well). 
Mississippi (Katherine's Pick)
I picked a team with which I have little association, other than the fact that it would be on my beat. This leo was inspired by some of the recent all-white leos we've seen, with a little more color on the lower half. 
Providence College (Allie's Pick)
As a Rhode Islander and Rhode Island College gymnastics alum I wanted to pick a school from my state. Providence College's simple colors of black, white and silver leave plenty of options open when it comes to designing a leo for it. The criss cross portion on the front would be black mesh while the lighter grey would be silver to incorporate all of its school colors.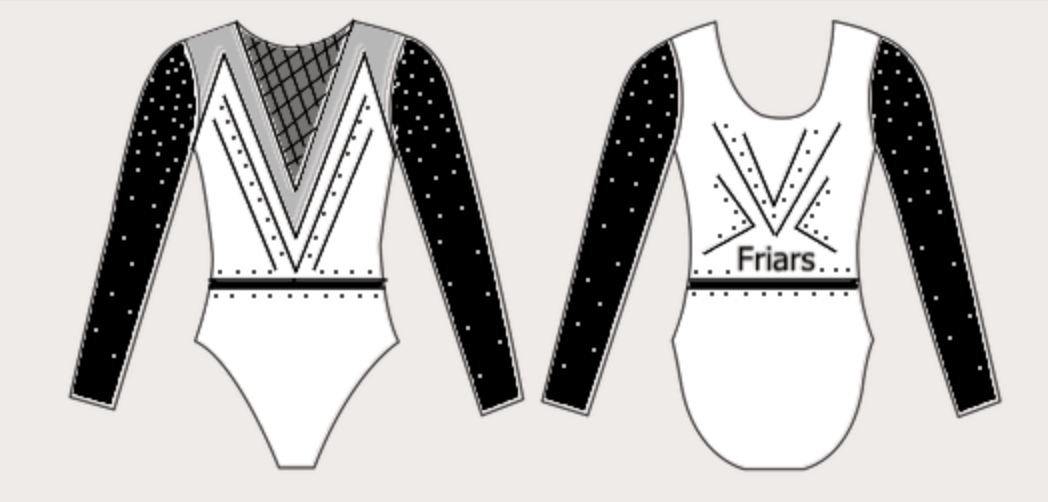 Florida State (Jenna's pick)
As an FSU alumna it's obvious which school I was going to pick. I took inspiration from the football team jerseys (the neckline design on the front) and the volleyball team uniforms (the stripes down the sides and the sleeves), and it wouldn't be an ideal gymnastics leo without a little ombre!
Colorado (Tara's Pick)
As a Colorado native I've always wished more teams in the state supported gym. CU-Boulder was my obvious choice as the state's biggest flagship school. My goal was to make this elegant while showing some school spirit. The sleeves on this would be ombre mesh, with the rest in a normal fabric.
READ THIS NEXT: Throwback Leotard Rankings: West Virginia
---
Article by Claire Billman, Katherine Weaver, Allie DiBiase, Jenna King and Tara Graeve
Like what you see? Consider donating to support our efforts throughout the year!