You didn't think we'd make it through this summer of #ThrowbackThursday without going all the way back, did you? OK, not quite all the way. The NCAA decided women exist in the 1982 to 1983 academic year (women's gymnastics competition happened under AIAW from 1968 to 1982), but we're getting you close. Senior editors Rebecca and Emily M are here to take us on this mustached journey. Hold onto your giant tinted glasses, and we're off.
Check out Parts 1 and 2 of the competition on YouTube to follow along.
Emily M: Remember when UCLA had a men's program? Me neither.
Rebecca: Remember when UCLA leotards were the right color of blue? Me neither.
Emily M: Touché.
Rebecca: Is that athletic jacket undercover as a polo, or vice versa?
Emily M: Unclear. Those glasses though.
Rebecca: I'm about 80 percent certain that's Freddie Mercury in a wig.
Emily M: He better have some Nebraska-red leather pants on.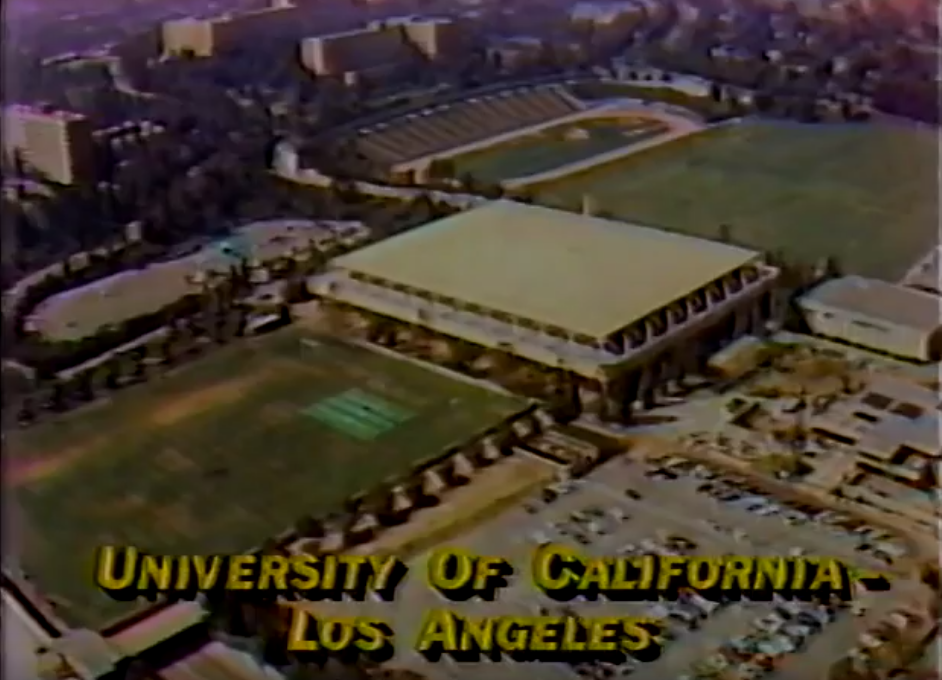 Emily M: If only you could hear this jazzy saxophone entrance Pauley is getting right now.
Rebecca: Wait, they held both college nationals and the Olympics in Pauley in the same year, and now it's not even allowed to host Pac-12s? I'M NOT BITTER AT ALL.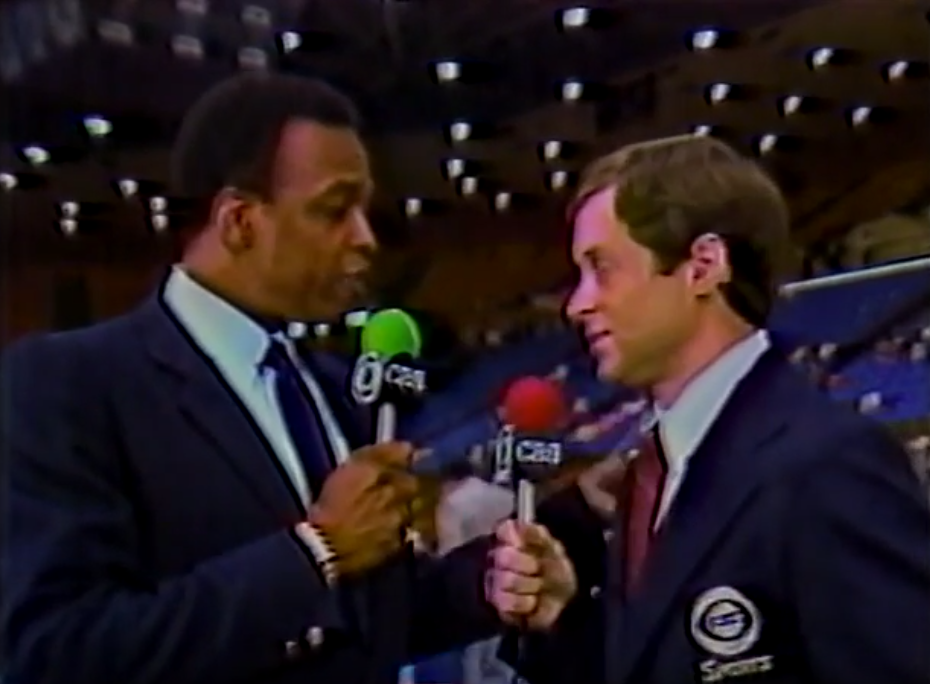 Emily M: Look deeply into my eyes.
Rebecca: I'm sure it's just lighting but right hand guy looks like he's had an unfortunate spray tanning crisis.
Emily M: True. Very 2010s SEC skin tone vibes.
Emily M: Mitch Gaylord, Pretty Boy is the theme of this meet.
Rebecca: Nice of him to take time off his job as an extra in the Take On Me music video for this meet.
(I don't think that's out for another few years, shut up.)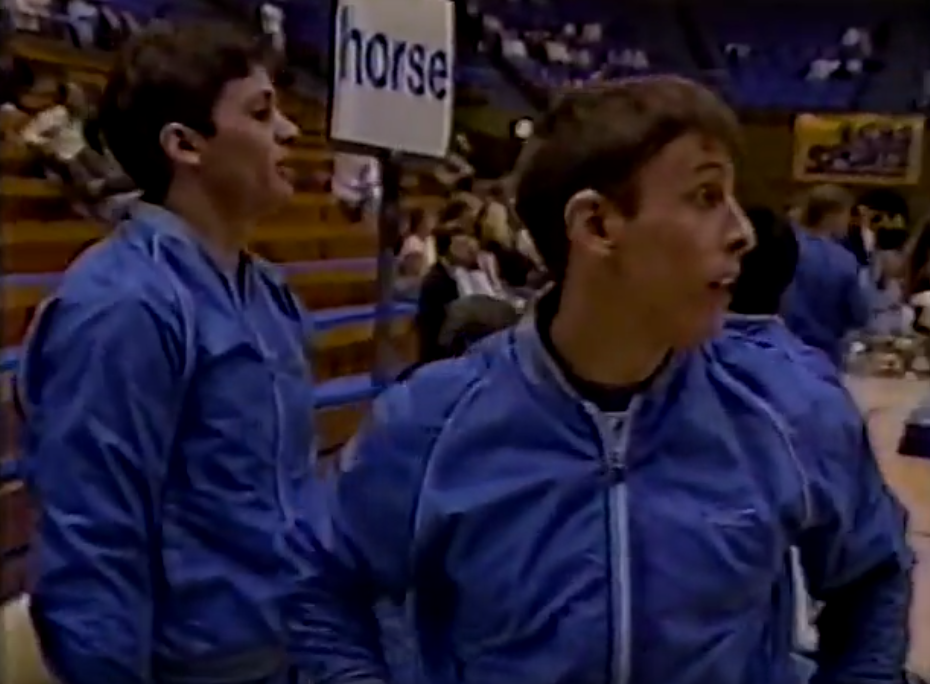 Emily M: Timmy D!
Rebecca: Somehow that is NOT AT ALL what I expected him to look like as a young man, and yet it's exactly the same face. Also, I'm taking "horse" as general commentary instead of an apparatus marking.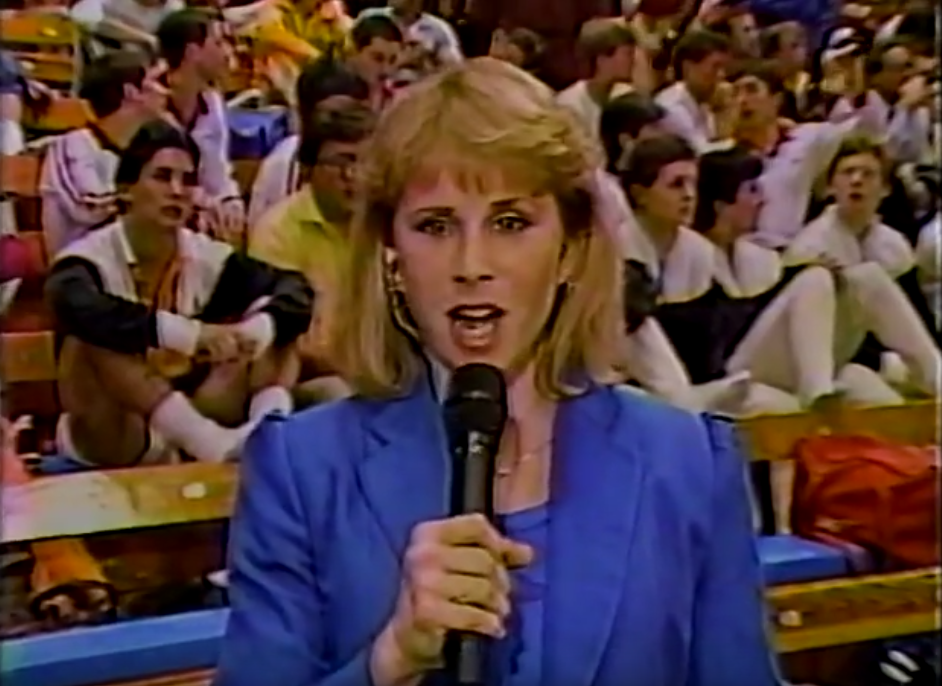 Emily M: Queen KJC.
Rebecca: Throwback piece for next week is Kathy Johnson's Hair Through The Decades, just as a heads up. (ELIZABETH PLEASE LET US)
Emily M: There's so much going on here. Results after compulsaries and the first rotation of optionals, which we didn't get to see because CBS was like nah, five rotations is close enough. Also compulsories, though! And a men's San Jose State gymnast! What a world.
Rebecca: Genuinely can't get my head around the perfect ten scoring.
Emily M: Boiiiiing.
Rebecca: I know very bad things happened but there's really nothing like a good roll out.
Emily M: This isn't the team final, apparently? Only three teams advance! No more whining about four this year, amiright?
Rebecca: What would you call that final? Tremendous Three? Thrilling Triplet? Terminating Triad?
Emily M: Terrific Threesome? I just wanted to use the word threesome. I'll see myself out.
Emily M: Timmy's triplin'
Rebecca: RIBBIT RIBBIT
Emily M: Rings comes with so many quality armpit shots.
Rebecca: Did men shave in the '80s? God bless.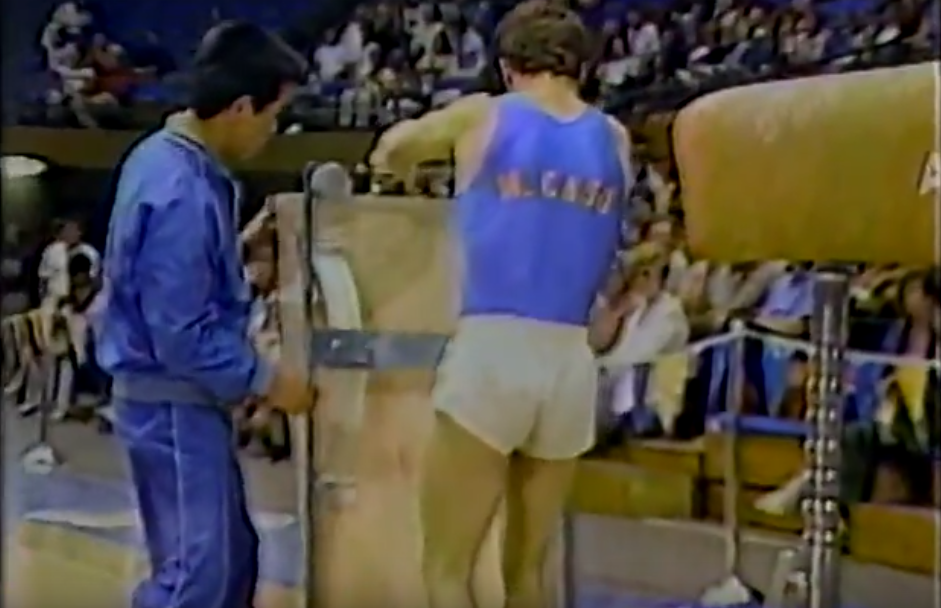 Emily M: A broken springboard! This isn't an elite meet, the equipment is supposed to work!
Rebecca: To be fair, I liveblogged a Davis meet this year where the crank fell off the bars and someone had to take a golf cart to the practice gym to go and get a new one. In the meantime they stole one from the vault, but obviously they could then only run one of vault or bars at one time. And to make things even more exciting, the guy selected for the golf cart pilgrimage was the original commentator, so he had to tag a friend in for twenty minutes. I would not lie about this.
Emily M: Yikes. Also being fair, this 1984 meet has more cameras than most Big Ten meets I covered in 2018. 1984 CBS > 2018 BTN.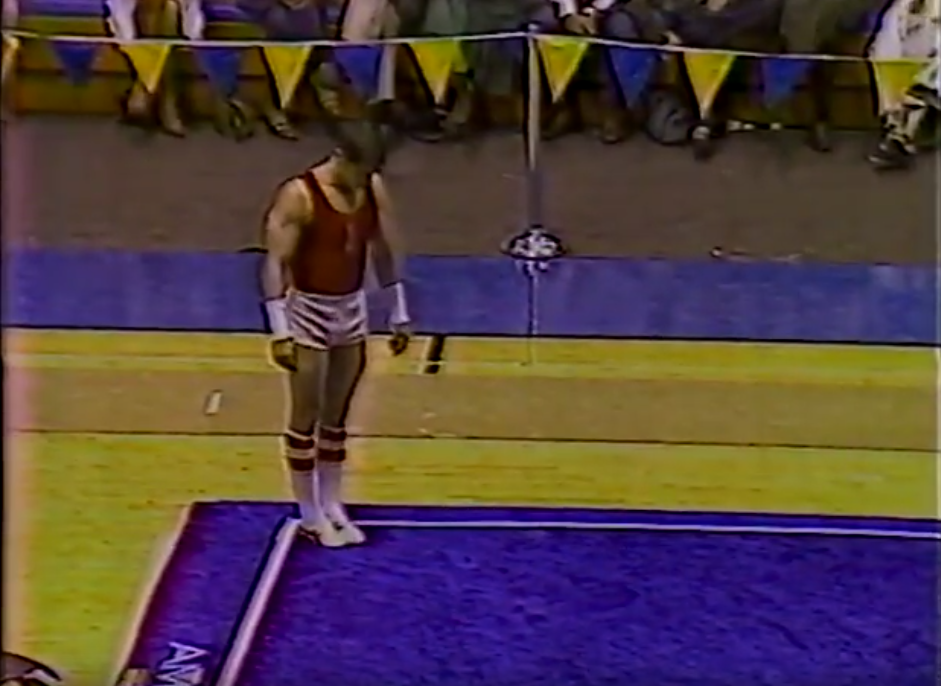 Emily M: WHAT ARE THOSE SOCKS
Rebecca: That's what gymnastics has been needing this whole time. MATCHING ACCESSORIES.
Emily M: I demand color coordinated grips this year.
Emily M: More male tour jetes please.
Rebecca: It is a travesty that men's gymnasts don't have to do dance skills these days. Look up a male ballet dancer leap compilation sometime—there's nothing like it.
Emily M: We should get the "it is called artistic gymnastics" crowd on it.
Emily M: Mitch, poster boy of men's gym.
Rebecca: A) he looks dead inside B) what is the other guy holding? My brain really wants it to be a smartphone with a popsocket in a weird place but… seems unlikely.
Editors note: The device is called a light meter and helps photographers determine white balance.
Emily M: AND he's a bad boy.
Rebecca: I'm trying to sort out this outfit. Oversize button down shirt, booty shorts, sneakers and crew socks with stripes pulled all the way up? Explain.
Emily M: I'm pretty sure the sneakers + high crew socks is coming back in bro-land.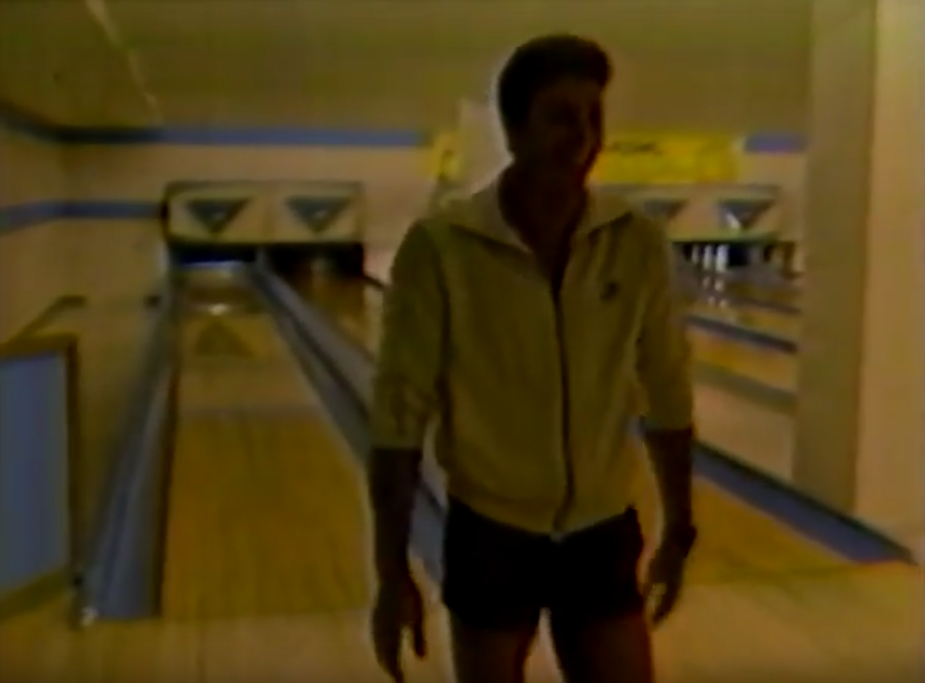 Rebecca: Oh, now I see it's an athletic jacket, which is worse. The shorts are worse too. What happened here, on an international scale? Five years of WE REALLY WANT TO SEE YOUR THIGHS PLEASE MEN and then everyone decided it was getting a little weird and they should probably forget about it.
Emily M: The short shorts are too much for me, agreed.
Emily M: He plays basketball, too.
Rebecca: I just Googled him and learned he's now a financial advisor, using his full name of Mitchell J. Gaylord, so factor that into your impression however you want.
Emily M: I for sure want this well coiffed man managing my giant fortune.
Emily M: When AAI was AMF, and USAG was USGF.
Rebecca: The handprints lend a nice little horror movie ambiance to the proceedings.
Emily M: If you're going to fall, fall with this much flair. (He finished the routine don't worry.)
Rebecca: Hey SportEverywhere, next project is GYMNASTICS FALLS: '80s EDITION please and thank you.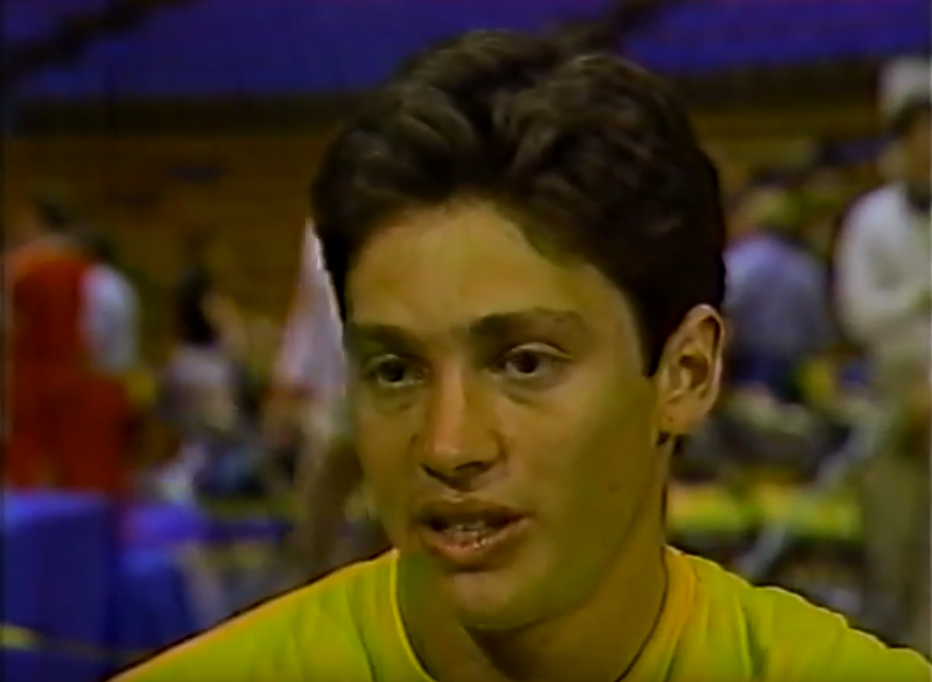 Emily M: He has a big new high bar release coming up. Wonder what it could be.
Rebecca: Not a good color on you, buddy.
Emily M: Real talk the Penn State men still wear this.
Rebecca: Please tell me they have new shorts. Really hung up on the shorts.
Emily M: The Mitch Show comes to its natural conclusion.
Rebecca: There was only one gymnast in this meet the whole time.
Emily M: Why though.
Rebecca: Moceanu-Nemov vibes.
Emily M: Kathy reminded us that women also exist, so here we go.
Rebecca: The stiff collar and the lacy hair bow give off some kind of Victorian maid vibe.
Emily M: She just finished beam. And then ran onto the floor. Mhm.
Rebecca: I have a lot of questions about this leotard such as why is it not even trying to be symmetrical?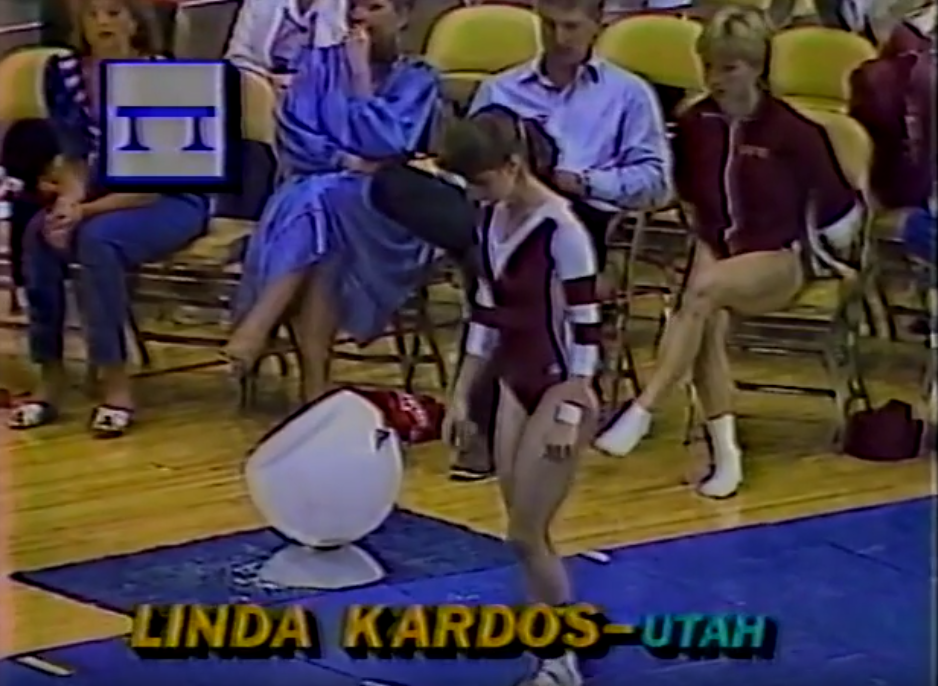 Emily M: The leo. Megan in the background. And the…graduation regalia?
Rebecca: At least two people in this picture are wearing pyjamas.
Emily M: PSA everyone, Rebecca is British she's allowed to spell pajamas like that.
Rebecca: Watch the face of the grandma next to the man in the yellow shirt. 😮
Emily M: The OG Maroney 2012 vault judge face.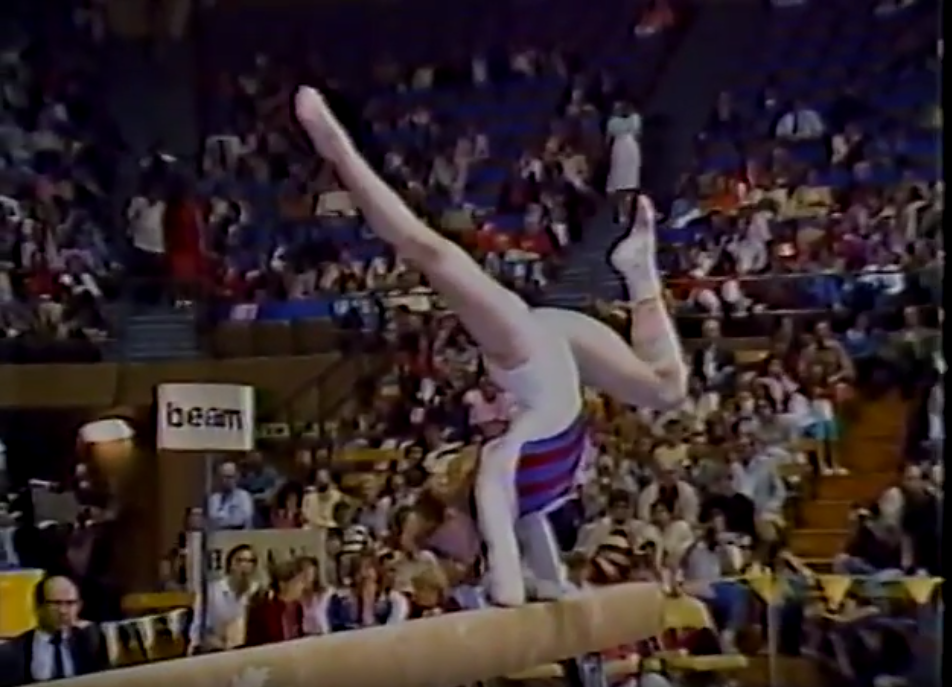 Emily M: Heidi Anderson doing a drop to the elbows mount that brings to mind Lauren Rice.
Rebecca: Somehow I do think this leotard is orange, even though the screenshot tells you that it's absolutely not. It's a blue and black/white and gold dress kind of situation. Also love the fake-cool all-lowercase rotation placards, now we can see them in all their glory.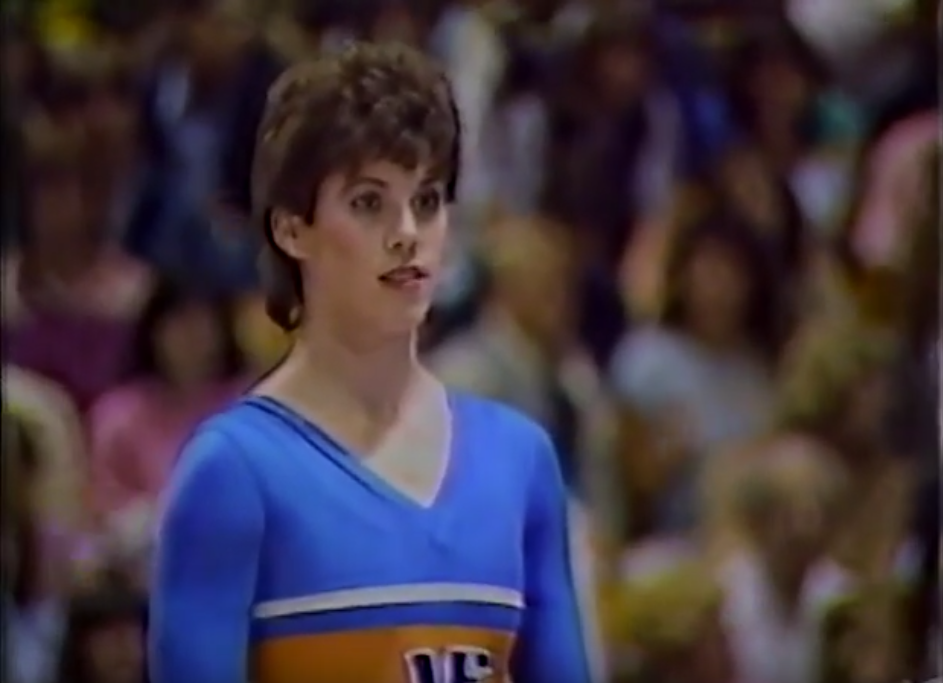 Emily M: That is some hair. Kathy tells us she's "one of the few gymnasts doing a double back, much less two!"
Rebecca: I'm not sure when V-neck leotards went out of style but I'm sad about it.
Emily M: I am out of words.
Rebecca: Perms for daysssss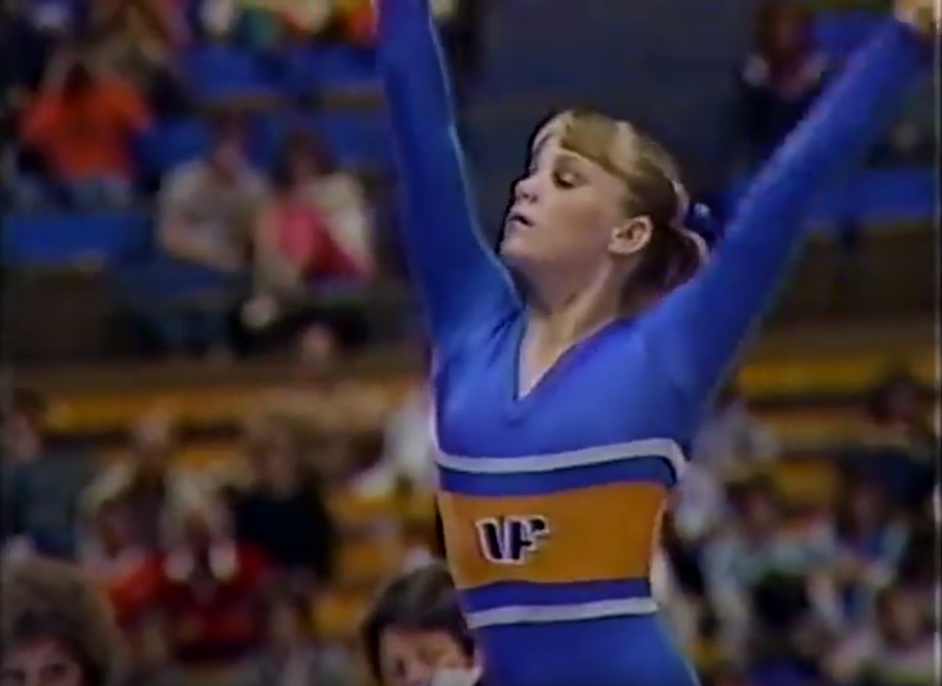 Emily M: Elfi Schlegel in the house.
Rebecca: You know, Emily, I have to say it was a tad bit disappointing when I saw this young lady mount the podium. I never expected Florida to put an athlete with so little talent on their team.
(Do we still talk about that?)
Emily M: If we don't, we should. #neverforget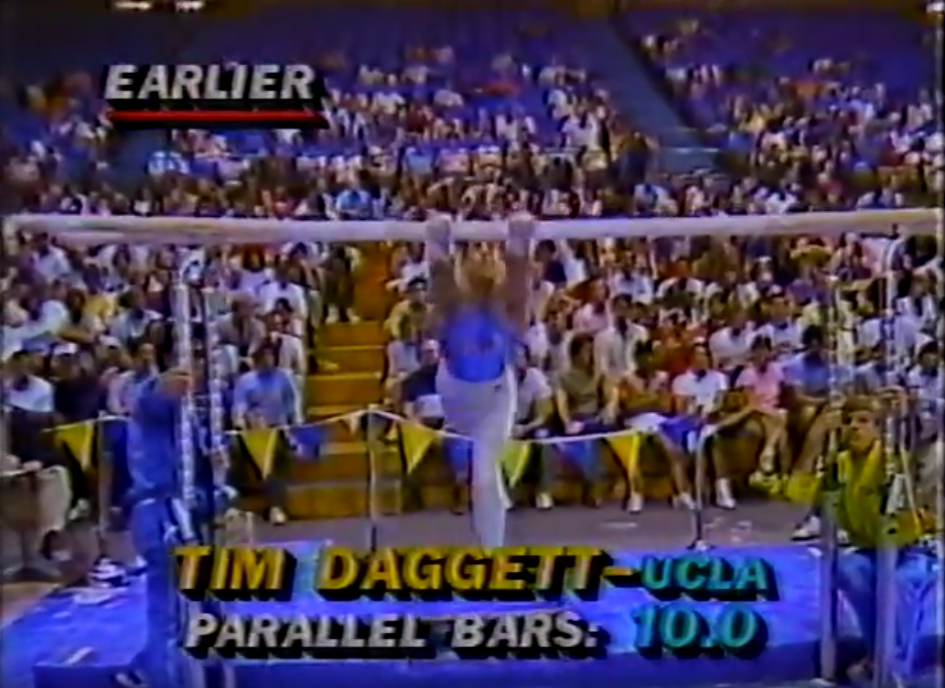 Emily M: Timmy D with a 10.0! Before this he said he does things "Tim Daggett style." Checks out. For the record the announcers keep calling him Timmy; I'm not just making things up.
Rebecca: The meet's literally over but let's talk about men some more.
Emily M: Women's gymnastics is just not exciting enough. No one would ever watch it if it weren't paired with the men's meet!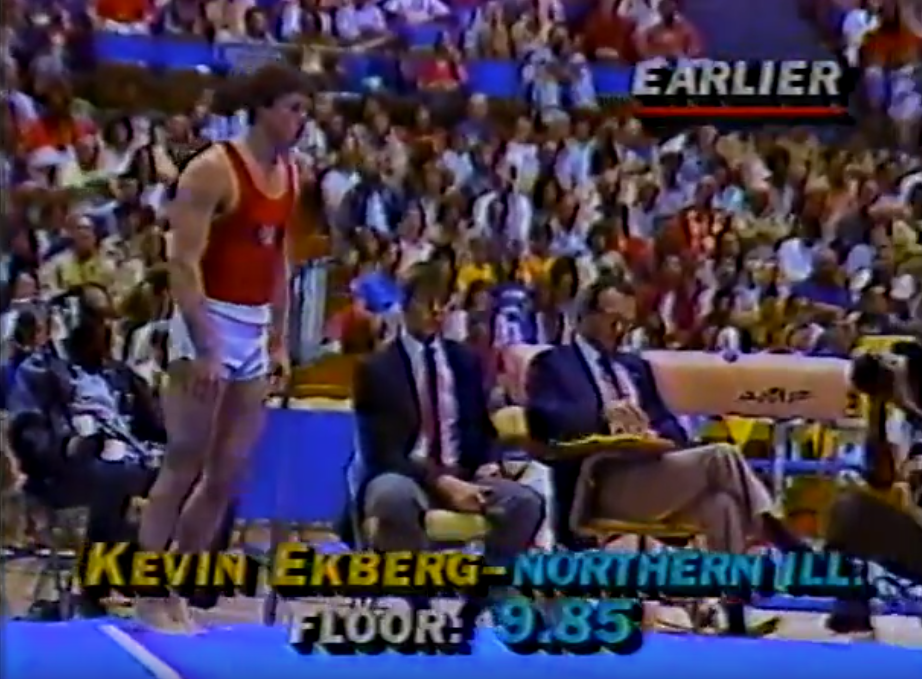 Emily M: It would be cool if all of these schools still had MAG programs. Alas.
Rebecca: I thought it was over, anyway. Getting hard to tell. They're not big on narrative structure in some of these meets.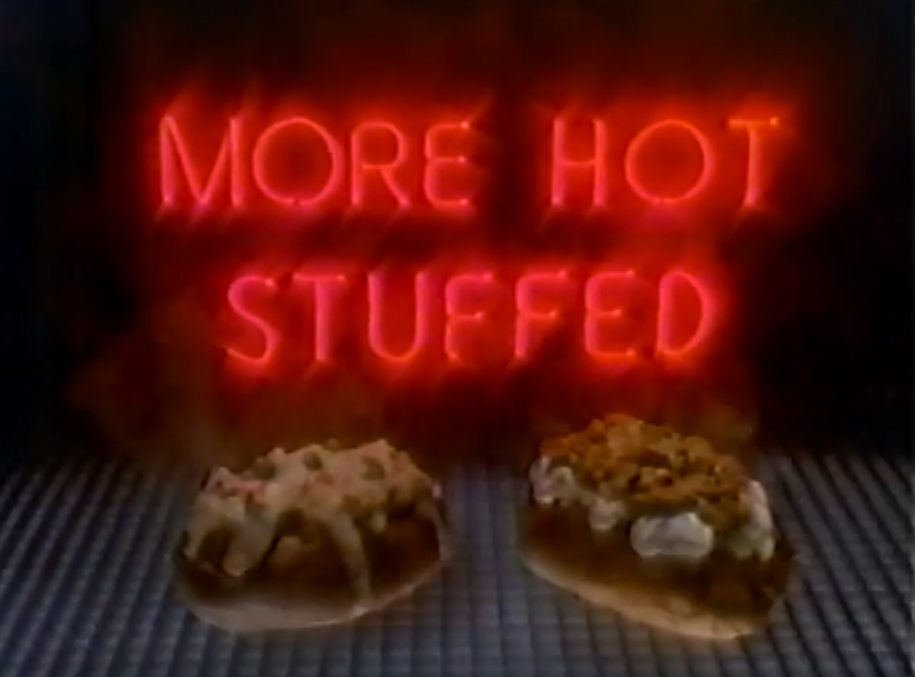 Emily M: We're being blessed with a vintage Wendy's ad.
Rebecca: Something about this is reminding me of the Ortega situation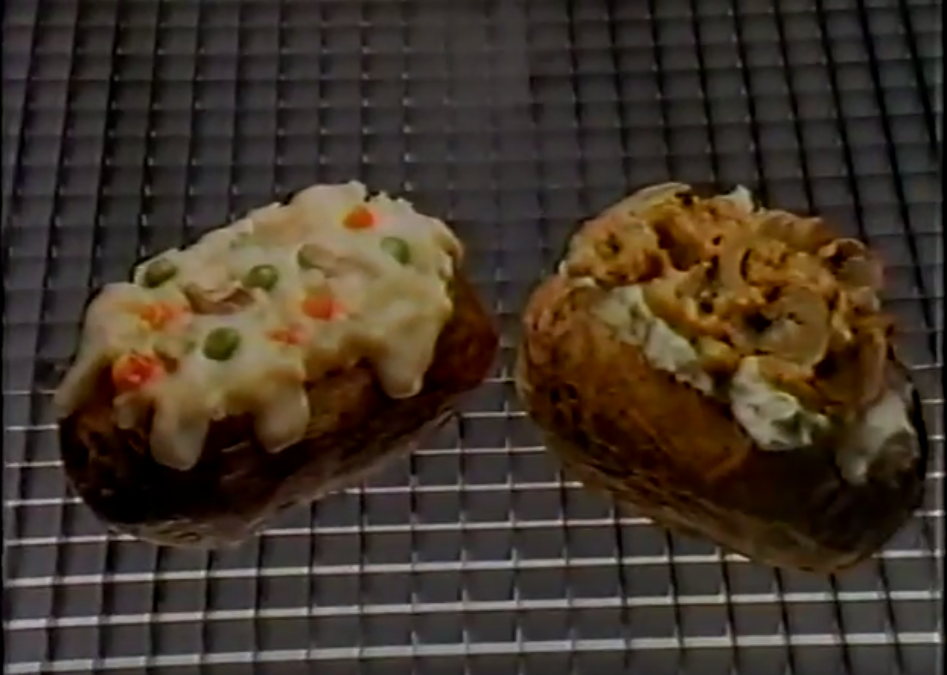 Emily M: Could these look less appealing? The one on the right is a beef stroganoff-stuffed potato. I'm not lying.
Rebecca: Pretty sure these are made out of play-doh.
Emily M: Pretty sure these taste like play-doh.
Emily M: OK we made it to the team final phew. Women do still exist.
Emily M: Some classic Utah Megan fluff to get us rolling.
Rebecca: I honestly don't recognize her. Commentator starts talking about how "things have sure changed" since she started college, and she bites her lip and looks away.
Then he starts talking about how there are more former elites in NCAA than usual, and she's like OH LOL THAT?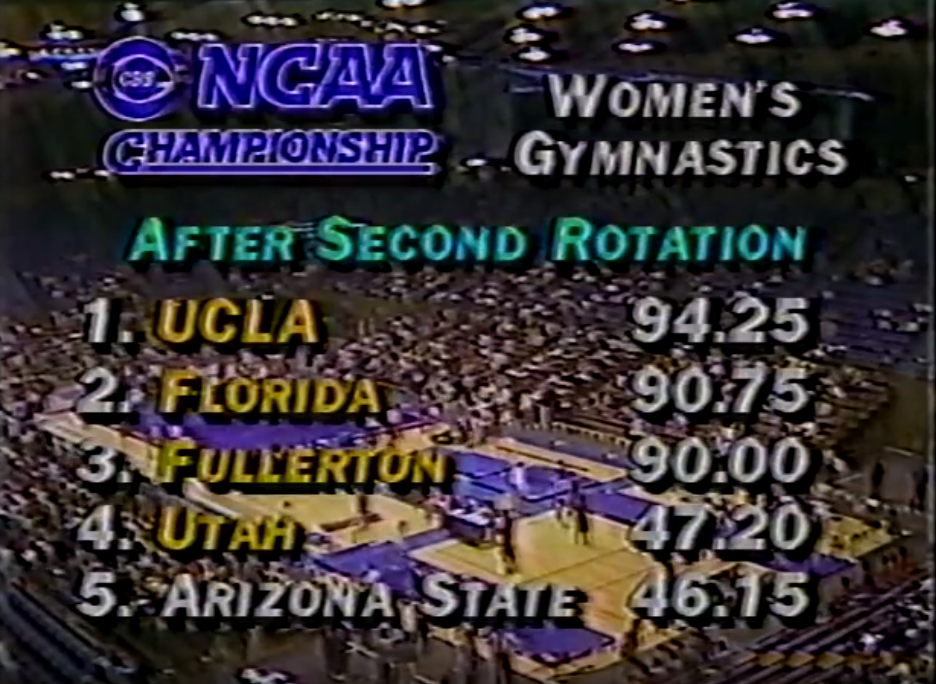 Emily M: This broadcast skipped a lot of gymnastics and now we're halfway done? Also RIP Fullerton.
Rebecca: Routines are definitely a secondary priority here, maybe tertiary.
Emily M: Internal screaming.
Rebecca: I'd like to talk about that guy's mustache.
Emily M: Fluff, glorious fluff! OH THIS IS FLUFF ABOUT GREG AND MEGAN. Popcorn emoji.
Rebecca: OK, let's break this down.
"Last year she won the all around, but that was not the biggest thing in Megan's life last year."
Rude.
They describe her as his PUPIL. Somehow sounds even worse than the reality.
He's got a huge stack of photos of her, mostly in a leotard, some posed in the training gym.
THEN THE MUSIC CHANGES TO EVERY BREATH YOU TAKE BY THE POLICE.
Apparently it was a "delicate situation"—YOU THINK?—and Megan worried about being "an outcast." But luckily, the marriage has had "no effect at all" upon the team.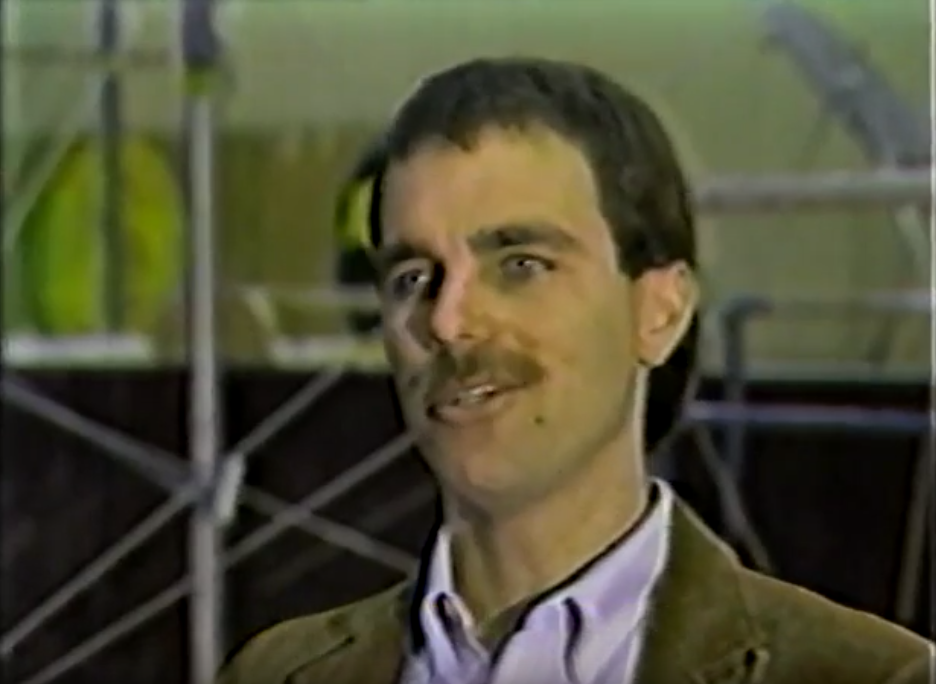 Emily M: Greg you sly fox. "Everyone here is kind of excited about the situation."
Rebecca: THE MUSTACHE IS NOT HELPING YOUR CASE, BUDDY.
Megan says "There's a very fine line between coach and gymnast, and husband and wife."
I mean, not usually.
Emily M: Still popcorn emoji.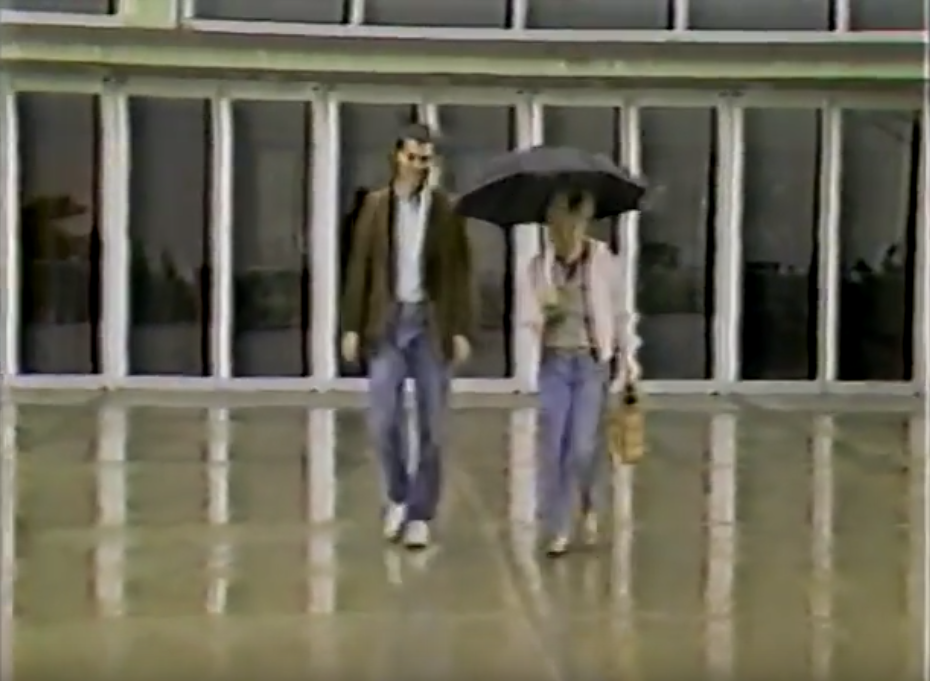 Emily M: Imagine if this happened in 2018. JUST IMAGINE.
Rebecca: More to the point, imagine if this happened outside of Utah.
"Megan eats what she likes and picks her own activities."
Emily M: More beam on releve forever please.
Rebecca: Oh yeah, gymnastics. Nice socks.
Rebecca: An incredibly uptempo 8-clap from the Bruins there. Kind of love this jacket.
Emily M: Coach Jerry Tomlinson in the back, father of former manager Cory! UCLA seems to get in your blood.
Emily M: Nope nope nope.
Rebecca: Why doesn't she get the padded things that guys wear on their upper arms for parallel bars? She deserves them.
 Emily M: An innocent time when a 9.600 was a great score. But also, you could marry your gymnast. Mic drop. Emily M out.
---
Article by Rebecca Scally and Emily Minehart
Like what you see? Consider donating to support out efforts throughout the year!