It's fun to watch rankings change every week, but they only tell us so much about the status of a team. Which teams are on the rise and which are barely hanging on? Which ones have a competitive ranking by the grace of their RQS drop scores and which will pose a real threat in postseason? I'll dig into the real dynamics of NCAA gymnastics in this biweekly column that's part power ranking, part high school yearbook awards—all serious analysis.
Just kidding, almost zero serious analysis.
We've had a party few weeks, with program records starting to fly at all levels and major ranking shake-ups as NQS changed the game. I'd like to take this opportunity to remind you that it's a bad plan to get attached to an underdog team ranked near the regionals cutoff at this point, because it WILL break your heart. That said, I'm ignoring my own advice and going all in on North Carolina to regionals. Sorry.
Flames Emoji
After hinting at capability with increasing force through the Samantha Snider years, Pittsburgh has broken through in force, scoring 196.000-plus two meets in a row and registering its second-best score in program history at the latter. All the pieces are there for the Panthers and watching them soar has been thrilling. Next stop: regionals?
Great Except for That One Event
A lot of otherwise-wonderful teams have had vault issues this year. Washington, Oregon State, Penn State and Illinois can all attest to its challenges. But perhaps the best team with the worst vault lineup is North Carolina State, which cracked 49 on three events last weekend and then had to vault a Yurchenko layout. The depth is not there and the landings aren't either, which is a pity since every other event is so special.
Just When You Thought They'd Done It
I honestly forgot about this category for an entire year but I had to bring it back for Boise State, which put all the pieces together to record an amazing season high two weeks ago and then fell back to earth by almost two points. But don't worry! The Broncos are closing out the regular season with two home meets, which, ah, tend to help the situation.
Why Is This Happening
I have some questions, some comments and many concerns about Stanford getting a 49.625 on floor on senior night with only five routines. We've had some wacky scoring across teams of all rankings the last few weeks, but the wackiest wacky always seems to come out when not many people are watching to generate hot takes.
You're Beautiful but Please Hit
The loss of Lauren Diggan early in the season wasn't easy for New Hampshire to swallow at all. The seniors have stepped up to keep UNH afloat, but persistent vault and bars issues mean that the Wildcats can't get their ranking up and are in danger of missing regionals, which would be a huge bummer.
On the Struggle Bus
Minnesota's not having a bad season at all, and it's accomplished several individual and team landmarks. But it really feels that the pieces should be much more together than they are at this point, and it's showing in the Gophers' head-to-head vulnerability to anything resembling a top team right now. They just don't have the feel of a team that's going to push for a nationals spot, as much as so many fans would love that.
Do You Have a
Seventh
 Routine
Washington appears to have exactly seven vaults, two of which are 9.90 SV and have hit in the lineup a collective one time in 2020. Neat.
(That said, I'm so thrilled that Maya Washington added vault back and completed her all around set after so many years! I'll just be thrilled all over again when she stands the thing up.)
Was That Just a Fluke
SEMO scoring a 195.800 was both amazing and deeply perplexing, especially given that we didn't have real video coverage of its random neutral-site invitational in Tennessee. There's a massive amount of potential on the Redhawks' roster, but as for replicability, the jury's still out.
Next Week, I Swear
"No. 21 Southern Utah" is in itself a fairly special thing to be able to say, but the Thunderbirds were in the middle of a long run of home meets when NQS rankings began and have been unable to drop one awful road score. But the end is finally in sight! On Thursday night, Southern Utah can finally replace its 194 and charge up the rankings, potentially landing as high as No. 15.
Won Twitter For The Week
"I really understand what people mean when they say I look extremely intense. I get it now." – @jadelindzey pic.twitter.com/uq1xhBBIxF

— Oklahoma Women's Gym (@OU_WGymnastics) March 3, 2020
Glad You're Having Fun
On Tuesday night, I went to the College Gymnastics fans are HERE! Facebook group (if you don't know what that is, please stay innocent) and saw that a post had sixty comments. Around two minutes later, I turned back to the page to find seventy comments, and ALL of the new ones had been written by Suzanne Yoculan Leebern.
Fall of the Week
GIF courtesy of our MAC editor Kalley Leer. The slowwwww camera pan from the beam to where Morgan Tong actually ended up is so comical.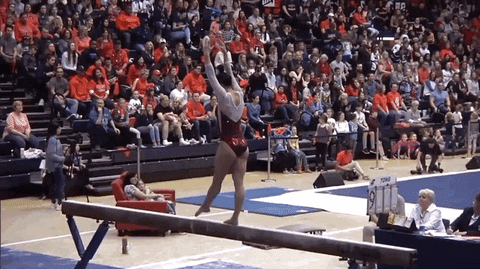 ---
Article by Rebecca Scally
Like what you see? Consider donating to support our efforts throughout the year!