Floor might be the most straightforward event for elite gymnasts transitioning to college, with most mid-tier elite floor routines containing enough difficulty to excel in college. The biggest challenges for these athletes are injury management and controlling landings; similar to checks on beam, an inconsequential landing error in elite can render a college routine uncountable for a top team. That said, it's usually a fair bet that a recently-healthy elite can find a place in an NCAA floor lineup, even if floor wasn't one of her stronger elite pieces.
To compare scores across quads and countries without having to account for changes in code or domestic bonuses, we took the highest E score we could find for each gymnast and ranked them.
Floor
Honorable Mentions
Megan Roberts (Georgia)
Margzetta Frazier (UCLA)
---
5. Sydney Johnson-Scharpf (Florida): 8.450
Johnson-Scharpf is known primarily for her performance quality, and with a 2019 routine potentially already in the works, we expect nothing less than greatness from this incoming Gator. That said, she's no slacker in tumbling either, opening her elite routine with a 1.5 to double arabian combo pass. The double arabian will likely stand alone as a collegiate E pass at Florida, leaving a stellar 2.5 twist and a double pike for later in the routine.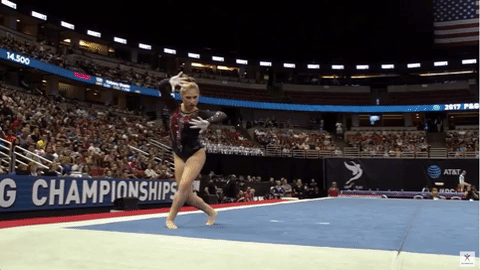 4. Trinity Thomas (Florida): 8.500
Thomas is an immensely powerful gymnast who occasionally struggles to control her landings, even in elite. So that's an area to watch going forward. However, her double layout is beautiful and will fit perfectly into a Florida lineup (though she has an alternate E pass, a front double twist), and her leaps are quite strong, too. We'll hope to see some difficult dance skills from her, a rarity in NCAA floor.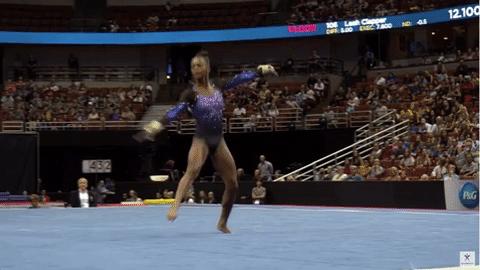 2T. Emily Gaskins (Alabama): 8.550
Gaskins' composure on floor in 2017 screams NCAA, and she's definitely a stylistic match with Alabama's existing lineup. Her most recent routine boasts three E passes: a double layout, a tuck full-in and a double arabian–though the first is usually most controlled and will likely be the one to stick around. Her dance skills are great, too, particularly her gorgeous Memmel.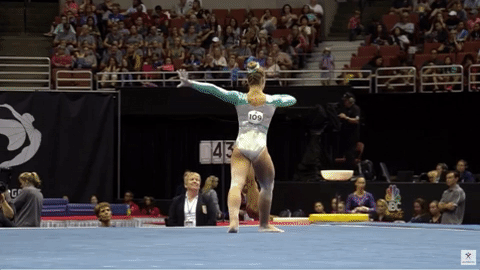 2T. Norah Flatley (UCLA): 8.550
It's been a while since we've seen Flatley compete floor, so it's hard to know what to expect. Of everyone on this list, she's the one for whom injuries are the biggest factor. Last we saw of her, she tumbled a beautiful whip to triple twist, which would be a treat to see in UCLA's lineup. She also showed a front double twist and several difficult leaps.
1.   Jade Carey (Oregon State): 8.600
It shouldn't surprise anyone to see the reigning world silver medalist top this list. Her tumbling repertoire might come down to what she can most reliably keep in bounds—she frequently overpowers college E passes, such as a tucked full-in. It wouldn't be shocking to see her compete two E passes in college or to try out different options through the season. What we can rely on, though, is that she'll show off her best choreography yet in Corvallis; the Oregon State coaching team seems to have a knack for creating high-quality routines for even the non-natural dancers on the team.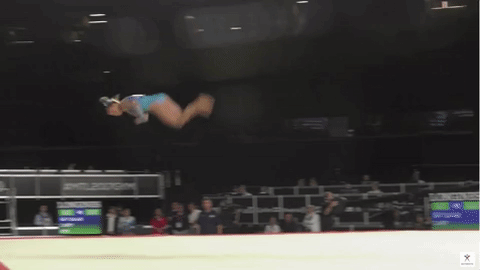 ---
Article by Rebecca Scally and Emily Howell-Forbes