Think back to March of 2012: The Hunger Games was dominating the box office, One Direction was at the top of the Billboard charts and everything had mustaches on it for some reason. Only four teams had ever won an NCAA gymnastics title, but heading into the postseason, upstarts Florida and Oklahoma were firmly at the top of the national rankings. The Sooners were polished and consistent, leading a Big 12 conference in the midst of some dramatic changes.
Oklahoma, Iowa State, Missouri and Nebraska had competed in a four-team race for conference accolades since 1986, when Oklahoma State cut its gymnastics program. In the 2011 offseason, Nebraska departed for the Big Ten, taking with it a staggering 21 conference titles. The Huskers had upset Oklahoma to capture the 2011 crown, snapping the Sooners' streak of three straight. With the defending champs absent, the 2012 edition would feature only three teams for the first time in history. It would also mark the final time Missouri competed in the conference before moving to the SEC. West Virginia, a former EAGL team, would take its place the following season.
Ten years later, the 2012 Big 12 championship isn't only remarkable for occurring in transition. There are plenty of intriguing storylines from all three teams, and the gymnasts and coaches involved are still making an impact today. The meet marked the end of an era, but also the beginning of a new one. Let's take a deep dive into this truly unique moment in NCAA gymnastics history.
March 24, 2012. Norman, Oklahoma. The 2012 Big 12 gymnastics championship brought No. 25 Iowa State, No. 19 Missouri and No. 2 Oklahoma into the Lloyd Noble Center for a conference tri meet. Oklahoma was heavily favored to take the title in front of its home crowd, with solid lineups on all four events and two gymnasts ranked No. 1 as individuals. However, the Sooners' advantages on paper masked some recent blows to their lineups. Earlier that week, junior Kayla Nowak suffered an injury in practice that would sideline her for the rest of the season. Sophomore Laura Albright got sick with the flu just before the start of the competition. In February, Oklahoma had lost freshman Rebecca Clark, and senior Natasha Kelley hadn't competed all season after a stellar showing in 2011. The setbacks would force the Sooners to test their depth at a time when they would have preferred to focus on perfection. Head coach KJ Kindler emphasized always being prepared, and it was exactly for situations like these.
Iowa State and Missouri were up for the challenge. Both teams were coming off strong showings in their final regular season competitions. Iowa State had nearly upset former conference rival Nebraska, who would later cruise to its first Big Ten title. Missouri had knocked off No. 10 Arkansas, an SEC power, with a great meet on senior night. The Cyclones were led by senior Michelle Browning, a capable all-around performer who was the 2011 Big 12 Gymnast of the Year. Senior Celine Paulus was having a breakout season, and sophomore Michelle Shealy was the 2011 Big 12 Newcomer of the Year. Missouri also had a mixture of experience and potential. Senior Mary Burke was the defending Big 12 Champion in the all-around, and freshman Rachel Updike had won the Newcomer of the Week award a record nine times. The race for second place would be a battle, and with Oklahoma suddenly vulnerable, perhaps even the conference title could be in reach.
As the top seed, Oklahoma began its day on vault. The Sooners were solid if not spectacular, hitting six clean Yurchenko fulls for an event score of 49.225. Senior Sarah Stone, ranked No. 1 nationally on vault, tried to hold the stick but leaned forward for a 9.850. She was bested by two teammates, Norman local Hayden Ward and junior three-event specialist Brie Olson, who posted matching 9.875s. Vault was the only lineup that remained intact after the recent injuries, but the next three events would require some first-time competitors. In fact, Olson was about to make her collegiate all-around debut with a pressure-packed beam routine.
Second seed Missouri started on bars, where the Tigers posted a respectable 49.000. Mary Burke led the way with a 9.875, highlighted by a floaty piked Yaeger and a double Arabian dismount. Burke looked poised to defend her all-around crown, continuing Missouri's streak of four-straight champions that included Adrianne Perry and two-time winner Sarah Shire. Missouri's anchor Allie Heizelman nearly stuck her full-twisting double layout dismount for a 9.825, showcasing a trend of unique difficulty that the Tigers would carry through each event.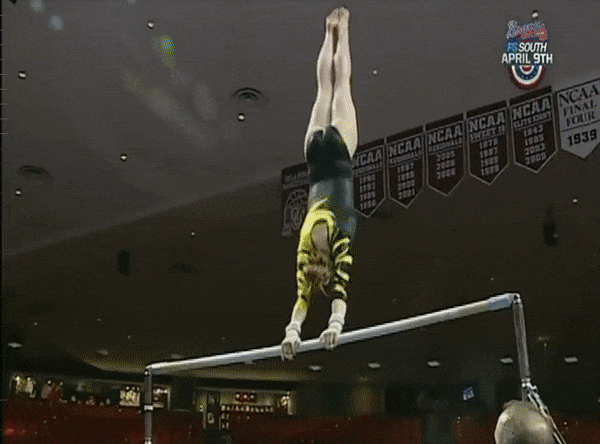 Iowa State got off to a rough start on floor, scoring only a 48.725. Short landings on the Cyclones' final passes became a trend, with Michelle Shealy under rotating a double pike and Michelle Browning stumbling forward on a double tuck. Browning had been nursing a back injury all season and competed with a brace. Head coach Jay Ronayne described her as someone who never quit. He also expressed excitement about Celine Paulus, who led the way with a 9.825 in the first rotation.
Missouri was the first to tackle the balance beam in rotation two, where the Tigers performed risky combinations. Freshman Laura Kappler and Burke both dismounted with two back handsprings into a layout stepout connected to a layout full, traveling the entire length of the beam. Burke also mounted with a difficult punch front to beat jump, scoring a 9.850. Freshman Rachel Updike also scored a 9.850, emerging as an all-around contender after posting a 9.800 in only her second bars routine of the season. Two 9.700s bumped Missouri's total down to 48.900, but it was still mission accomplished.
On vault, Iowa State battled back to a season high score of 49.250. Michelle Browning performed her unique front handspring onto the board into a front pike, sticking the landing with just a small lean forward for a 9.875. Paulus absolutely drilled her Yurchenko half-on front pike off, tying her career high of 9.950 and ultimately winning the Big 12 vault title. The score also slid her into the all-around lead after two rotations.
"Celine's vault was outstanding," Ronayne said. "It was the best vault I have seen in the Big 12 championship in my six years at Iowa state. I could not be more proud of her."
With Iowa State surging, Oklahoma put on a show on bars, posting a season high 49.475. Senior Candace Cindell, competing for the first time in 2012 to step in for Nowak, scored a career high 9.900. Olson also posted a 9.900 for her routine, which included a Deltchev release and a full-twisting double layout. She would tie with Paulus for first in the all-around standings at the halfway point. Senior Megan Ferguson, the three-event star Kindler called OU's "spark plug," made her first appearance of the afternoon, winning the Big 12 title with a 9.925. The score was the first above 9.900 at the championship meet since 2003.
Oklahoma continued the momentum into rotation three, posting another 49.475 on beam. Sophomore Madison Mooring scored a 9.900 in the leadoff position, nailing her difficult dismount combo of a back handspring layout stepout to layout full. Stone also posted a 9.900 while Ferguson captured her third Big 12 title on beam with a 9.950. Her routine included a unique triple series to kneeling position, and she a nailed roundoff double twist dismount. Yet the standout moment may have come from Olson. After performing in an exhibition role on a few occasions, Olson delivered a 9.850 in her first competitive beam routine. Her series was a difficult roundoff layout, and she nailed her side aerial to back layout full dismount. Olson's clutch routine not only catapulted Oklahoma further into the lead but gave her sole control of the all-around after three rotations.
"I was very nervous performing on beam," Olson said. "But I let it happen just like in the gym, and it worked out perfectly."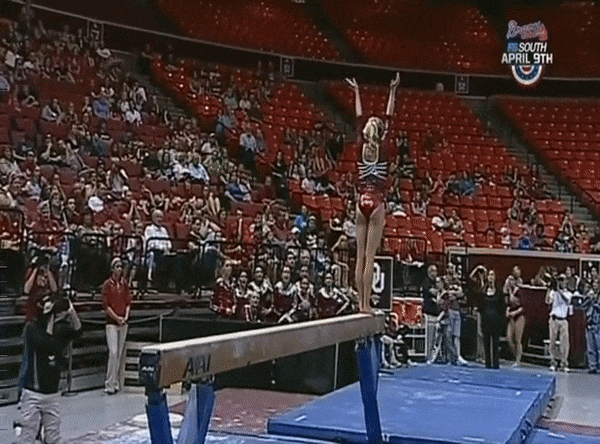 Not to be outdone, Missouri put up a solid showing of 49.125 on floor. Updike scored a 9.875 for her sky high tumbling while sophomore Katelyn Trevino persevered through a music malfunction to win the Big 12 title with a 9.900. Trevino, who was coached by both of her parents in club, had literally grown up in the gym. She used to have a crib in the corner, and sometimes gymnasts would feed her between events. Years later, she was a Big 12 champion. Mary Burke, firmly in the all-around race, did not have such a storybook showing. She was short on her double pike, had too much power on her double back and did a front half instead of a front full in her combination pass. Her 9.750 would leave the Missouri all-around streak up to the freshman Updike.
Iowa State continued to impress in rotation three, scoring a season high 49.200 on bars. The Cyclones were paced by a career high 9.875 from sophomore Henrietta Green and a 9.850 from Browning, whose routine included a double front dismount. Paulus scored a 9.825 with a huge Gienger and nearly stuck dismount, putting her just behind Brie Olson after three events. Iowa State also maintained control of second place in the team standings by 0.150.
In the final rotation, Missouri finished on vault, Iowa State went to beam and Oklahoma competed floor. Missouri posted a solid 49.000, led by Updike's gigantic Yurchenko full. Her 9.875 gave her an all-around score of 39.400 in just her second attempt at all four events. Burke scored a 9.850, a strong recovery from her routine on floor. The Tigers ended up with a 196.025, their fourth score above 196. They would have to wait to see if Iowa State would be able to beat it.
The Cyclones survived a scare on beam after senior Shea Anderson fell for a 9.125. Led by a 9.825 from Michelle Shealy, Iowa State hit four straight routines. Sophomore Hailey Johnson mounted with a punch front to beat jump for a 9.800 while Paulus fought through wobbles for a 9.750. For Paulus, the score dropped her all-around total to 39.350, just behind Updike. Iowa State finished with a 48.850 event score—not ideal, but enough to tie with Missouri at 196.025. It was the Cyclones' best effort of the season.
"We deserved to have our highest score," Ronayne said. "They were focused all day and throughout the meet. We competed as we expect the Cyclones to compete."
Yet the meet was in the hands of Oklahoma, the No. 1 team in the nation on floor exercise. On this event, the Sooners would have to replace both Nowak's and Albright's routines. Sophomores Madison Mooring and Taylor Spears stepped up to the challenge, both scoring 9.850. Another 9.850 from Stone paved the way for the two strongest routines of the day, matching 9.875s from Olson and Ferguson. For Olson, the number gave her a 39.500 in her first ever all-around competition, good enough for the Big 12 title. Ferguson, ranked No. 1 individually on floor, was dazzling in her final routine in the Lloyd Noble Center, opening with a triple twist and finishing with a double full to punch front. The senior came into the competition ranked in the top three on every event she competed, and did not disappoint. She was the exclamation point on a dominating victory for Oklahoma, as the floor total of 49.300 pushed the Sooners to a season high 197.475.
"We've had a few injuries this year," Kindler said. "We were doing some damage control and putting in some people who have not competed at all this year on their respective events, and they rocked. I'm very proud of how they stepped up."
Oklahoma's Big 12 team title was its fourth in five years and its fifth all time. Missouri, which had never finished higher than third after winning the Big Eight title in 1992, tied with Iowa State for second place. Every school won at least one individual title, with Celine Paulus capturing the vault crown, Megan Ferguson winning bars and beam, Katelyn Trevino taking the title on floor and Brie Olson winning the all-around in her first collegiate appearance. The parity continued into the annual awards, with Mary Burke winning Gymnast of the Year and Rachel Updike the obvious choice for Newcomer of the Year. Ferguson was named the Event Specialist of the Year while Kindler won Coach of the Year, her sixth conference coaching honor. Kindler had the distinction of having won at two different schools, taking home three accolades at Iowa State and now three at Oklahoma.
A conference meet like none before and none since, the 2012 Big 12 championship is intriguing to look back on 10 years later. It was the only time Oklahoma, Iowa State and Missouri ever competed in a three-team matchup for the title and marked the beginning of a dynasty for the Sooners. Oklahoma went on to win eight-straight conference crowns, and during that streak, four national team championships. The first came in 2014, just two years after this meet. Taylor Spears, a sophomore on the 2012 team, won the 2014 national title on balance beam, Oklahoma's first individual championship since Kelly Garrison in 1988. Spears went on to coach at Arizona while Missouri standout and 2012 student assistant Sarah Shire went on to be the head coach at Penn State. West Virginia entered the Big 12 in 2013 and Denver in 2016, with the Pioneers finally stopping Oklahoma's run in 2021. Today, the Big 12 is closer than ever, and more big changes are on the horizon. BYU is set to join the conference in 2024 while Oklahoma will depart for the SEC in 2026. This begs the question: 10 years from now, where will we be? Let's meet back here and find out.
READ THIS NEXT: Looking Back at Lindenwood's 2015 Championship Season
---
Article by Ryan Wichtendahl
Like what you see? Consider donating to support our efforts throughout the year!