As we get closer and closer to the Olympics, NBC released the final episode of its series "Golden: The Journey of USA's Elite Gymnasts" on its new streaming service, Peacock. Unlike most of the NBC gymnastics pieces from over the years, these episodes take a more serious angle. In short, the episodes are far from "The Ranch" documentary from 2016.
Join us as we recap each episode. If you'd like to watch along, the episodes are available here with a free Peacock account. Today we're talking about the recently dropped episode six.
We pick up where we left off in episode five at the U.S. championships. Laurie just got the results of her MRI and has a small tear in her meniscus, a bone bruise, fluid in the front of her knee and a cyst. She's done competing. It feels nice to have some reassurance that there is some common sense in Elite gymnastics. She also references the Glamour article, which said her comeback failed. She disagrees: She didn't fail, and she learned a lot in the process. 
Laurie's parents have been so sweet throughout "Golden."
Laurie's parents are absolute sweethearts about the situation. They keep emphasizing how proud they are of her for trying and putting in her best effort. 
At night two of nationals, Suni and MyKayla are both having great performances. Morgan is trying to redeem herself from night one but has a rocky beam routine with two falls. In the end, Suni comes in second and MyKayla in ninth, both qualifying to the Olympic Trials. 
Tom Forester says that Morgan would have had to place in the top three or four on at least one event to move onto trials. Morgan is upset that she didn't make the team because both she, her parents and her coaches have given up so much so she could chase her Olympic dream. She mentions that she might go to college, but may wait and try for another Olympics, so that's something that could be fun to look forward to. While she's dissatisfied with not making the team, she understands that it isn't the end of the world and there are things bigger than gymnastics. Once again, I'm glad there is some common sense here.
We get a montage of opening ceremony clips from over the years and another emphasis on how hard it is to make the Olympic team, as if that wasn't the entire point of the last five episodes. 
Suni is driving while the Gymnastic podcast where they talk about how she should "be undeniable" during trials so she doesn't get left off plays. I feel like she was already intending to do that?  
Suni's getting what I think is acupuncture done? It does not look fun.
Suni's feeling nervous and stressed about trials and is overall just emotional. Her training is still going well. Suni's coaches and parents stress how much they're proud of her. 
In Texas, Konnor's family is getting an apartment for Konnor and her mom to stay in while her dad and brother are going home so her brother can play baseball, although her brother has to travel around often for baseball. These parents seem to sacrifice SO much for their kids' athletics. 
Konnor and her family are still planning on Konnor competing in the 2024 Olympics. Konnor's dad thinks she'll be the best in the world by then and Konnor doesn't think her life will be complete until she can compete in the Olympics. 
MyKayla's coach, Bruce, is making…drapes? Like MyKayla, Bruce is ready to quit gymnastics after these Olympics. He started coaching MyKayla when she was 12, and now she's married, which is crazy when you think about it. 
These drapes are definitely…a pattern. 
MyKayla and her husband are at church together. MyKayla shares about how she's felt the spirit because of the hardships she's experienced in the past two years handling the postponement of the Olympics and from getting COVID-19. Despite the struggle, she believes that it's been worth it.
Now we're in St. Louis! It's the first day of the Olympic Trials. One of the NBC announcers says "got to perform well here," as if anyone did not know this. 
Laurie's here, helping to commentate, which I love. Although Laurie mentions how tough it is to be here but not being able to compete. 
Petition for Laurie to replace the other NBC commentators?
This is so random, but I think having Peng Peng Lee at all of the U.S. Gymnastics events being the hype person is hilarious given the fact that she's from Canada. 
The gymnasts march out and begin warming up. We see Terry, Nastia and Tim commentating, with Nastia in her Cinderella prom dress look that does not match the occasion in the slightest.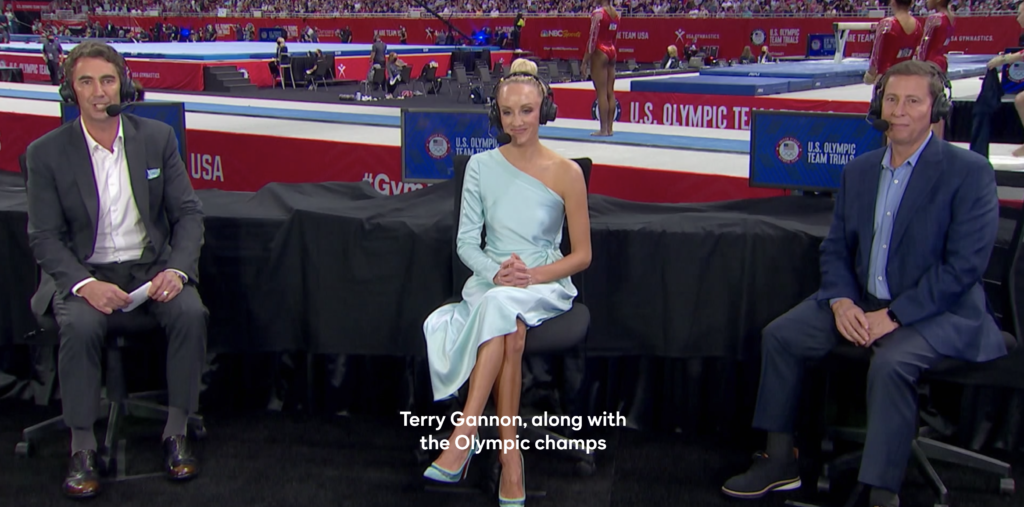 This dress is nicer than anything I wore to my high school dances, and Nastia is at a GYMNASTICS meet.
MyKayla starts on vault with a strong 15.183. Suni's on bars with a clean routine, earning a 15.300. The rest of their routines for the night are solid, leaving Suni in second and MyKayla in fourth. The montage of their night is fantastic. Golden's editing team did a great job summing up the night in a fun and creative way.
MyKayla's husband says MyKayla is happy with her performance but is scared of being in fourth place since that's where she finished in 2016. 
On the second night Suni starts on beam and MyKayla on floor. Suni's beam routine goes well, but MyKayla's first floor pass lands outside the bounds and she doesn't stick her last pass either, putting her in sixth. On beam, MyKayla has a few balance checks and is low on her landing. On bars, MyKayla missed a connection but was otherwise solid. Suni's last event is floor, which is strong. MyKayla's last event is vault, which is clean. Edited in with old clips on her vaults, it is a "chills" moment. 
I feel like this moment alone made MyKayla's journey worth it.
Laurie does another spot with Mike Tirico once the competition finishes but before the team names have been called, and leaves in tears. 
This was SO sad. "Golden" had great insights into Laurie's training.
MyKayla's family watches anxiously for the selection committee to announce the team. Shannon Miller reveals the names—Simone Biles, Sunisa Lee, Jordan Chiles and Grace McCallum. MyKayla's family first believes that MyKayla was going to be an alternate, so they are very excited when she's named to the individual spot with Jade Carey. 
And just like that, "Golden" has reached its conclusion.
We watch in their post-interviews and photoshoots, as Bruce and Jess talk about their experience coaching MyKayla and Suni, respectively. 
Before we end, we get a clip from five months before from the first interviews all of the gymnasts did. Ending just where we started, in cold, cold West Virginia.  
READ THIS NEXT: "Golden" Episode 5 Recap
---
Article by Katie Simons
Like what you see? Consider donating to support our efforts throughout the year!