GK Elite is the premier gymnastics leotard manufacturer in women's gymnastics. Its designs have graced every stage, from NCAA competitions to the Olympics. 
From the outside, their campus is nondescript, even by provincial Pennsylvania standards. The clean but aggressively Brutalist building provides no exterior clues to its interior purpose, and leaves no lasting impression on casual passersby. Walk through the tinted glass exterior doors, however, and you're immediately transported to another reality.
Like Dorothy stepping out of her greyscale home into color-soaked Oz, a different, more vivid world blossoms: The lobby is chic and ultramodern, with both the floors and countertops composed of pristine white stone. Larger than life images of contemporary icons like Simone Biles, Aly Raisman and Laurie Hernandez adorn the grey walls, supervising the hustle and bustle that unfolds below their watchful eyes. Silver mannequins stand (and handstand) sentinel in the entryway, uniformed in vibrant, sparkling bespoke leotards, swim trunks and cheer wear.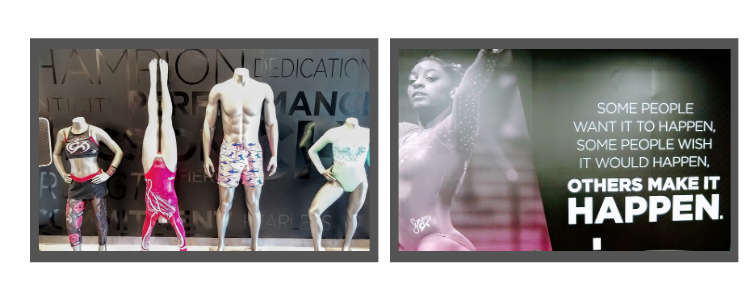 If walking into GK's lobby is like Dorothy arriving in Oz, then stepping onto the manufacturing floor is like entering Willy Wonka's factory. The scale and scope is unbelievable: A series of massive, labyrinthine warehouses filled with complex machines and materials; innumerable bolts of fabrics in every shade imaginable; containers of all sizes brimming with crystals, Sequinz and Spanglez. 

Far from the archetypal dreary assembly line, each worker has an individual station, which they are encouraged to personalize. Their stated mission and purpose is "to manufacture unprecedented performance, innovation and experience for our athletes," which requires precision at all levels to achieve. Each element of every leotard is cut, sewn and attached by hand by no fewer than 37 employees; their satisfaction and dedication are crucial to the brand's success. 
This commitment to excellence is why GK Elite is the leotard of choice for nearly three quarters of NCAA women's gymnastics teams. Over the summer, CGN had the opportunity to shadow the coach of a top 20 team as they toured the headquarters. We're kicking off the 2020 season by giving you a behind-the-scenes look at their team's brand new leotards and what all went into their creation. Stay tuned…

---
Article by Claire Billman
Like what you see? Consider donating to support our efforts throughout the year!