Similar to DI and DII gymnastics, DIII teams are often plagued by lineup monotony—vault squads riddled with Yurchenko layout after Yurchenko layout and bar routines composed of bail to toe-shoot and blind full to double back connections. However, many DIII gymnasts tend to peak later in their club careers or even well into their college career, so we often see a lot of new skills once they are in college. Since DIII gymnasts are working under the same code as DI and DII, the skills they learn to get their routine up to the college level—while still performing something they can do safely—can get a bit obscure and unique. Check out some of the interesting skills we have seen competed in DIII gymnastics over the past few years.
Not Your Average Vault Entry
Two current Ithaca gymnasts compete a front handspring onto the the board as the entry to their vaults. Paige Landes does her front handspring into a Tsuk pike, and Carolyn Nichols does hers into a handspring front.
The Toe-Shoot Substitute
Kaylee Jondahl, a UW-Stout alum, is the most recent DIII gymnast to compete this unique low-to-high-bar transition called a Laumann. Connected immediately from her bail, she swings down almost as if she will do a low bar giant but releases and does a tuck half to catch the high bar.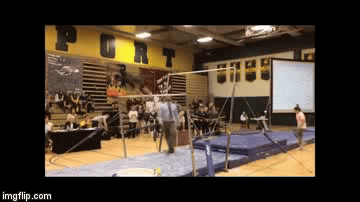 Onodis Aren't Just for Former Elites
UW-Eau Claire senior Lauralynn Anderson competes an Onodi to wolf jump. Though there are some form issues, it's exciting to see a DIII gymnast attempt such a difficult skill.
Tkatchevs Are Great But…
A senior at UW-La Crosse, Dani Barmore, is the Comaneci queen. This classic release seems to be making a slight comeback in club gymnastics, so hopefully we will see some more in the NCAA in the coming years.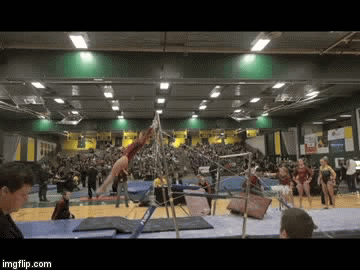 Who Says You Have to Flip off the Table?
Former Hamline standout Courtney Benson proved vault isn't just about powerful flipping. She competed a front handspring double twist that garnered a spot in the vault final two years in a row.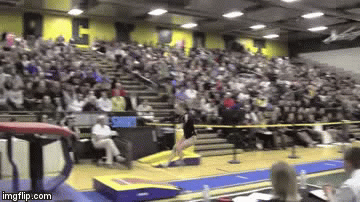 What are some of your favorite skills that you have seen a college gymnast compete? Share your thoughts in the comments below!
READ THIS NEXT: 13 Skills in the Code We Want to See in the NCAA
---
Article by Rachel Riesterer
Like what you see? Consider donating to support our efforts throughout the year!