You may have noticed that we love leotards here at NCAA Gym News. Since we spend so much time critiquing them, we thought we'd try our hands at designing a few, too. Here are some leos we'd love to see, and at least one that is downright silly.
All designs courtesy of Emily Howell-Forbes.
Stanford
We'd love to see the Cardinal incorporate the Stanford tree into its leos. Stanford tends toward a simple, classic look that we did our best to abide by. But we think it's a team on the rise this year, and its leos should reflect that. We initially tried this with green, but it looked very much like Christmas, so here's a red version we're excited about.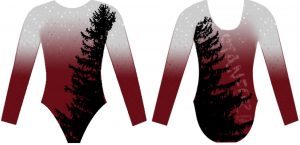 Florida
We need to see an orange Florida leo. Not just a touch of orange at the sleeves or incorporated into a swirling pattern—a fully orange leo. Orange is not the easiest color to work with, and most teams with an orange team color (Auburn, Illinois, Oregon State) shy away from it as well. But Florida has such elegant designs in blue, we believe that if anyone can pull it off, it's the Gators. We love the ombre and crystal patterns they incorporate into their blue leo designs, and we're ready to see those in orange. In fact, we demand it!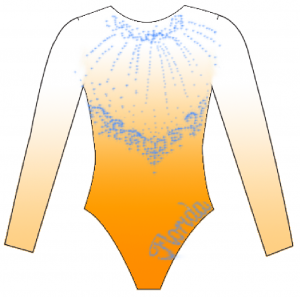 LSU
D.D. Breaux's amazing tiger-striped outfits are our inspiration here. LSU occasionally incorporates a hint of tiger stripes into its leos (like its white leo with purple stripes), but we're ready for one that lives up to Breaux's example. The Tigers are not afraid of exciting designs, and we think they could absolutely pull this off. Imagine Lexie Preissman marching out through the fire at the PMAC in a tiger leo. Exactly.
Nebraska
As promised, we have a very silly idea. What if Nebraska had a corn-themed leo? The Huskers would certainly stand out. After much internal debate about whether this was a good idea or an insult to the art of leo design, here is the final product. We're rooting for it to at least show up in a warm-up or workout leo in the future.
Thanks to the Huskers for being good sports when we floated this idea!
https://twitter.com/hrbrink/status/913220319707410433
What leos are you dreaming about? Let us know in the comments!
---
Article by Emily Minehart