Today we take on the Nebraska Cornhuskers, who finished a surprising No. 7 at the end of the 2017 season. The Huskers are losing a big class as far as scoring goes, including all arounders Ashley Lambert and Jennie Laeng who helped the team to its best finish since 2014. But with a few mystery injuries last year, they weren't at full strength. If those gymnasts are healthy again and its new freshmen can adjust well to NCAA competition, Nebraska could ride this wave of success into the new season.
Vault was a strong event for Nebraska, particularly at nationals, with solid landings and nice form in the air. But the Huskers will lose Lambert's huge Yurchenko full, as well as Laeng's one and a half, which both regularly scored 9.85 or higher. They'll need strong offerings from their newbies and for some veterans to step up. As far as the freshmen, most of them have the standard full, but some are training one and a halves as well. Karley Hutchinson's full gets good distance and height, and she has excellent air awareness to help stick those landings. She'd be a great early lineup choice with that kind of full. Anika Dujakovich's full isn't especially strong, but her one and a half looks surprisingly viable considering she hasn't competed it yet. Megan Verceles-Carr is the sole newcomer with a 10.0 SV, a one and a half, which she competed at J.O. nationals this year. If she can clean up her leg form (it can look a little tucked in the air), as well as the landing, she could easily break the top six. Kynsee Roby would also be an excellent choice, despite only vaulting a full, simply because of her beautiful form. However, due to a recent ACL injury, she may not be able to compete the leg events just yet.
The veterans are probably safe as far as their lineup spots, though they'll want to step up their game in order to stay around the same rankings that they did last season. Expect Sienna Crouse and Taylor Houchin to lead the way with their big Yurchenko one and a halves, especially Crouse, who scored a career-high 9.9125 at nationals. Megan Schweihofer should also be a big contributor, as her Yurchenko full has scored a near-perfect 9.925 in the past. Her consistency and experience might make her a good lead-off performer, though that may also limit her scoring potential. Abbie Epperson has also scored respectably, although her form has been a little less consistent than some of her teammates.
Notably absent from last year's regular season lineup was Grace Williams, a team leader and former AA competitor who only competed beam and floor for most of the season. It could've been injury that kept her out, though there was never any evidence of such on social media. If she were to be back in full form, her clean and tight vault could easily slip back into the top six. With all these factors in play, here's what we think the Huskers' vault lineup will look like.
Bars was actually Nebraska's strongest event last year, as it finished the season ranked No. 9 in the country. The Huskers will lose Lambert's backup set, as well as Laeng's anchor routine, both of which will make a big difference in the overall structure of the lineup. Bars is a bit of a weakness for the incoming class, with many struggling to meet the NCAA up-to-the-level requirements, assuming they're keeping their J.O. routines. Dujakovich is training both a Maloney and a Tkachev, and though the Tkachev definitely isn't ready (as of May, at least), the Maloney looks viable. And, added to her bail to handstand, that would bring her up to the competitive level for college competition. Verceles-Carr could use some work on her handstands, but she gets good height on her Jaeger and she has a natural, easy swing. The Hutchinson sisters, Karley and Torri, both have good sets but have some refining to do. Karley's handstands could use some work, and Torri may benefit from downgrading her dismount, which she can still do without losing her start value in college. But the real bars hope in this class will be Roby. Her huge, dynamic releases and impeccable form should give her a huge advantage in college competition and could earn her a late lineup berth even as a freshman.
The returning Huskers will make for some interesting lineups, as most of them are capable of great scores but aren't very consistent. Each of them had at least one fall last season, but some are definitely better than others. Houchin and Danielle Breen are seemingly the most consistent of the bunch, both hovering around the 9.8 range and with only one fall apiece. Epperson began the season very shakily, but after a few weeks out of the lineup, she figured it out, hitting the rest of her routines in 2017 and peaking at 9.925. Schweihofer is perhaps the biggest flight risk, with two falls and nearly a point and a half in variance between low and high scores for a hit routine. However, the risk can be worth the reward: she too peaked at 9.925 last season. Crouse seems to be setting up to anchor the lineup this season after spending most of 2017 hovering around 9.9. However, she has had shoulder problems in the past, so should those arise again, she may not be in full strength all season.
Williams has previously competed bars for excellent scores, though she was out of the lineup last season entirely, unlike vault where she competed in postseason. If she can rejoin the squad, she'll be in contention for those in late lineup positions. Catelyn Orel was also definitely injured last season, but she's been incredibly focused on her comeback, and in her freshman year, bars was one of her better events. Her clean lines and lovely toe point could give her an advantage over some of her less refined teammates if she's healthy once more. While these two are still relatively unknown quantities, they're formidable enough competitors that if healthy, they're absolutely in the lineup, so we've elected to list them as alternates to strike a happy medium. Here's how we see the rest of the bars squad for 2018.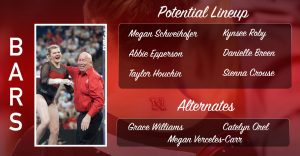 The Huskers had some problems with beam last year. A number of gymnasts caught a case of the falls a couple of times during the season. Hopefully, the infusion of new blood into the squad will help cure the fall problem. Makayla Curtis is quite confident in her beam work. Her lines aren't the most refined, but her sure footing and calm demeanor alone could earn her a berth in the lineup. If her injury is healed enough, Roby's beam is a thing of beauty. Her elegant splits and clean lines should score really nicely in college competition. Rachel Thompson doesn't have those details like toe point or perfect split positions, but she has some creative choreography and skills, such as a side aerial to back handspring series. And Verceles-Carr takes the slow and steady approach, unafraid to take her time to ensure that she hits every shape and lands every skill.
With this many strong beamers in the new class, the veterans may want to watch out. Breen and Williams should consider their spots relatively safe, both pretty consistently scoring in the 9.8s and peaking at 9.95 in 2017. Houchin, last year's star freshman, had some problems on beam in the earlier part of the season but seemed to have it figured out by postseason. Hopefully she'll continue that trend, because with the kind of steadiness she showed in her last few meets, she could be an excellent lead-off performer. Beam is not the strong suit for Crouse or Epperson, but on their good days, they're both capable of decent scores. Crouse dropped out of the lineup halfway through the season after her first fall, and Epperson was very hit or miss, only going as high as 9.825. Epperson is probably the more natural beam worker of the two, but either could easily be beaten out by a freshman if they can't put stronger sets together. Take a look at our proposed lineup for the Nebraska beam squad below.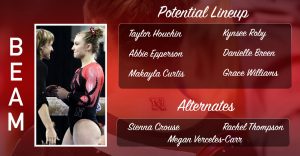 Floor was also a big event for the Huskers last year, with diverse choreography and show-stopping routines. The freshmen are going to have to bring their A-game to keep up with their new teammates. Verceles-Carr doesn't have huge tumbling, but her work is clean and she moves naturally. Karley Hutchinson has a double front that looks incredibly viable, but it's hard to tell if she still competes it, since the only video we can find is two years old. That pass alone is enough to earn her at least an alternate spot, especially since the Huskers don't have many E passes to work with. Roby also has really clean work on floor, but she's more questionable on floor than bars or beam, as her injury can significantly limit her tumbling ability and training time.
Expect the veterans to be the bigger scorers in this floor lineup though. Breen started out her season on floor with a major miss, but toward the end of the season, she really figured it out and evened out her scores. Crouse has a little bit of an inconsistency problem, but she has another of Nebraska's few E passes: a front double twist. When she hits, she tops out at a 9.9, so she may very well be worth the risk. Williams and Houchin both open with high double pikes and have clean, sassy routines, with Houchin the higher scorer of the two. But it's Schweihofer who has really been set up to become the new floor powerhouse, opening with a huge double layout and performing with huge personality.
Keep in mind Orel may be in the mix as well. Her floor, when healthy, peaked at 9.875 and featured a dynamic double pike and dramatic dance. If she's fully healed, she could definitely be a threat for a lineup berth. Here's what we consider to be the best configuration of the Huskers' floor lineup.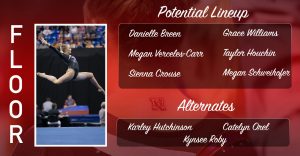 As it stands, not including alternate berths, this setup only leaves Houchin to compete all around. She finished the season ranked No. 36, with a peak performance of 39.65. If she can perform more like her late season meets, she could definitely improve her ranking this year.
But Crouse and Williams are also possibilities with how we've placed them as alternates. They may not be regular AA competitors, but if other gymnasts get injured or need to be rested, they could both end up competing all four at some point in the season. They likely won't have enough outings to merit an RQS ranking, but they're definitely good backup choices in the event that they're needed.
Check back soon for our analysis of Arizona! And to see all the posts in the potential lineups series, click here.
---
Article by Caroline Medley, graphics by Emily Howell-Forbes