The final weekend of competition before the switch to NQS saw lots of action, from Big Fives to important theme meets and, of course, perfect 10s.
Anthem Performance of the Week
Castrata (LIU)
We had no doubt Randy Lane and LIU would go all out for their Pride meet, and we weren't disappointed with drag queen Castrata singing the national anthem.
Senior Prank of the Week
Kentucky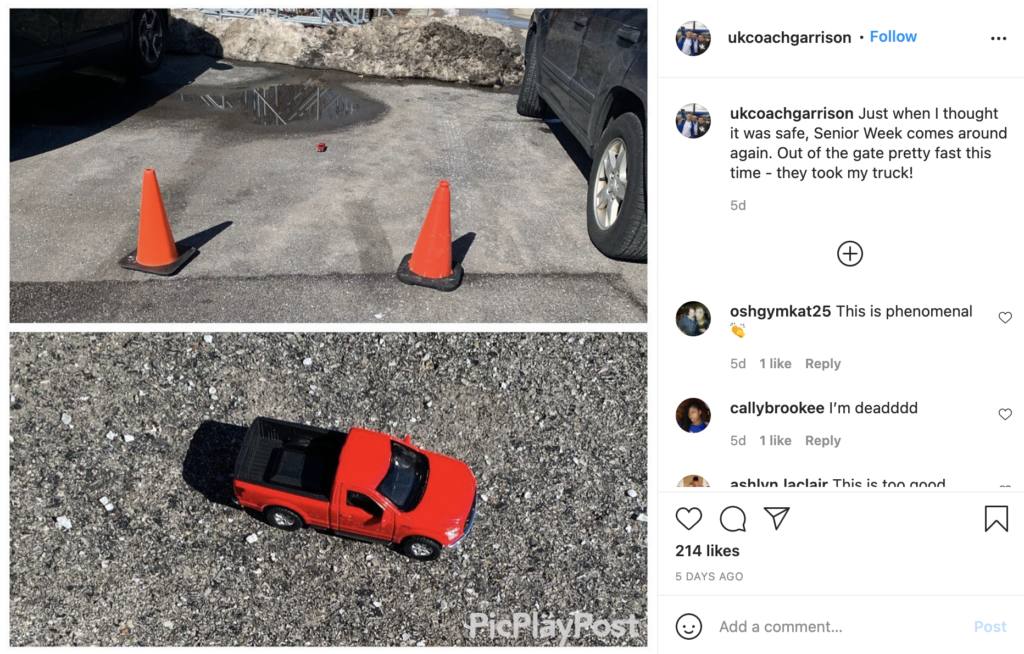 Every year we look forward to seeing what pranks the WIldcat seniors will pull on head coach Tim Garrison. This year might be the best of all time, as the seniors literally stole Garrison's truck and replaced it with a miniature replica.
Perfect 10 of the Week
Trinity Thomas (Florida)
Because there were multiple perfect marks to choose from, we went for the most legitimate 10, in our opinion. The junior's floor routine was as perfect as we've seen in a while, especially during this era of sometimes loose scoring. Not to mention the fact that it was Thomas' second 10 of the night after she scored the first in the country this season on bars in the second rotation.
Biggest WTF Moment
Big F(our)ive Session 2
Michigan State pulled out of this one, making it a quad, but we still had to endure a bye. Why?! Plus, the BTN+ feed ended before the final, meet-deciding routine, and the stat feed crashed. Don't worry, the video feed came back for awards. Fun was had by all.
Routine of the Week
Cally Nixon (Kentucky), 9.975
Kentucky started its meet against LSU with some great vaults, but the team really came into its own on bars, sticking nearly every dismount. The rotation was highlighted by Nixon's near-perfect 9.975.
Surprise All Around Debut
Alexsis Rubio, Maryland
After sophomore Emma Silberman went down with a knee injury suffered during her bar landing, Rubio was subbed into beam and floor. She finished with a 39.000 total in her first career all around performance.
Crisler Floor Strikes Again
Big F(our)ives Session 2
We've heard rumblings about the Crisler Center floor at Michigan over the years. Pretty much every team at the Michigan Big Five struggled. Michigan had an injury and two falls, no one was getting punches to work the way they expected and a number of jumps were incredibly flat and under-rotated. You OK, Crisler?
Biggest Fail of the Weekend
Stanford vs. San Jose State
You probably thought this was going to be a funny fall, but alas. It's 2021, and we're still dealing with basic coverage issues. Not only did this meet not have video, but there were also no scores and even no acknowledgement there was even a meet happening with the exception of one single tweet five hours before the start. F for effort.
Most Heartwarming Non-Gymnastics Moment
The Huskers surprised Makayla Curtis with a team visit to Arlington National Cemetery to visit her father's grave. Curtis posted on Instagram about the trip, saying she was speechless.
Click and expand the events below to see results, recaps of top meets or particularly exciting matchups and even links to watch archived broadcasts.
READ THIS NEXT: The USAG Dismount: Week 8
---
Article by the editors of College Gym News
Like what you see? Consider donating to support our efforts throughout the year!