What makes a good vault? Whether you're more of a difficulty person or prefer a (legitimately) perfectly executed full-twisting Yurchenko, we don't think anyone will disagree that these 10 vaults are some of the most exciting, if not the best, of the crop from 2018.
Elizabeth
Sydney Snead (Georgia)
While this video doesn't show one of her best attempts, Snead is a master at the Yurchenko one and a half. Her rail-straight body positions and ability to "fly high and stick the landing" is what makes her great on the event. Watch for a 10.0 in 2019.
Cami Drouin-Allaire (George Washington)
I made what may be a controversial decision and went for a full-twisting Yurchenko for my second pick. Drouin-Allaire has one of my favorite FTY shapes in the air and really flares it out at the landing, giving her the stick more times than not. Plus, we can't forget her throwing the DTY in her final few meets.
Emily M
Kirah Koshinski (West Virginia)
Body position! That's what this vault is all about. That stick doesn't hurt, either. Koshinski also has her shoulders open and square on the table; it's a pet peeve of mine when vaults, especially one and a halfs, twist early or have a dumpy block.
Brenna Dowell (Oklahoma)
I'm not usually one to scream at the TV, but I did for more than one of Dowell's vaults in 2018. How often is a toe point that obvious in a vault?! Almost never. She had an uncanny ability to drop landings in this year and rightfully finished the season No. 3. I can't wait to watch her senior year.
Rebecca
Molly Jozwiakowski (Southern Utah)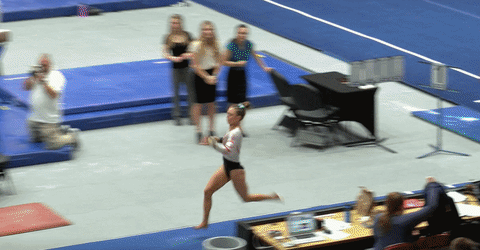 Nothing is as satisfying as a good tucked vault to me, and Jozwiakowski's stuck Tsukahara tuck full is one of the best. It's only a 9.900 start, but she never scored below 9.725 in her freshman season and pulled off a perfect 9.900 for this stick at home versus Washington. In the fall of 2017 we saw her adding a half twist in training—I'm sure the amplitude on her full means she's capable of the upgrade, but I wouldn't complain about seeing this vault for another three years either. (Video courtesy of SUU Athletics)
Olivia Karas (Michigan)
Emma McLean and Karas provide one of the great one-two punches in the sport at the end of Michigan's vault lineup, and it was hard to choose between the two. Ultimately, though, I think this vault from Karas is the single best vault the pair produced this year (despite the score), and I hope her recovery from Achilles tear is progressing well enough that she'll be able to repeat it in 2019.
Emily H-F
Alex McMurtry (Florida)
While you can debate whether some of her perfect 10.0s were totally stuck, what you can't debate is that she has some of the best-ever amplitude and air form on this vault. Plus, that flare out just makes this an incredible vault to watch.
Sienna Crouse (Nebraska)
Bent knees and crossed legs can frequently be an issue when gymnasts add the difficulty of the extra half to their Yurchenko full. Not for Crouse, as her gorgeous body position on this vault and her tendency for perfect or near-perfect landings set this vault apart from the crowd. The question is: Will she finally break past that 9.975 for a 10.0 this year?
Rachel
Shaquilla Payne (UW-Stout)
Don't even get me started on how upset I am we won't be seeing this vault anymore! After being out the beginning of the 2018 season, Payne threw this beautiful and absolutely huge handspring front pike for a 9.800 at the WIAC championship—a score good enough to earn her the conference title and solidify her individual spot at nationals.
Tori Erickson (UW-Eau Claire)
In a field dominated by Yurchenko layouts, Erickson's Tsuk tuck full was a welcome addition. Not only was it one of the more unique vaults in DIII, but she also competed it extremely well and was able to cap off her career by tying the school record and placing seventh at nationals.
There were so many gorgeous vaults we couldn't mention. What were your favorites? Let us know in the comments below!
READ THIS NEXT: The Most Anticipated Vaults of 2019
---
Article by Elizabeth Grimsley, Emily Minehart, Rebecca Scally, Emily Howell-Forbes and Rachel Riesterer
Like what you see? Consider donating to support our efforts throughout the year!