Beam can be the least reliable event for elites moving to NCAA: It's a major paradigm shift for these athletes when a balance check that was previously negligible suddenly renders their routine unusable. It's hard to predict which elites will adjust to collegiate standards and which will stick to less mercurial events—but of course, we're giving it a try anyway.
To compare scores across quads and countries without having to account for changes in code or domestic bonuses, we took the highest E score we could find for each gymnast and ranked them.
Beam
Honorable Mentions
Sydney Johnson-Sharpf (Florida)
Margzetta Frazier (UCLA)
---
5T. Emily Gaskins (Alabama): 8.200
Gaskins is a fluid and confident beamer with infinite collegiate connection ability. Like most elites, she has had intermittent leg form issues, but they aren't severe enough to cause serious problems. Plus, she has two deeply cool beam mounts in her repertoire: the now-ubiquitous flic to candlestick hold and a press handstand to planche with leg over shoulder.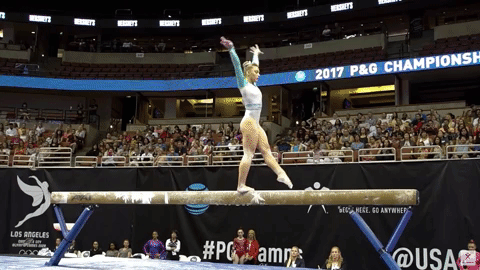 5T. Megan Roberts (Georgia): 8.200
Roberts' set isn't packed with difficulty, but she has more than enough to convert successfully to college. She'll be distinguished by her Kochetkova (full-twisting back handspring), a skill that fellow Canadian Brittany Rogers brought to the Bulldogs' lineup before her. Her stellar form will be her other big weapon, and while she had some questionable splits in elite, leaps are usually an easy fix in college.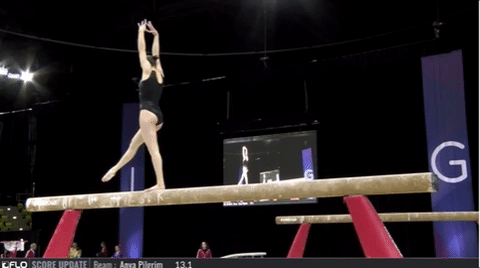 3T. Abigail Solari (California): 8.250
Consistency can be a challenge for Solari, but she has plenty of skill variety to contend in college—including the ubiquitous British double turn—and a lineup-ready dismount series. Her technique will work in her favor, too, but she's ultimately more likely to make lineups at California in her more consistent events.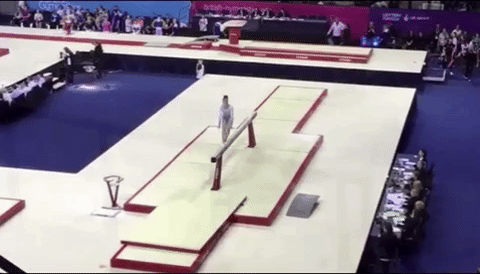 3T. Jade Carey (Oregon State): 8.250
Beam might not be Carey's flashiest event, but it's almost a sure thing for Oregon State's lineup, with a routine led by a gorgeous triple series. She's steady, technically solid and the only gymnast on this list to come even close to a split on her switch half.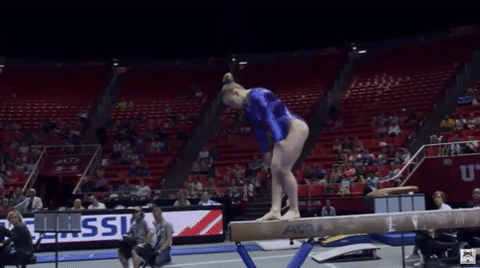 Norah Flatley (UCLA): 8.600
While the places from third down were an extremely tight race, these next two were separated from the field by almost half a point. Flatley's excellence on beam needs no explanation, but rest assured that while it's been a few years since she's competed elite, training videos confirm that she's lost none of the fluency and precision that made her one of the best beamers in the world.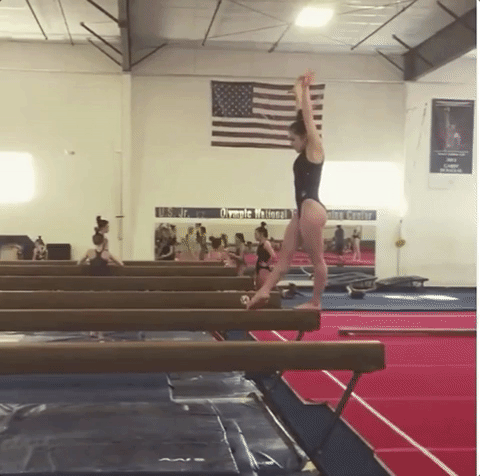 1.   Trinity Thomas (Florida): 8.800
Thomas' precision and technique on beam will make her an immediate late-lineup option at Florida. She has plenty of connection options and will likely keep her creative one-hand back handspring layout step-out combination. Her straddle series is the only questionable part of a very strong set, and it shouldn't be a problem to downgrade or replace in college.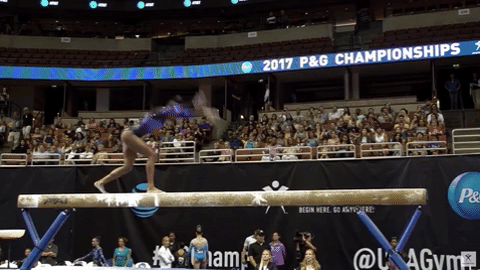 ---
Article by Rebecca Scally and Emily Howell-Forbes