In our second installment of the potential lineups series, we'll be taking a look at 2017 Big 10 Champion Michigan. After a disappointing beam rotation at nationals cost it a chance at Super Six, we fully expect Michigan to be back with a vengeance in 2018. But with two team titans graduating in Nicole Artz and Talia Chiarelli, will it have the scores to return to the national stage once again?
Artz and Chiarelli were key to Michigan's success in both scoring and leadership. Artz was one of the team's regular all arounders and scored a perfect 10.0 on floor late in the season. Chiarelli was a powerful asset to the vault, beam and floor lineups. Without them, the Wolverines are going to have seven routines to fill, and they'll need to be big scorers if they want to remain at the level they finished off 2017. Let's break it down event by event to look at the options head coach Bev Plocki will have to play with.
Vault will see the loss of Chiarelli's Yurchenko one and a half, as well as Artz's lovely full, and the incoming class leaves perhaps a bit of consistency to be desired. Lauren Farley, a standout at this year's J.O. nationals, brings a relatively new Omelianchik to college, having only competed it for two seasons. The landing can be a little iffy, but when she hits, it could be a huge score. For now, we would cautiously add her to the lineup, provided her landing becomes more secure and consistent, but she's not a definite lock by any means. Canadian world team member Sydney Townsend also brings a 10.0 start with a huge Yurchenko one and a half to the table that's consistently been her best piece of gymnastics since her senior debut. However, the rest of her gymnastics seems to have deteriorated since her worlds appearance, so the security of her spot is also a bit unsure.
The addition of these two freshmen is great, and makes up for lost difficulty, but still leaves the problem of relatively low depth that Michigan was burdened with last season. Likely returning vaults include reliable fulls from Lexi Funk and Paige Zaziski and two stellar one and a halves from Olivia Karas and Emma McLean. That leaves Michigan with exactly six vaulters. They do have some backup choices as Maddy Osman and Polina Shchennikova both vaulted Yurchenko fulls a handful of times last season. However, neither scored too high in the few opportunities they were given. In addition, Brianna Brown has a full that, if healthy, could really pack a punch in this lineup.
The real mystery is what happened to Maggie O'Hara. One of last year's most promising recruits, she never made a single lineup yet never showed signs of injury—on social media or otherwise. She, too, has a Yurchenko full that could potentially break into the top six, but only if she's healthy and ready for competition. Hopefully whatever's going on with the now-sophomore will be cleared up, and she'll be ready to compete in 2018.
After all the number crunching, we decided on the following potential vault lineup for Michigan's vault squad in the coming season.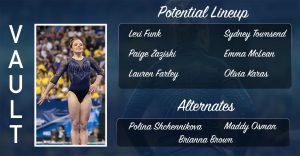 Bars was one of Michigan's best events last season. Losing Artz will be a blow, but the team will retain most of its major players, making it harder for newer players to break onto the top six. This event is freshman Samantha Javanbakht's best shot at making a lineup, with nice flight on all of her releases. However, her handstands may come up a bit short, especially in comparison to some of her peers. Farley's lovely toe point and smooth swing will definitely help her fit into the Wolverine bar squad, but she'll need to prove consistency this preseason to have a shot.
The veterans should make up the majority of the bars team, though. Brown and Zaziski are known for their cleanliness and should be a solid one-two punch to close out the lineup. Karas also showed consistency last year and will likely be pushed to at least the No. 3 or 4 slot, as she's now one of the more experienced competitors on the team. Funk and Shchennikova both have solid, though somewhat bare-bones, bar sets that were frequently featured in lineups last year, including at nationals. McLean and Lauren Marinez also occasionally filled in with varying degrees of success, both experiencing some dips in consistency but overall showing promise. They could be great alternates, filling in with a lineup regular needs a rest or in case of injury. In addition, O'Hara had a great bar set during her J.O. days that could be a real bonus for Michigan if they can get her in into competition form this season.
With all this taken into consideration, we'd say Michigan's bars in 2018 should look something like this.
Artz and Chiarelli will both be missed on beam, but Chiarelli in particular was known for her prowess on the apparatus (and not to mention her spunk with tunes like "All I Want for Christmas Is You" playing during her routine). Her shoes will be hard to fill, though there are a few candidates who have the potential. Farley is rock-steady on beam with quick connections and decent difficulty. She could easily slide into the lineup if she can keep it up in college. Carly Gordon's fluidity of movement and sure footing would make her another excellent beam choice. However, while the little video we can find looks promising, her recent competition results may indicate otherwise. She'll remain a question mark until January or at least until we see preseason training videos.
But much like bars, expect the majority of the scores on beam to come from upperclassmen. Karas, Zaziski, Marinez and (hopefully) Brown should be back in action for some stellar beam performances this season. A quiet but steady rock, Marinez proved herself a top scorer in 2017—capable of anchoring the team in her final season. If Brown returns to beam, her elegant lines and calm demeanor will definitely bring some much-needed steadiness to the squad. As the lone freshman beamer last season, Funk will also likely return. And if she can stay cool under pressure, her routine should make for a pretty consistent lead-off performance.
O'Hara and Osman both had decent beam in club, but as previously mentioned, O'Hara was MIA the entire season, and Osman didn't live up to her potential. If that pattern continues, their limited contributions could pose a depth problem for Michigan moving forward, especially should anyone be sidelined by injury or illness. They might not seem like major players, but in replacing routines from Artz and Chiarelli, these two sophomores could prove to be quite valuable if up to the task.
Taking into account all the variables—from difficulty to reliability and everything in between—we envision Michigan's beam lineup to be similar to the following.
On floor, Michigan saw its first perfect 10.0 in quite some time in 2017 thanks to Artz. Chiarelli's scores weren't far behind either, peaking at a near-perfect 9.975 twice in her career. However, of the freshman, the only one coming in with an E pass is Townsend, and the only veteran left with such difficulty is Karas. That's a significant blow to the team as a whole, one that coach Plocki is likely itching to fix. History shows she's quite good at pulling E passes out of gymnasts that didn't come to college with one, so Farley's high and compact double back could potentially turn into a full in this preseason. She and Townsend are likely the only new options on floor, though they are fairly good ones.
Returning veterans will almost surely include Karas and McLean. Both were consistently in the 9.85-9.9 range nearly all season, and Karas' double arabian is the biggest tumbling currently on the roster. Funk and Zaziski are also likely bets. Funk was quite consistent in her early lineup spot in 2017, and, though Zaziski struggled early on, she figured floor out just in time to compete in postseason for a high of 9.9. Osman performed on floor for roughly half the season, but when she couldn't seem to get out of the 9.7s, she was taken out in favor of a higher-scoring routine. Marinez also occasionally did floor last year, and if she continues to improve, she could be a legitimate contender for the floor team. And O'Hara's powerful tumbling would be a huge boost for the Wolverines if they can get her up to competition readiness by January.
Considering all of the above, we'd predict this is what a Michigan floor lineup will look like in 2018.
In the all around, Karas is a no brainer. She's been the next big thing for Michigan since before she even signed her NLI. The departure of Artz now makes way for her to really shine and become the team leader in numbers as well as spirit.
Zaziski and Funk are the other two likely candidates. Funk's even-keeled performance in her freshman year and evenly-matched sets on each apparatus make her an appealing choice as a second-tier all arounder as well as a potential lead-off performer in many situations. Zaziski is less consistent on some events, but she's capable of big scores across the board now that she's found her groove at her new school. If she can continue to up her game, she could be a real threat in the AA game during her senior year.
Check back on Monday for our next potential lineups post featuring the Big 12's West Virginia! To see all the posts in the potential lineups series, click here.
---
Article by Caroline Medley, graphics by Emily Howell-Forbes