It's that time again: preseason is upon us! And with that comes all of the predictions for the coming year. The first team featured in our potential lineups series this year will be the Alabama Crimson Tide. Fresh off yet another Super Six appearance, albeit a disappointing one, Alabama loses six seniors, including four who contributed to lineups regularly. Katie Bailey, Amanda Jetter, Keely McNeer and Aja Sims are all major losses to the team, having solidified places in multiple lineups throughout the season, including at nationals. Here's a look at how the Tide's Super Six lineup looks now minus those seniors:
That leaves a lot of empty spaces, doesn't it? So let's talk about how Alabama might go about filling those shoes.
On vault, Alabama lost Bailey and McNeer, with a Yurchenko half and a Yurchenko one and a half, respectively. McNeer's one and a half was a bit of a surprise late last season, but it quickly became one of the highlights of the lineup—and one that Alabama will be sorry to lose.
However, head coach Dana Duckworth did well to recruit a big class of 10.0 start value vaults, including two capable of Yurchenko double fulls and one more with a Yurchenko one and a half. Obviously, not every DTY is created equally, and they may never materialize in competition, but having a double is typically indicative of having a powerful full as a foundation. Kylie Dickson and Bailie Key have both competed doubles in the past, with Dickson even competing it in J.O. competition this past season. That level of reliability could point toward competing it in the NCAA if clean enough. Key is a little less certain, having been MIA from competition for over a year. It's more likely she'll start out training a full. Plus, vault was never her strongest event, so she may not even start out in the vault lineup at all. Lexie Graber is the other 10.0 SV freshman, bringing a powerful Yurchenko one and a half to the table that scored very well in J.O. competition. If she's as consistent in college as she was in club, she could easily slip into the spot McNeer left behind. Rounding out the vaulting freshmen, Alonza Klopfer has just a full, but it's clean and reliable, which can mean a lot in NCAA competition.
As far as the veterans are concerned, Madison Desch, Nickie Guerrero and Kiana Winston should be relatively safe. Desch finally got her one and a half reliable by the end of last season, and Guerrero's has only been getting better since she first debuted it. Winston's full is probably the most reliable one of the veterans, but toward the end of the season, Wynter Childers gave her a run for her money. Childers has this wildly uncanny ability to stick her Yurchenko full. If that trend continues, she'll be a great choice as the new permanent lead-off. Abby Armbrecht was also an occasional vault contributor last year, but the dynamics and stick-ability of her full are not as consistent as some of her peers.
The one upperclassman that's still an unknown quantity is Mackenzie Brannan. Sidelined from everything but bars last year because of a bone chip in her foot and subsequent surgery, she was an all around powerhouse in 2016 with a beautiful Yurchenko one and a half. If healthy once more, she could knock someone out of the lineup, particularly Dickson if she isn't competing a 10.0 SV, or Childers if her recent form improvements don't stick around. Brannan would be a great asset to the Tide in any lineup, so her top priority will be to get healthy and back into all around shape. But until she shows evidence (read: Instagram videos) of training vault again, she'll be best left as an alternate rather than a sure thing. Here's a look at what our proposed vault lineup would look like.
On bars, Bailey, Jetter, McNeer and Sims all competed regularly throughout last season, though not all made the postseason lineup. Most notably, Bailey was the co-national champion on bars, making her shoes even harder to fill.
Since switching her commitment to the Crimson Tide, Alabama and elite fans alike are hoping Key will make up for these losses on bars. Best known for her lovely form and floaty releases, Key was injured early in the 2016 season and hasn't shown anything close to a full routine since podium training for the Secret U.S. Classic last year. If the time off she's taken has helped, Alabama will want her in the bars lineup stat. In addition, Graber has a solid bar set that consistently scored well in J.O., so though she may not have as many bells and whistles in difficulty, she'd be a solid choice in the early lineup. Dickson, Klopfer and walk-on Kaitlynn Scott all have workable sets too, but may all still need some work polishing things up to be ready for NCAA competition.
The remaining veterans in the bar lineup are going to have to step it up a notch to stay in the top six. Winston and Brannan will likely lead the pack with their elegant, dependable sets, but a few of the bubble performers from last season will want to solidify their spots in the lineup. Shea Mahoney contributed frequently in 2017, with a clean, albeit simple, set. If she can stay consistent in the 9.85-9.9 range, she might make an excellent lead-off competitor. Ariana Guerra also brought her bars set back a few times in the later part of the season, though for no more than a 9.8. She may start out in the lineup thanks to her dependability and experience, but as the season progresses, she'll want to score higher to fend off any freshmen who may be gunning for her spot. Childers was one of the alternates on bars last year who was called upon a few times to step in last minute. While she made great improvements in her form during her first season, her legs on her dismount are still a little crazy, which will certainly keep her score down.
Taking all of this into consideration, we would consider this to be our proposed lineup, with three alternate options.
Beam is one of Alabama's best events and has often been one of their deepest, with lineups changing often from week to week. From their graduating class, they'll lose two huge routines from McNeer and Sims, as well as a dependable backup set from Mary Lillian Sanders. McNeer, at least pre-injury, was a rock for the Tide, always counted on to hit. And Sims was often touted as the queen of leaps and jumps, hitting her splits with incredible amplitude. Filling their slots won't be easy.
All these factors together make for a lot of pressure on the incoming gymnasts. Of the freshmen, Key is probably the most likely to make the lineup, having been a solid competitor in elite and marrying steady balance and elegant form with her high difficulty. If healthy again come January, she should be a shoo-in for the Alabama beam team. Graber's beam can be a bit inconsistent, but when she hits, she's a rockstar. Klopfer, though a bit less flashy, is steadier, making her perhaps a better choice to fill a McNeer type of spot in the lineup.
The elephant in the room though—the big question mark to most gym fans about Alabama this season—is actually Peyton Ernst. After sitting out a season due to SEC in-conference transfer rules, Ernst has had time to recover and rehab and is focused on her comeback. Her only contribution at Florida was on beam, so it's a fairly safe guess that beam will be her most likely contribution for the Crimson Tide. She could be a real asset to them, especially if her scores are anything like they were at Florida.
Providing a solid foundation to the beam squad should be the goal for Alabama's veterans. Winston and Guerrero will likely be a one-two punch to anchor the lineup, based on their steady and stellar performances in past seasons. Other veteran options include Armbrecht, Childers, Desch and possibly Brannan—if she's healthy. Of these, Childers most frequently made the lineup last season and was certainly the most consistent. Her creative, solid set and experience under pressure actually might make her a good lead-off in this event as well.
Based on all these factors, here's what we think an Alabama beam squad might look like in 2018.
Like on the other events, the graduating class of Tide gymnasts leaves large gaps in the floor lineup. Bailey, Jetter, McNeer and Sims all contributed floor routines during their careers, and Sims's set in particular was known for being a show-stopper. Alabama is known for its powerful tumbling coupled with engaging choreography on floor, so expect high standards for the incoming competitors.
E passes are almost going to be a requirement this season to make Alabama's lineup, especially considering the ever-rising level of difficulty in the SEC and in college gymnastics in general. Dickson and Graber both bring full-twisting double backs to the table, with Graber pulling ahead as far as form and dynamics. In addition, Key has a wide vocabulary of difficult tumbling if she's healthy enough to perform on the event. Klopfer has a clean routine with some nice lines, but her lower difficulty may put her at a disadvantage against her peers.
Competing at Alabama, her peers will be some of the best in the nation, as Alabama ended last season ranked No. 3 on floor. Winston and Guerrero will again be among the top competitors, with Winston showing off her impeccable form and Guerrero letting her sassy choreography shine. Childers was a sleeper hit, coming into the lineup later in the season and scoring quite well. Her numbers improved steadily as she cleaned up her leg form on her piked full-in and wowed the crowd with her unique style of dance. Desch also brought good scores to the table, becoming more consistent after she figured out her double arabian partway through the season. Armbrecht and Guerra were also occasional contributors, with Guerra joining the postseason lineup after bringing back her double layout—a skill she used to compete in elite that she's been working on adding back to her repertoire for some time. Armbrecht would be the only floor contributor from last season who doesn't have an E pass, which could be a big handicap for her. Don't be surprised if she starts training something a little flashier come fall.
Brannan is again an outside chance that merits discussion. Her injury status is still largely unknown, but if she can be back in top form even in time for postseason, her floor would absolutely be an asset to the Alabama team. In 2016, she peaked at a 9.9 on floor, and in her freshman season, she reached 9.925 twice. That kind of score is something any team would want to have back in its arsenal as soon as possible. If Alabama wants to be at its best this year following its Super Six disappointment in 2017, Brannan needs to come off the sidelines.
Taking this into consideration, our proposed floor lineup would be as shown below. We've listed Brannan as an alternate, as well as Key since her injury status is also unknown. Dickson, the third alternate, would be an excellent replacement choice already, provided she, too, remains healthy.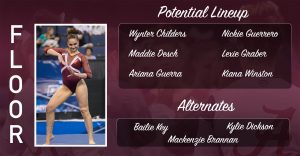 Looking across all events, it seems a sure bet that Kiana Winston will be the main all around competitor for the Crimson Tide in 2018. In her senior year, Winston can truly cement her star status after skyrocketing in the rankings last season and scoring her first perfect 10.0 on floor. Don't be surprised to see a healthy Mackenzie Brannan make some all around showings as well—she regularly competed all four in her sophomore year and ranked No. 18 in the country at the end of the 2016 regular season. Wynter Childers, if her bars make the cut at any point, could also potentially end up in the all around, though it would likely be on a more sporadic basis, similar to last season when she's needed to step in to give others a rest.
Overall, Alabama's crop of incoming gymnasts give the Crimson Tide a positive outlook for the coming season. It's still quite a deep team, giving Duckworth room to play around with lineups—leaving room for error or injury without a loss being completely catastrophic. With good senior leadership and strong underclassmen, Alabama should be in for another promising season.
Check back on Saturday for our next potential lineups post featuring fellow nationals qualifier Michigan! To see all the posts in the potential lineups series, click here.
---
Article by Caroline Medley, graphics by Emily Howell-Forbes