The abrupt end to the 2020 NCAA gymnastics season was a shock to everyone, us included. And while we understand and support the measures being taken to prevent the spread of COVID-19, it means that a lot of us are suddenly left with extra time on our hands…
Which is why we've decided to embark on an important journey, one that will take us back through one of television's most important series to date: Make It or Break It. Every Saturday (and a number of other bonus days) from now until the 2021 season, our editors Katherine, Kalley and Claire will be breaking down and recapping each episode of everyone's favorite gymnastics show.
Want to watch along? You can find MIOBI on Hulu and the Freeform app, all you have to have is a subscription/cable login. You can also buy the DVDs or purchase seasons or single episodes on various platforms, like iTunes. Join us in the cheesiness and the early 2010s TV gymnastics by using the hashtag #MakeItOrBreakItDown on Twitter as you watch.
You can read our S1E1 recap here.
Episode 3: Battle of the Flexes
Back in Colorado, Payson tells her mom she's not going to the Rock for practice because she's got a bad case of "can't take what I dish out"-itis and doesn't want to face Sasha after the disappointment of France.
Lauren's similarly worried about that, but she's avoiding the situation by slut-shaming her dad for his love life instead.
While I can't say I'd be thrilled to see such a piece of lingerie in my Christian home (maybe something cuter than this would be acceptable), I don't think I'd take it out on my dad by telling him he needs to get a vasectomy to protect himself from Chloe's scheming ways. NORMALIZE SAFE SEX!
We also find out Mr. Tanner's stressing out about a visit from his mother, Lauren's grandmother. I have a feeling we're about to get some answers as to why the hell he acts like a doormat around every woman in his life.
At the Rock, Sasha is suspiciously congratulatory toward the girls after their performance in France. He asks Emily why she didn't compete and she basically tells him the story but omits Damon. Because Sasha would blow a gasket at that little detail, but the fact that the girls were literally being imprisoned in their hotel rooms gives him no pause.
Sasha pulls Kaylie aside and tells her that, as the national champion and role model for her peers, it's kind of her responsibility to make sure none of them get pregnant mess up and stay focused on their gymnastics goals.
Sasha, just a thought…as the adult in the room, isn't that YOUR job?
Nonetheless, Kaylie takes this to heart and decides to ram it into her friends' heads that gymnastics is the ONLY thing they're allowed to care about, and that boys go to Jupiter to get more stupider.
Yup, those are promise rings to be committed…to gymnastics. Imagine them telling their therapists about this one day.
As if on cue, MAG sensation and Sigma Apple Pie pledgemaster Austin Tucker waltzes into the gym to let them know it's NOT going to be easy to focus on gymnastics when he's around. Because not only is he devastatingly hot (please detect sarcasm), he's annoying as hell.
Yup, he's here to train at the gym alongside the Rock girls, which Sasha discusses his rationale for with Summer. In a lowkey horrifying twist of fate, we learn that he wants to challenge the girls to resist being distracted by Austin while also being inspired by his crazy gymnastics talent. Because proving a point about the pitfalls of dating is worth potentially compromising the "dream" you've been helping them train for this whole time.
The ensuing montage of Kaylie wistfully watching Austin's pbars performance while death metal pulses in the background just proves to me how big of a problem this will turn out to be. Kaylie, you've resisted so many losers before. Don't give up now.
The grandmother Tanner shows up to the Rock serving full "Trump administration official" fantasy.
An awkward interaction with Summer follows, in which Lauren and her grandmother both vocally wish she'd get back together with Steve and remind her that Lauren's mother did drugs, just to lay on the guilt.
Then Lauren confides in her about Steve's whorish behavior and they conspire to put an end to that immediately.
Austin comes over to cut it up with Emily and remind her that she'll forever be indebted to him for his huge loan of a few Euros. When Kaylie tells the two of them to break it up, he casually calls her Fräulein Cruz, which feels like a Nazi joke, so things are going great.
At the Tanner house, Steve is enjoying his mother's visit the only right way.
The drinking becomes even more necessary when his mother and Lauren announce they've organized a dinner with Chloe, which I'm sure won't be rigged for it to be as embarrassing for the two of them as possible. Wine tasting part deux?
Payson is surprised when Sasha comes to her house at her mother's behest. He tries to tell her she can come back and be the gymnast she once was, but she thinks that because she's a skinny twig, she just can't. Can you blame her for perpetuating the narratives we tell along?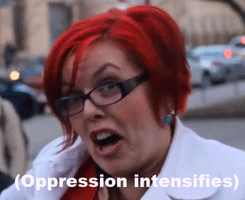 Then Payson has a huge falling out with Kim because Kim wants her to get on with her life. Kim is serving f*ckingANGRYactually vibes at the thought of Payson throwing away years of work—and Kim's gas mileage—because of a little pride and shadiness on behalf of the NGB.
Lauren and Carter meet in front of the Rock to marvel at the new symbol of Austin's very temporary, very casual arrangement there.
Carter tells her that he and Austin will be going out later for an evening of "cold ones" and totally non-misogynistic conversation. Sorry, but if the euphemism "cold ones" is used, there is no way the word "bitch" isn't being dropped unncessarily.
Inside the gym, the girls have enough of things being moved around unnecessarily for Austin and decide to take a stand to mark their territory. Here's actual footage of the men making their case.
It ensues that a competition will be held for supremacy of the Rock, with girls competing against boys on each others' apparatuses. Because if it's not gendered and unsafe, it's not a MIOBI storyline.
I don't know about you, but I can't think of a better way to stay focused on your Olympic dream than to practice training on events you'll never compete.
Kim and Payson's sister reminisce on a time when their lives didn't revolve around Payson's gymnastics. They think about how nice it would be to go back to that life, which means that Payson should be ready to get back to gymnastics fairly shortly.
Chloe realizes she's walking into the snakepit by accepting the invitation to dine with the Tanners, so she invites Emily to jump up on the cross right next to hers.
There's lots of things you can say about Chloe Kmetko, but you have to give her credit for her humility.
Payson and Kim decide to smooth things over at the skating rink, where Payson reaffirms that she's an athlete and not a princess. Then she tells a supremely awkward story about getting cast as the prince in a school play. And I'm sorry, I have one of the most progressive stances on gender roles you can have…but that sucks!
At dinner, Lauren's attempt to out-class Emily and Chloe nosedives when she uses that classy phrase "knocked up" to describe their relationship. To be honest, from the moment they showed up, she never had a prayer. Literally. This very unexpected look is giving me full church glam.
After further embarrassing herself by being terrible to her teammate and her guest, she goes for another, familiar approach: tearing down someone else.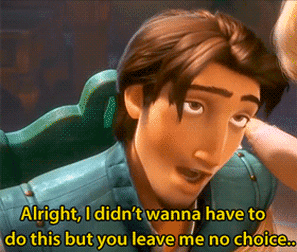 The next victim is her father, about whom she reveals that he planned on concealing Gran's visit from Chloe, which Lauren hopes will make Chloe feel like Steve's slutty side chick. It works, and the Kmetkos leave in disgrace.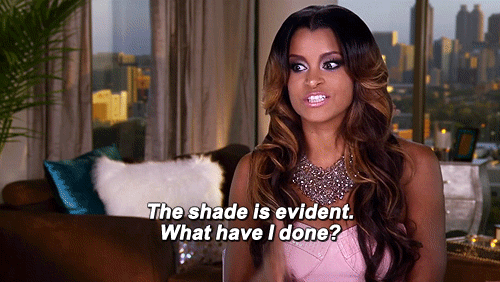 Later, Gran tells Lauren that that was NOT cute henny, and that real class is standing up in the face of rudeness like Emily and Chloe did that night. It all sounds way more serious coming from someone dressed like present day Rose in the final scene of Titanic.
Hopefully Lauren wasn't too shaken up by this stunning dressing down because it's time for this very important dick measuring contest boys vs. girls competition at the Rock.
Emily starts on pbars, and she's honestly channeling my sleep paralysis demon.
Lauren's interpretation of rings is a cross between high class stripper and Cirque de Soleil performer (RIP).
The men's routines are literally not worth mentioning. But they still win. This is America.
Austin graciously tells Kaylie he's willing to compromise and keep one male apparatus in the back while the other stays in the gym. A bigger truce than Victory in Europe Day after World War II.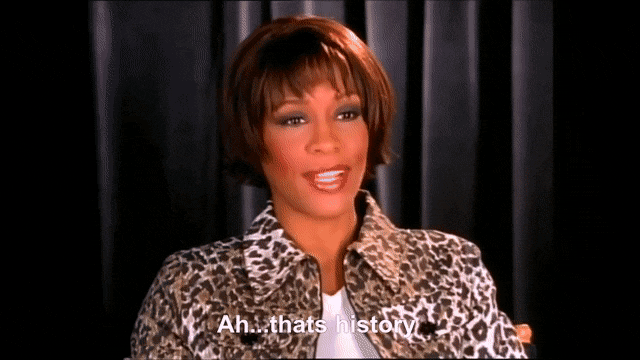 Outside, Chloe is reading Steve the riot act for wanting to hide her from his mother. She takes full ownership for who she is and goes all "If you can't handle me at my worst, you sure as hell don't deserve me at my best." It's all very empowering and reminiscent of this Joe Exotic speech from Tiger King.
Chloe seems prepared to send Steve packing, but not before he can drag her into the gym and blurt out in front of everyone that yes, they're dating and he's happy about it. #NotEverythingMeaningfulHasToBeAPublicGestureChallenge
Kim "my husband is marooned in Minnesota" is getting her life over here.
This doesn't seem meaningful other than the fact that it further drives a wedge between Lauren and Emily. That means Lauren's all too willing to shrug it off when the other girls make plans to hang out without her. She laughs it off because she has plans with Carter, but this wistful look she ends the episode with seems to suggest she's started to understand the gravity of the fact that she has to be in the same room as him.
Balance Check
Every week we will break down the little moments that stood out as being extremely on point and those that wobbled a bit too much. Shout out to Vulture and its Gossip Girl Reality Index for providing the template for our version.
Faker Than the CGI in the Ice Skating Rink Scene
Let's start with ice skating…why do I feel like elite gymnasts would never in a million years be allowed to try ice skating? Minus 4.
Chloe's hair at the dinner. Not that I don't respect extensions, but come on girl. Minus 2.
With all due respect, if Nastia Liukin couldn't do rings, do we think Lauren Tanner could? Minus 6.
Speaking of Lauren, I feel like her character type wouldn't be close with her grandmother. Minus 5.
The Tanners' downstairs and attic feel a little TOO different in aesthetic, even if the attic is…an attic. Minus 3.
Total: -20
Realer Than Toxically Inflated Male Egos
Austin Tucker feels like it could be a real gymnast's name. Like, specifically a gymnast. Can't place why, exactly, but they got this right. Plus 4.
Gran's outfits. That's it, that's the tweet. Plus 8.
Men grunting on the sidelines and uttering words like "boom" while their peers compete. Plus 5.
This beautiful, beautiful scene. Plus 10.
Total: 27
MIOBI earned a 7 this week, which is roughly equivalent to a gymnast's E score even when their form looks like Emily trying to do pbars in practice.
---
Recap by Katherine Weaver
Like what you see? Consider donating to support our efforts throughout the year!