The abrupt end to the 2020 NCAA gymnastics season was a shock to everyone, us included. And while we understand and support the measures being taken to prevent the spread of COVID-19, it means that a lot of us are suddenly left with extra time on our hands…
Which is why we've decided to embark on an important journey, one that will take us back through one of television's most important series to date: Make It or Break It. Every Saturday (and a number of other bonus days) from now until the 2021 season, our editors Katherine, Kalley and Claire will be breaking down and recapping each episode of everyone's favorite gymnastics show.
Want to watch along? You can find MIOBI on Hulu and the Freeform app, all you have to have is a subscription/cable login. You can also buy the DVDs or purchase seasons or single episodes on various platforms, like iTunes. Join us in the cheesiness and the early 2010s TV gymnastics by using the hashtag #MakeItOrBreakItDown on Twitter as you watch.
You can read our S1E1 recap here.
S1E14: Are We Having Fun Yet?
Seeing the title of this episode immediately evoked this GIF in my mind:
And I'm very much hoping that energy is channeled throughout the episode.
It's Payson's first day of non-"XX Connections Academy" high school and she's going into it with a really bright attitude.
As a former college orientation leader, this was my favorite kind of student to crack. I hope Payson's colleagues are just as brave.
Lauren continues to go the extra mile for the literal indigent living in her attic despite him being the worst imaginable houseguest. She does his laundry and accommodates his tendencies to play loud music even though he's supposed to be HIDING.
Maybe Carter need to "roll homeless" for a little while to really learn a lesson about privilege and taking things for granted. But this is Lauren, who still holds a candle for him, so she won't let that happen.
Emily's mom discovers the bright, positive world of the 2009 gymternet, and the family looks over the comments about her online. They quickly go from positive to critical of the fact that she came from nothing. "I know America loves a charity case, but this girl is no future Olympian." Don't worry, Emily. Some gymternet members talk about everyone like that!
At The Rock, our favorite gymnasts still able to do gymnastics are spilling the tea on Kaylie's burgeoning situationship with Nicky, which has made tabloid news.
I guess 2009 was a time where every celeb couple had to have a nickname, but "Kalicky" is honestly gross and a more apt name for an experimental drug.
Sasha announces an open house event at the gym for "recruitment," a.k.a. pretending everyone at the gym enjoys themselves on a regular basis by putting out fun routines for prospectives to see. I don't know how these girls will ever find it in them to be fake. Sasha also announces he'll be using an iPhone 4 to judge the applause in the gym:
Payson heads to gym class where the teacher, who knows Payson because her daughter is "her biggest fan," implores her to absolutely shit on the school Queen Bee's (admittedly trash) back handspring.
Your fave got a 10 for this.
As though she has a gun to her head, Payson offers sound, rational advice, which quickly makes her a target. We can't have people who know what they're TALKING about here!
Queen Bee doesn't like that at all. Luckily, someone called Ike swoops in to save the day. Skips class to go to girls' PE and shares a name with one of the most militaristic U.S. presidents? I don't see any red flags.
What is it with deadbeat guys with long hair moving in on our girls? Leave 👏🏻 them 👏🏻 alone 👏🏻!
After school, Payson approached by Queen Bee and her carbon copy minions from class as she tries to leave. But in yet another of this show's famed gymnastics ex machinas, Payson is saved when her friends roll up and distract the bullies with layout stepouts. I honestly need portable gymnasts to pull out whenever I'm in a sticky situation.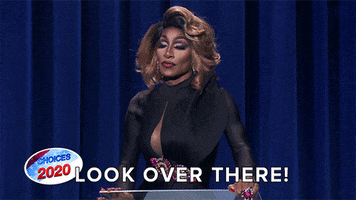 Payson pretends to be okay when she hears about Kaylie and Nicky. Lauren sees through this and offers words of encouragement:
Oh, Lauren. Even when you're not trying to be mean, you're mean.
At the Rock, Mrs. Keeler enters her old office and immediately goes off on Summer for keeping it clean and in order. And how DARE she change the password on the gym email account? Mrs. Keeler definitely gives off "abcd1234" vibes, so I get her rage.
But it's not all about Summer; Mrs. Keeler is stressed on behalf of Payson, who's clearly making her life a living hell. Summer doesn't know much about having a daughter figure who won't respect you, but she still tries to help.
Speaking of Payson, she and her only friend Ike skip class to…sit outside the school. I thought the point of skipping school was to be far away from said school.
Ike admits he doesn't really have interests because everything in life is too fleeting. Boys who mask their laziness with existential confusion…Payson, you broke your back, but you can still run, right?
As someone who just graduated from a liberal arts program, Ike is a little too familiar to me and I'm gonna need him to go away.
Nicky and Kaylie practice for their performance at the Rock. Nicky admits that he's offended because he worked hard and came in second at nationals while Kaylie basically rolled up to the gym in a minivan, trained for a day until she could do a kip and front roll, and won. Kaylie makes a heroic attempt at defending herself but then placates him further by saying he'll totally win next year.
Emily continues searching both "Emily Kmetko" and "Em*ly Km*tko" on social media to track what the stans are saying. And wow, the cyberbullies are getting VICIOUS these days.
As she's preparing a "Be kind to one another 💫🦋🤪🌼💕"-esque statement, her mother comes in and implores her to just feel better, because actually being affected by others' opinions is way too self aware.
She breaks out a scrapbook to remind her of her humble beginnings, then tells her she should own up to her trailer trash background in her routine for the open house.
And with that, it's the night of the open house!
No less than one person in this picture looks like they're being held hostage.
Lauren kicks off the night dancing on top of the vault after she's called "queen of the beam," so we're off to a very consistent start.
Yeah, it was problematic. Are you surprised?
Emily offers an evocative performance that reflects how far she's come as a gymnast. It's all very spoken word deep, like "Same Love" by Macklemore. Unlike her teammates, Emily learned how to kip on the monkey bars and her first "beam" was on a rock wall.
Last but not least, Kaylie and Nicky steal the show with another vaguely problematic routine that glorifies bullfighting. It's all very flirty and sensual and I get the feeling this situationship is going into something more defined as hard as Nicky's about to go into this cape.
Also, it should be said, none of these were "routines." And Carter was quite titillated…why do they keep letting him into things?
For some reason, Payson was dragged into this thing. As she leaves in disgrace, Sasha offers some kind but misplaced words:
The other night I dreamed I was a gymnast. Then I woke up. That's what I said to myself.
Carter apparently drank his feelings away after the open house. His inebriated self returns back to the attic, where Lauren's waiting up for him because she was worried. Rather than take the millionth valid opportunity to evict him, she listens to his drunken ramblings about why he'll never be good enough of a GYMNAST to be with Kaylie. Yup, the metric we all judge our men by is their vault difficulty.
We see that Lauren saved one of Carter's rotting T-shirts and is sleeping with it to feel something. And as usual, the show ends with a shot of someone in bed in the depths of her misery.
Balance Check
Every week we will break down the little moments that stood out as being extremely on point and those that wobbled a bit too much. Shout out to Vulture and its Gossip Girl Reality Index for providing the template for our version.
Faker Than
Gymnastics ain't showing up in any tabloids. As much as we might wish it did. Minus 5.
The fact that having Kaylie and Nicky tumbling at once didn't end up like Maile O'Keefe doing a double arabian over Riley McCusker's head. Minus 3.
These gymnasts might be homeschooled, but were they really dumb enough to believe that dinosaur machine was going to record applause? Minus 8.
Getting to keep your regular clothes on underneath your gym clothes seems frivolous and also and an easy way to sweat. What PE department would allow this? Minus 5.
"They recycle everything around here…" My high school's recycling program was a scam so I refuse to believe other schools' weren't. Minus 4.
Speaking of high school, I'm tackling once and for all the notion that cheerleaders wear their cheerleading uniforms around the school all day. Minus 7.
Total: -32
Realer Than
Since I clearly have an issue with high school based on those Faker Thans, I'll back Payson up here…high school sucks! Plus 10.
"I've seen you naked, remember?" "That night ruined my life." This captured something. Plus 4.
Men being terrible about doing laundry and not remembering to do said laundry in the first place. Plus 6.
Payson feeling liberated skipping class. As good girls, we take pride in the little things. Plus 3.
As we covered, those comments made against Emily aren't all that inaccurate…might even be too tame! Plus 5.
Total: 28.
MIOBI registered a fake applause rating of -4 this week…what can we say, Lauren's routine was *that* sad!
Rating
1: The Feeling After You Find Out NCAAs Is Cancelled (Too Soon?)
2: The NCAA Banning Chalk Blowing Choreography
3: Brandie Jay's Accidental DTY
4: Kelly Garrison Squeal After a Stuck Oklahoma Vault
5: It was beautiful, it was lovely, we went out there and ENJOYED THIS
---
Recap by Katherine Weaver
Like what you see? Consider donating to support our efforts throughout the year!