Since it's been an interesting year for Arkansas, I've been hoping to watch a meet from Arkansas' first season. I couldn't find one, but I did find this one from its second, and I'm really excited. 
Apparently Kentucky has a new head coach, and last weekend Arkansas had its first home win ever!
The hogs, as they say, have been called.
I'm glad we've dispensed with that apostrophe since 2004. Even worse, someone just used the phrase "LadyBacks" and now I want to bleach my ears.
Apparently Arkansas has "started quite a buzz around the Ozarks." Oh, my.
Is this fashion or just a strange individual choice? All I remember from 2004 pop culture was the Dixie Chicks, who admittedly probably did have someone with this hairstyle at some point.
Kentucky has a new head coach in Mo Muhammad (later Mitchell—he would take his wife's last name in 2006 when they married), and he's got some fairly shady things to say about his decision-making process and how he's made changes from last year because he wants to set his gymnasts up for SUCCESS.
It's worth noting at this point that Kentucky is not very good. It finished this season ranked No. 42. 
Barnhill doesn't look much different to this now.
UA rocking the shimmery high neck…
…while UK has a mix of velvet and mesh that must already have been a bit of a throwback at this point.
"We've already heard from this man's better half…" Oh, yeah. It's 2004. Mark and Rene are still married! That happened!
Arkansas is a little short on 10.0 SV vaults, but Kathy Thompson, whose name I'm going to write as Kathy Johnson the whole meet, does a Yurchenko full. I'm more interested in these TRACKSUITS. Same fabric as the leotards if I'm not mistaken? 
Arkansas got a program record on vault! Both teams should be far better on their second events. Arkansas bars prep feels fairly relaxed.
Kentucky's Michelle Gales isn't thrilled that Kentucky lost to Arkansas last year and is looking for revenge. Solid vault, though we're seeing a lot of lower start values.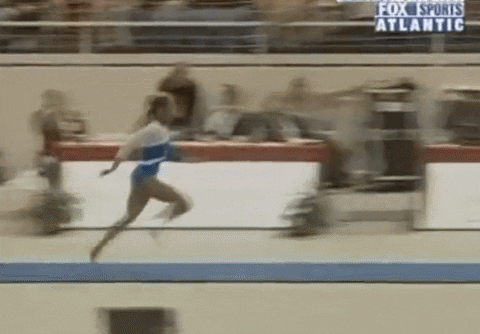 Rachel Barnet does a Healy!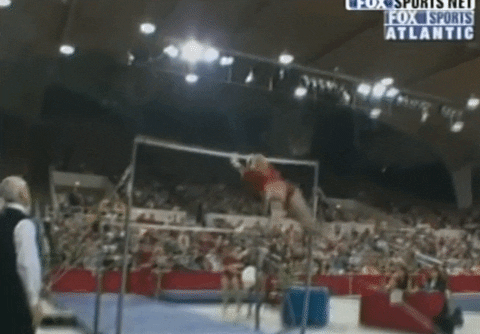 I think Lori Strong just called this vault "floppy," so that's where we're ending for Rotation 2.
Katie Hardman up on beam following a fall, and she's so stylish.
Here's an excerpt from Hardman's national team bio back in her elite days:
"Favorite books are "Where the Red Fern Grows" and "Homecoming"…listens to pop, R&B, oldies, country and Christian music…has several fish tanks…collects stones and coins from around the world…"
I just thought you guys needed to read that, too. She does a gainer tuck full off the end which might be my favorite NCAA beam dismount. 
Rachel Riley at Kentucky has kept her old choreography from J.O., which is… something. 
I tend not to comment on scoring in these old meets because conventions vary so much over time, but there really is some light crack going on for Arkansas. This routine had a check on the acro series, another one on choreography and a third on a front walkover and got a 9.80. 
UK senior Aronda Primault is a beast, and it's super refreshing in a meet with a lot of fairly simple routines.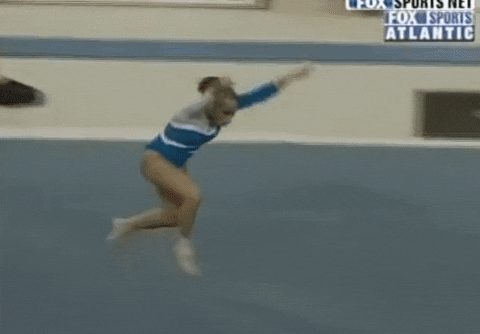 And there's this situation.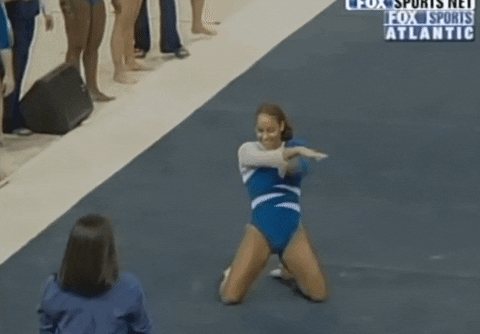 Scores are very close after three, Arkansas only around a tenth ahead! 
So when I'm watching these old meets I like to pull up some scoresheets for the few meets before, the Road to Nationals page if I can find it, to get an idea of the context and reasonable expectations for the meet. This is what I found.
YIKES. So, let's go UK beam. 
Remember that thing about how Aronda Primault is a beast?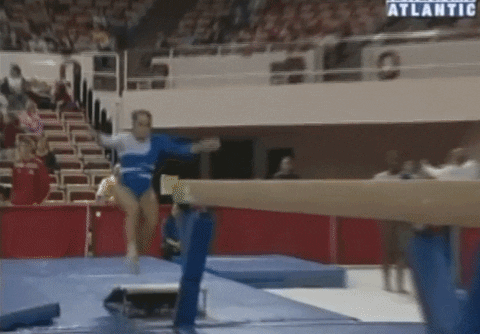 I love 10 Lady here in the corner. Feel free to use this as a reaction image in any situation.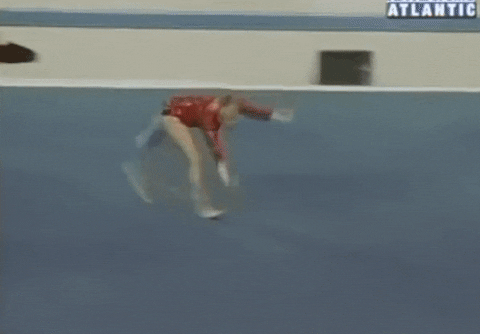 Wow, Krystle Cook does a punch front mount as well! 
Unfortunately this broadcast only showed the two highest-scoring routines for Kentucky beam, so we didn't get to experience any of the #drama. 
Dana McQuillen knows how to avoid an OOB.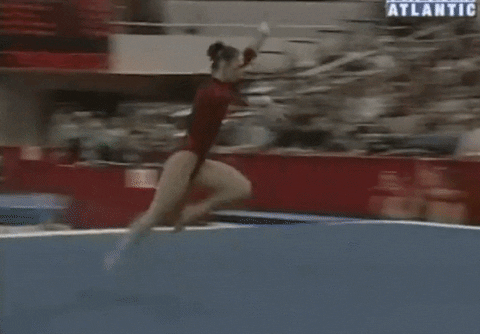 Arkansas won with another program record, its first 196 in program history and a meet win! McQuillin won the all around for the second meet running. 
Unfortunately this broadcast wasn't very funny and only included about four routines, but it was still cool to see the Razorbacks in their early days.
Dear Jordyn: We need throwback tracksuits ASAP. Thank you.
---
Article by Rebecca Scally
Like what you see? Consider donating to support our efforts throughout the year!