The year is 2005. The location is the Beard-Eaves-Memorial Coliseum in Auburn, Alabama. (Yes, I meant all of those hyphens.) The background music for the opening montage is "Reach" by Caleigh Peters. Sixty percent of all athletes on the floor are named Ashley. It's Super Six time.
Our commentator Bonnie's eyebrows are feeling 2005.
UCLA is two-time defending champion. Nebraska upset LSU in qualifying to make finals, which sounds about right. Amanda Borden is commentating, yay! Goodness, Utah's running four all arounders.
They're introducing the important athletes by placing two next to each other and panning slowly upwards from the elbows.
"Coach Yoculan said that this team is immature." Yeah, seems like something she would say.
We've got a lingering camera shot of Dan Kendig, with the most hair I've ever seen on him, staring into space. 
Oh wait, he moved. All good there, bud?
Apparently Georgia had a bit of a beam meltdown at regionals with FOUR FALLS. Suzanne isn't loving it. Luckily, Kelsey Erickson nailed it in the lead off.
Apparently gymnastics "regions" weren't any less nonsensical in 2005 than they are now. Apparently, Michigan qualified to nationals by winning the "South Central Region." IT'S LITERALLY IN MICHIGAN.
OK, we're heading into an iconic moment in broadcast history. It begins with a Georgia beam fall montage set to "Everybody's Changing" by Keane. I'll just go ahead and GIF the whole thing for you.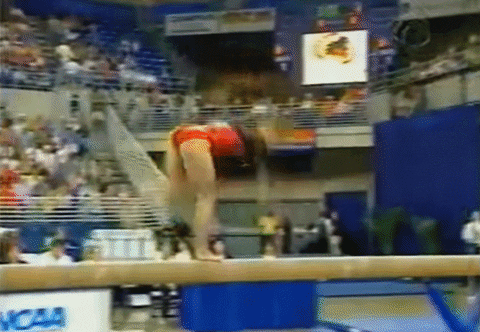 You know the rest of the story. Yoculan handed out mini beams to the whole team and told them to sleep with the beams under their pillows. They did not go to practice and only dreamed of beam and it worked and they all lived happily ever after.
"And she does a very unusual dismount, something we don't see in gymnastics necessarily." I– 
Kate Richardson is on floor, elephant-ing away like always. I can never pass up a chance to GIF this. By the way, she's competing with a broken thumb.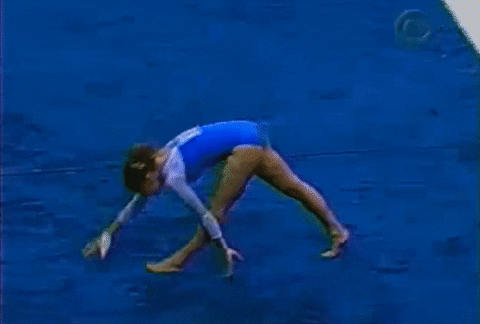 Ya girl Elise Ray is up on bars. I've watched this routine many, many times and I'm not even close to over it. 
She's not the only current NCAA coach competing in this meet, by the way. Teammate Lindsey Bruck, now Bruck Ayotte, is New Hampshire's head coach, while Georgia's Katie Heenan, now Heenan Dodson, is a volunteer assistant for the Gymdogs.
"Ow." – Amanda Borden
Here's Heenan. 9.95 here and Georgia's picking up momentum. I love that the commentators flipped out about the gainer pike but a stuck double twist is a "somewhat easy" dismount.
Hearing about Maloney's injury odyssey still amazes me. At this point, after her two-year absence, she's only tumbling once a week or less, but she can still do this.
And also this.
And the middle pass was a whip to double pike, because you know. That was a 10. 
UCLA leading after one but Georgia survived beam.
Brooke opened her rotation break interview with Dan Kendig with the sentence "Dan, you struggled a bit on vault in the prelims." That I would love to see.
Alabama and Utah are coming off the first rotation bye. There are a LOT of Alabama fans in the arena.
UCLA on vault this rotation, and it's going pretty well.
Hey there Manfred.
Ashley Miles from Alabama on bars is routinely unreal.
A fair number of these gymnasts are still competing front layout + front layouts on floor. The commentators are shading them all intensely. 
Alabama's leotard is beautiful.
We've got an intense bit of Terin Humphrey fluff. According to Ashley Miles, "She's… needed a lot of help, you know, just adjusting to competing in college." 
Let's take a quick second to note that Humphrey only went under 9.800 three times in her freshman season and move on. Her Markelov is fabulous.
UCLA is leading after two with a 98.950. 
There's a fluff piece every five minutes in this meet. This one is about how young the Georgia team is and how the coaches had to teach a competitive drive to the squad. Part of the problem, according to Suzanne Yoculan, is that "our senior and junior, Michelle Emmons and Brittany Smith, are pretty passive individuals." SUZANNE.
Katie Heenan was singled out as someone who was "just too nice," but she rocked her floor routine. 
Ashley Kupets is up on floor, and the commentators graced us with the line "You might know the name Kupets!" Little sis Courtney gets a shout-out while she cheers from the sidelines. I love that Courtney is doing Ashley's choreography, and even more that it's THIS choreography. 
By the sounds of things, Alabama's suffering and dying on beam. We cut to Terin Humphrey, who had a one-tenth leg-up check on her acro series. Is it me, or have commentators gone soft in the last decade? You just don't get this kind of rhetoric over a few 9.750s any more.
Terin might not be thrilled, but at least she's not as unhappy as this random person.
Also peep volunteer coach Dana Duckworth in a plain black spaghetti strap tank. Oh, 2005. We miss you.
After three, Georgia is less than a tenth behind. 
Bonnie just called UCLA the "most recent DAMSELS OF DOMINATION." What?????
Commentators starting to realize Georgia might be dangerous here, but Maloney nailing a bars routine helps.
Olympic teammate Ray nailed it on floor. I love this little foot circle choreo.
Mom has some emotions about this. 
Ashley Kupets did a great Omelianchik on vault and Georgia fans are thrilled. Bonnie, as usual, has something vaguely rude to say.
"A little variety here, FINALLY."
UCLA has had a fall on bars, meaning that earlier routines with some missed handstands will have to count. 
Miss Val is trying to stop the bleeding by enlisting Kate Richardson into coaching to reassure the fallen freshman. "How many times did you fall your freshman year? Tell her! At nationals!" 
Meanwhile, Suzanne Yoculan has gathered her girls around and is just shouting numbers that begin with 9.9 at them.
I thought I heard Chris Waller say, "I'm tired of everyone!" in his pre-beam pep talk. I'm pretty sure that's not actually what he said, but let's roll with it.
Uh oh, UCLA opened beam with a fall by Christie Tedman. 
Utah is on bars, per Bonnie, "heading back to the site of the disaster last year." I've never watched that final but now I want to. 
Ashley Miles just got a 10 on floor for Alabama! I could show you some of that routine but instead I'll show you this lady in the crowd who is living for it. I think it's her mom, though I'm not certain.
Maloney just wrapped up her gymnastics career on beam and is crying, in case you want to be unable to handle that together.
"The dream of UCLA's three-peat is now a distant memory." Bonnie, you jerk.
Val is defiantly telling the interviewer that she thinks her girls did great and she's really proud of them in the face of some really "oh my god what HAPPENED"-type questions. 197.150 to close.
I have no explanation or context for this GIF. It just needed to exist.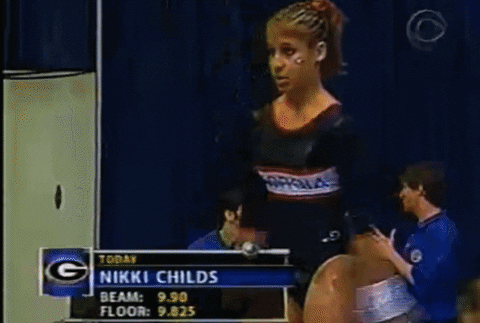 I don't think I've ever seen Alabama's Brittany Comeaux vault, and I absolutely love it. Unfortunately, she was forced to medically retire in the fall of 2015, so I believe this was the last routine of her gymnastics career. Career high.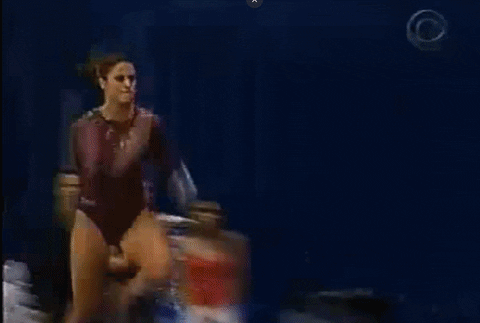 Heenan on bars for the Bulldogs. This routine is spectacular. Her mom is in the crowd just yelling.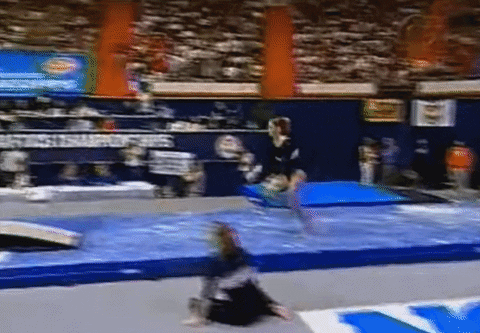 Kelsey Erickson up with the championship at stake. Apparently she needs a 9.70 to finish the job. Tkatchev and a pike Jaeger and then this. I dunno guys, I think she might have done it.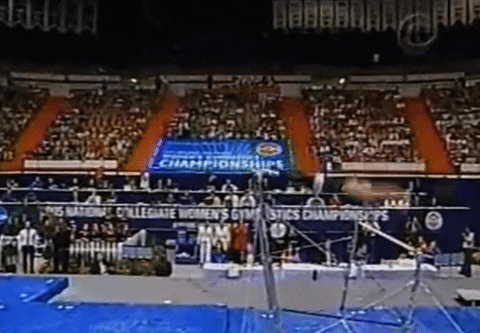 After about 30 seconds of the team screaming and crying and hugging, some guy in a UGA shirt in the crowd the crowd turns to his buddy and says, "Oh, they won? Whoa!"
Ashley Miles is up on vault, hoping to bump Utah out and claim second. She does it with a 10, her second of the day.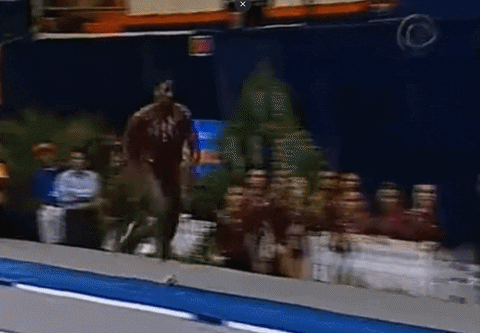 Utah's Ashley Postell had a check on beam that made Alabama's job much easier.
"And for Ashley Kupets, she can just relax and enjoy the ride. Sister Courtney will be in a Gymdog leotard next year, hoping for the same result." OH SWEETIE YOU DON'T EVEN KNOW.
"It was definitely a meet about focus and heart and desire," says Suzanne. 
That's all we've got here. Sure do wonder what happened with that second Kupets kid. Sounds like she might have been a decent recruit.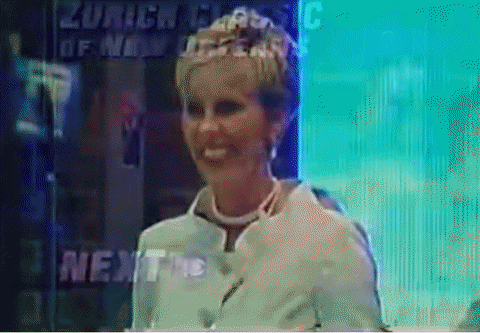 ---
Article by  Rebecca Scally
Like what you see? Consider donating to support our efforts throughout the year!