Welcome back to 2004, where we're taking you to the Big 12 Championship. As you can see, the teams in this conference haven't changed too much in the past 14 years…
The people coaching those teams haven't changed much either (read: a lot), but we'll get to that in a little bit.
Let's meet our…HOLY HEIGHT DIFFERENCE.
This will be distracting. But yes, our commentators for the evening are Bill Jones, John Roethlisberger and whatever yellow object Bill seems to be holding…
Anyone else notice that? Is it a banana? A popsicle? A frisbee?
John says the big teams to watch are Nebraska and Iowa State, and his money's on Iowa State. "It will come down to whether the Huskers have enough horses in the stable…" John, maybe save the equestrian comparisons for never.
The coverage goes right from the Jones-Roethlisberger banter to…actual gymnastics? No fluff, emotional montages or compilations of the gymnasts posing and staring intensely into the camera. I'm not mad, just disappointed.
Looks like we'll see Nebraska first on bars. Let's get a view of the leo.
Ugh…it has potential?? But those black underarms just ruin it for me. Not a fan of the front either.
OK, actual gymnastics time. Nebraska bars leadoff Tami Harris with a HUGE release.
Conferences may change, but Nebraska bars quality is clearly a constant.
Now to Iowa State on beam. And with that, we have our first mention of the beam being four inches wide—thanks, Bill! Sadly, we also have our first fall:
The woman in black seems to think her crab walking to the side will keep Janet Anson on the beam.
Let's check out Iowa State's leo a little closer.
Pretty nice! But it's going to give me some trouble trying to differentiate between it and Oklahoma.
Speaking of Oklahoma, who do we have here…
Oh heyyyy, KJ. Yup, she's Iowa State's HC, but she only has two more years before she'll head down to a little town called Norman. Seriously, it's pretty small.
Nebraska is bringing it with these pirouettes. And one of the twistiest full-ins I've ever seen…
That's one way to do it?
Commercial break, and it's time to see the other two teams in the mix, starting with Missouri.
Lord, this leo…did someone order a side of mustard? I don't want to rule out this yellow as maybe an accent color, but I really can't with the full body.
Wonder what her secret is. We love sound effects!
Laura-Kay Powell isn't messing around with this beam execution. Her choreo is giving me some Nastia vibes.
Apparently Missouri's Alisha Robinson used to be on the U.S. power tumbling team. Usually you hear of gymnasts going to power tumbling, not the other way around. Cool!
Finally a look at Oklahoma! It's Ashley Cooney performing what John says is a "very difficult" Yurchenko full vault. I mean, it'd be difficult for me, but…
Don't knock her over!
The man in the Doctor Who-esque jacket on the right is OU's current head coach, Steve Nunno. You might know him from coaching Shannon Miller, who he once referred to as an "intergalactic champion." Interestingly, that's the accolade Oklahoma gymnastics is shooting for next.
Trying to get a good gif that shows the OU leo, but it's hard at this point. Doesn't seem particularly great or terrible, but what exactly is that shade of red on the sleeves?
Now for OU's star, Kasie Tamayo. Most front-entry vaults weird me out, but this is pretty solid:
No relation to Charlie Tamayo, by the way.
And that'll be the first rotation. Here's where we stand:
So far, not looking like John's prediction, but the night is young.
I mean, isn't that what you think of when you picture gymnastics?
We're going to Nebraska on beam now. Why do I feel like that was a short first rotation? Anyway, we're seeing the accomplished senior Libby Landgraf.
What exactly is this? It feels like a hybrid of leaps whose identity is concealed by poor form.
Now Bill and John are telling us not just the width of the beam, but all of the dimensions. Now I can officially carve my own beam out of wood—I'll have to get on that.
Ashley Cooney on bars now for OU. Very fast-paced routine. The double tuck is cowboyed AF, but I liked it as a whole. 
Oof, that old logo. The one-dimension OU is a much better look.
This little leap Ashley-Kay Powell does at the start of every tumbling run is kind of adorable.
Now more OU bars beauty. Erin LaBarr is the "defending champ" on the event, according to commentators, but we don't hear exactly what of.
Janet Anson redeems herself with what appears to be a James Bond/Incredibles themed routine? I can dig it.
The theme of OU bars this meet would have to be speed. I'm loving the quick power bars it's putting up. Obviously it's still amazing now, but something about these sets feels like a good different. Here's Leah Mueller.
Now Iowa State's Erin Dethloff is coming off a 9.975 floor routine last week. John doesn't think you can get any closer to a 10 than that…you know, besides a 10?
There's a pass you don't see too much these days!
"They are some very happy Cyclones!" Why do I feel like this would be the plot of a cute children's cartoon?
"All Sooner eyes are on Kasie Tamayo." What do a Sooner's eyes look like?
I'm so worried for the entire OU team's knees because of these dismounts on bars. Also, these warm-ups are giving me Dance Moms vibes.
Now we're seeing some of Missouri's vaults. Pretty good landings! Part of me hoped they would go change into a different leo between rotations, though.
9.95 for Alisha Robinson's full. That might be a little high given chest position, but it's the cherry on top for a great showing by Mizzou so far. Looks like they're in first place at the moment, followed by Iowa State separated by a half a point. Robinson's also leading the all around!
Third rotation time! Competition is closer than I thought!
Melissa Smith from Oklahoma with straddle jumps I can actually enjoy. She stumbles a little on this combo, though:
Ugh..to get through difficult tumbling on beam only to struggle on something like this hurts. Hopefully it doesn't affect them too much.
Now that I'm seeing the front of Oklahoma's leotards a little clearer, I'm a little less in favor. The "OU" seems like it was put there as an afterthought.
What I am in favor of is this straddle jump to Korbut combo from Tara Anderson!
"Oklahoma came in ranked 16th in the country." That sentence just doesn't register.
Libby Landgraf to floor. Punch front tuck to triple twist is phenomenal. As for this…
Sometimes you just have to love yourself.
Apparently poker is on after this. Because it's definitely a sport. Also, here's another logo change I'm thankful for. This XII reminds me more of a math problem than it does a big-time sports conference.
Alisha Robinson with the FTDLO dismount! She's giving me Brenna Dowell vibes.
Ashley Cooney off on beam, but she redeems herself with this front tuck to beat jump combo.
*Also, why does OU love straddle jumps so much?
Here comes Nebraska freshman Kristi Esposito.
Interesting choice putting Esposito's much simpler routine right after Landgraf. A lesson in score building…guess Florida had to learn it somewhere.
All of these Nebraska routines seem to have taken their music directly out of chase scenes in action movies. At least that's the theme I'm getting.
Neat combo from Kasie Tamayo, who we're told has hit 46 of her last 48 competition routines. I guess that's saying something!
To Iowa State on vault. I can't tell how I feel about them showing all the vaults in a row, instead of sprinkled throughout the competition. I guess it's good for comparing all the ones in a lineup to each other.
That's the standout from Janet Anson.
The landings look good for the most part and we see that the Cyclones have taken the lead! Oklahoma close behind, and Nebraska's still trailing in fourth.
Here we go!
Karina Agafanova competing for OU…She's from Kiev, Ukraine! Need to fact check, but this might be OU's first (and only?) international gymnast.
Strut your stuff, girl.
Front handspring to layout layout dismount…interesting choice?
Ashley-Kay Powell with another interesting bars dismount…I was just a little worried.
Tiffany Willin with an interesting tuck through to round off double tuck. No BHS! Sort of gives you a preview of the front tuck through trend we're seeing a lot of today.
OMG with her music cutting to "Zombie Nation."
Kind of a weird thing to show between routines…the literal tip of the beam. It's like one of those games where you see something up close and have to zoom out to figure out what it really is.
Lindsay Davis from Missouri on beam. A cool mount but…no!
We appreciate the risk, Lindsay. And another fall on her series. 🙁
In the midst of this routine from Erin LaBarr, we learn from discussing the height of her double pike that the height difference between John and Bill is two feet. Casual.
Ugh…The only thing redeeming this awkward android choreography is the music transitioning into "We Will Rock You." LaBarr also throws the front handspring + layout + layout, another trend for OU. Interesting stylistic choice.
This is an interesting pep talk formation. I guess KJ's just as tired as the gymnasts.
Now to Robinson on beam. She'll be trying her best in the second to last spot, but Missouri seems to be pretty much out of it at this point.
Again, I can't stop comparing her to Brenna Dowell, in form and in appearance. Anyone else…?
Welp, she almost did a Sacramone on her punch front mount but brought the anger beam for the rest of the routine. Slay!!
Lauren Schwartzman looking to repeat her perfect 10 on beam from a couple weeks ago. Pretty close to it! Also just looked it up and saw she's still the only gymnast to ever score a 10 for the Tigers.
Awesome acro series as the person behind her appears to be laying down for a much-needed nap.
And she caps it off with a fun little celebration. She did all she could do!
Erin Dethloff anchors for ISU on bars. She drills the landing, and this team (and John TBH) is hype!
Back to Oklahoma, and it's down to a key performance for Kasie Tamayo—needs a 9.925 on floor.
This choreo says, "Can you believe this right now?"
Nebraska's out of it, but Kristi Esposito still brings the huge vault. Same with Landgraf. At this point, I think I enjoy seeing all the vaults in a row.
Ooooh, unique Ilg vault from Gina Bruce!
Aaaand looks like OU came out on top, and Tamayo took the all around. Iowa State 0.250 points behind…close one. Event winners- Dethloff (VT), Cooney and Robinson (UB), Schwartzman (BB), and Tamayo (FX).
Again, it's crazy hearing how much OU has evolved. Went from a 0-3 record in the Big 12 all season and came out on top to win the conference in an upset. Nunno says he's happy but has two goals left: making nationals and winning. Nobody tell him…
Mood.
Speaking of that, here's an update on all the coaching and conference changes that happened since this.
Steve Nunno resigned from Oklahoma in 2006 after coming under fire by the NCAA for holding too many mandatory practices for the team. He also faced allegations of coaching misconduct but claimed none of this had to do with his leaving the program.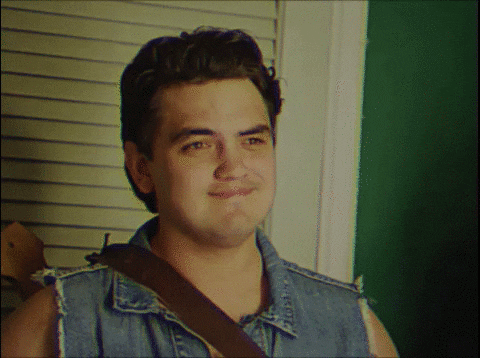 KJ Kindler spent two more years at Iowa State before heading to Oklahoma for its head coach job, taking over from Nunno. And absolutely nothing interesting happened to the Oklahoma women's gymnastics program after that.
As for conference changes, Nebraska headed to the Big Ten in 2011, and Missouri joined the SEC in 2012. Nothing special has happened to those programs either, especially when it comes to head coach drama. Literally nothing at all.
Tune in next time for more throwback insanity!
READ THIS NEXT: Sarah Patterson Through the Ages
---
Article by Katherine Weaver
Like what you see? Consider donating to support our efforts throughout the year!