Our most anticipated freshman routines series wrapped up recently, but we couldn't ignore your calls of "WHERE'S ABIGAIL SOLARI?!," so for the next two weeks we'll be taking a look at the highest-performing elite sets joining the NCAA this season. (We know, you want to hear about Norah and Jade too! Don't worry, we've got you covered.)
We're starting by looking at the top-ranked elite vaulters in this year's freshman class. Too often, elite vault is a story of interesting vaults being downgraded to a mediocre Yurchenko full, but we're hoping these stick around. You'll also notice a theme that will carry through the series: Many of these gymnasts bring so many composition options that we have no idea what they'll compete!
To compare scores across quads and countries without having to account for changes in code or domestic bonuses, we took the highest E score we could find for each gymnast and ranked them.
Vault
Honorable Mentions
Trinity Thomas (Florida): Yurchenko 1.5
Grace Quinn (California): DTY
---
Megan Roberts (Georgia): 9.050
Elite double-twisting Yurchenkos become NCAA fulls far too often, but expect Roberts' to stick around, especially since this Georgia coaching staff seems to prioritize difficulty. She's been competing this vault since 2014, and the incredibly quick twist gives her time for a consistent, controlled landing. She just missed our top five on beam and floor, but expect her to see time on both as well, especially the latter where she's tumbled an incredible Dos Santos as recently as this spring.
Emily Gaskins (Alabama): 9.100
Gaskins' Yurchenko double has gotten better and better as her elite career has progressed. It's steady and controlled in the air, with only a tiny leg flicker in the last half twist that likely won't be a problem in NCAA. Keeping Gaskins' difficulty on this event will be a priority for the Crimson Tide with the graduation of team-leading vaulter Nickie Guerrero. She also ranked high on bars and beam, so she'll get to take part in that treasured Alabama tradition: Putting Everyone In A Lineup In February Just To See What Sticks.
Margzetta Frazier

 (UCLA): 9.150
The Yurchenko double Frazier will bring to UCLA is one of two 10.0 starts in the freshman class, which will join two returning vaults and at least one in training to mean the Bruins might have a "normal" top team number of 10.0 vaults this season. Don't look now, though, they're skittish and might run away. Frazier has been known to land this vault quite short, but when it's good, it's fantastic, with a great block and a satisfyingly square landing, She's also a floor star, but it's hard to predict her odds of breaking into arguably the most competitive lineup in the country in 2019.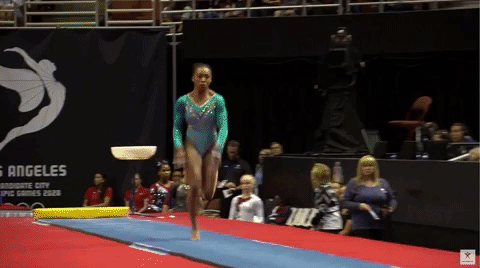 Shallon Olsen (Alabama): 9.250
Commonwealth vault champion Olsen brings a wealth of 10.0 options to Alabama (seriously, so many), and along with Gaskins they'll be necessary to rehabilitate a lineup that could be shaky in 2018. Her resume includes an inconsistent but sometimes amazing Amanar, as well as a Cheng. This year, she's competed a Yurchenko double and her trademark Khorkina (Yurchenko half on, tucked 1.5 off), as well as a Lopez (Yurchenko half on, layout 1/2 off) at Canadian nationals. If the Alabama coaching staff can tidy up her forward block, the Lopez or one of its piked variants (Podkopayeva or Khorkina, depending when the twist is) could be a solid bet for college. It's more likely that she'll stick with her tidy Yurchenko double, though, or maybe try out a 1.5.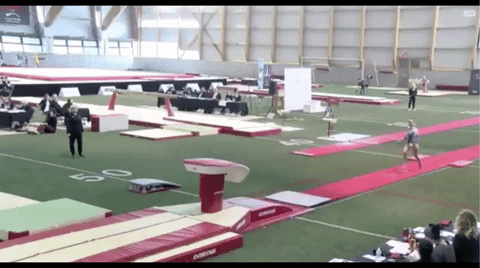 1.   Jade Carey (Oregon State): 9.266
If you thought Olsen had too many vault options, meet Jade Carey. The double world silver medalist currently competes a spectacular Amanar, meaning that Yurchenko 1.5 and double are both on the table (pun totally intended). That said, her trademark is her Kasamatsu vaults: The tucked Kas full is named after her in the Junior Olympic code, and her layout full has performed well in elite. Her most likely Kasamatsu downgrades are the tuck half that she competed until early 2016 and the layout, both of which would be 10.0 starts. Any of the options should anchor Oregon State's vault lineup, but the choice will be a fun source of preseason intrigue.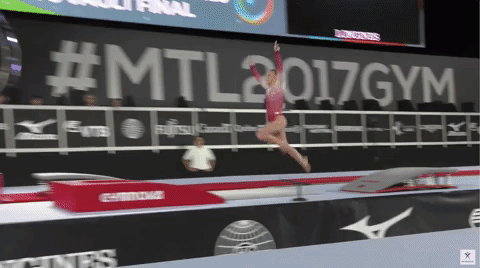 ---
Article by Rebecca Scally and Emily Howell-Forbes